---
LIVE CHAT INTEGRATION
The Click4Assistance solution is compatible with any website platform, simply copy and paste the script provided into your website. For more advanced live chat integrations with external systems, read more below.
Salesforce Integration
Integrating Salesforce directly into your customisable Click4Assistance dashboard provides agents with a 360° view of customer records, allowing access to the full context of all communications.
Pop Salesforce window displaying all information relating to the chatter
Automatically or manually assign the chatter to a Salesforce record
Store the complete chat transcript into Salesforce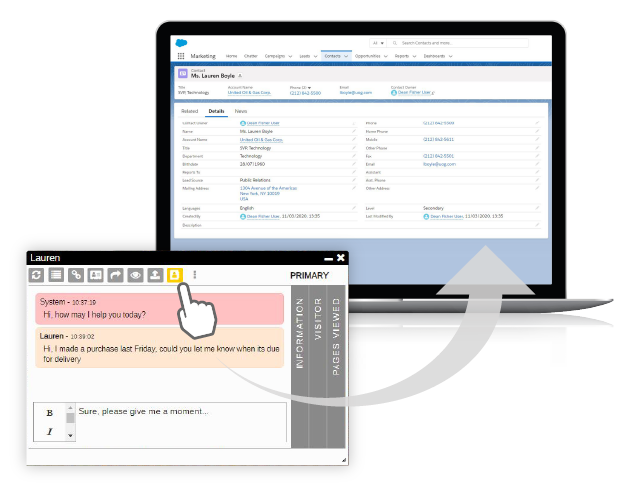 COMPATIBILITY
Our live chat integration provides a seamless and continuous history of customer interaction. Our secure system is compatible with multiple platforms with full authentication, providing APIs using SOAP web services and JSON.
CRM
Using secure APIs extract transcript information and consolidate customer data into your Customer Relationship Management System (CRM) and other existing systems.
MESSENGER
Advisors can respond to enquiries initiated via Messenger directly from the Click4Assistance application.
GOOGLE ANALYTICS
Full integration with Google Analytics enables 'Event' logging, providing direct recording of live chat goals within your GA reporting for comparison and analysis.
SOCIAL MEDIA LOGINS
Visitors can start a chat using their Facebook or Google+ login, enabling you to view their profile details such as name and email address.
DYNAMIC DATA
Information regarding your website visitors, such as full name, email address and reference number can be dynamically passed through to your chat operators ensuring they have a complete picture of the visitor profile.
Graphs can be imported into external systems for a comprehensive view of performance to improve efficiency and streamline operations.
BESPOKE SERVICES
Click4Assistance offers a complete bespoke service for additional functionality and integration services.
Our in-house developers located in the UK, will consult and advise on data export and extraction, automated routines and integration with any legacy systems including CRM, automated marketing products and telephone systems.
NOT JUST LIVE CHAT SOFTWARE
Multiple communication channels in one complete solution, developed and supported in the UK making it fully compliant for UK businesses. Use the links below to discover more tools and functionality available within the solution.
Web Chat In Your Industry
See how live chat can improve your online communication with our industry specific customer examples. Simply select your industry below to learn how our software benefits businesses in your sector.