DATE
TAGS
AUTHOR
VIEWS
Accessibility in Live Chat Integration
Organisations that design websites, web technologies or web tools should remove any barriers that prevent interaction with or present accessibility issues for people with disabilities; this is known as web accessibility.
W3C have assembled the Web Accessibility Initiative (WIA) to help make the web accessible to people with disabilities by developing guidelines and resources.
"The Power of the web is in its universality. Access by everyone regardless of disability is an essential aspect." – Tim Berners-Lee, W3C Director and Inventor of the World Wide Web
Developing Click4Assistance for Accessibility
The Click4Assistance solution has previously been developed to address certain aspects of accessibility.
The solution can help visitors with auditory disabilities as they could find communicating with companies via the telephone difficult or even impossible.
Live chat is text based messages that is sent between a representative and a visitor, where they may be much more comfortable reading / typing the interaction, allowing them to have access to staff members and gain the answers they need.
Live chat can be used to reduce language barriers, as international companies can encourage visitors to use chat if their primary language is not the same. Visitors and representatives can take time to read over the responses and if they are struggling to comprehend can use Google Translate in conjunction with the solution. It is also a cheaper option for visitors if they are located in another country, as they will not incur expensive charges as they would with calling the business.
Accessibility in the New Enhanced Solution 'Experiences'
'Experiences' by Click4Assistance has been developed to improve the usability for operators and visitors; a part of this is improving the accessibility for everyone. 'Experiences' is a group of customer engagement tools that will help organisation to improve communication with visitors on their website.
Video chat in particular can help a visitor to be connected face-to-face digitally with a representative in real time. The conversation can be in the language the visitor prefers which can include sign language to help people with auditory disabilities, or those who find it easier to converse in this manner to engage fully with a company.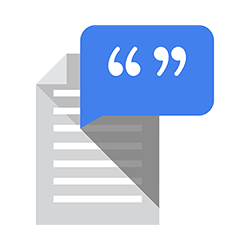 Most of the tools included in 'Experiences' are text based, therefore another type of technology Click4Assistance has been working on is speech to text technology.
Speech to text takes spoken words and converts them to written messages, using Google's Cloud Speech API, it recognises over 80 languages and variants.
A feature of the Click4Assistance solution is being able to restrict words from showing in the chat including profanities; the API also lets the company filter inappropriate content from converting into the text results, ensuring there is a consistency across the methods of communication to protect the company user from offensive language.
Live chat and meeting rooms occur in real-time, using the speech to text technology also converts the communication in real-time ensuring there is no delay in delivery. The API's accuracy improves over time as Google improves.
Conclusion
It is important that people of all abilities have access to the web as it's such a huge resource that can help them in their jobs, education and life.
Click4Assistance developed each enhancement of the solution with user feedback in mind. Recently we teamed up with Action on Hearing Loss who is improving the methods in which they deliver their services to their visitors online who have auditory impairments. Together with the charity we hope to promote the solution as an accessible communication service.
For more details on the current Click4Assistance software, start a chat to request your free information pack.
To be kept up to date with the latest news with the release of 'Experiences', register your details by emailing theteam@click4assistance.co.uk.
Author:
Gemma Baker
Gemma is the Marketing Executive for
UK live chat software provider
, Click4Assistance, with a range of digital knowledge within PPC advertising, SEO practices, email campaigns and social media.