DATE
TAGS
AUTHOR
VIEWS
Why live chat should be one of your bigger resolutions in 2020
It's the first few days of 2020, cue the flood of tips, tricks, and 2020 trend articles! This is a by-product of the industry we work and exist in. Everyone in marketing tech knows the waves of constant change. We live in a persistent state of anticipation, as we await the next update of the platforms we are at the mercy of. We do have one resolution recommendation for you this year: live chat. There are many benefits of live chat software and as we advance with marketing technology, those benefits seem to become more pronounced.
Gain a competitive advantage
Every business aims to achieve a sharper competitive edge, to gain an advantage that their competitors cannot. It's like a Mt. Everest challenge for business; everyone wants to get to the top, but only the strong and determined make the full journey. Yet competitive advantage does not have to be a climb to the high heavens. A simple way to increase your clients' competitive advantage is by installing a live chat solution on their website. This instantly improves their customer service, and deepens their loyalty with your clients.
Customers are naturally skeptical about purchasing from companies they don't know. Being able to speak with someone automatically puts their minds at ease, builds trust and increases the likelihood of a purchase or conversion. You can even close the gap between online and offline purchases. It's the most effective marketing tech tools any "MarTech" agency could offer their clients without being overly complicated or bank breaking, but you have to make sure you select the right solution, like Click4Assistance, the best live chat provider.
Elevate the experience
Along with building trust, improving a user's website experience can make or break them as a lead for your client. But hold on, it's not all doom and gloom! If you improve the website experience, your clients can benefit massively in the customer service and re-marketing aspects as well.
Let's look at a simple instance of how this works: you've gone ahead and installed the best live chat provider on your client's website (ahem, that's us!). They are already benefitting from customers asking more questions and they have a bump in conversions. Your client has an existing customer that has an issue, but they're commuting to work so they can't wait in a queue for ages or have a long telephone conversation. It's before 7:45am, and your client's help desk team doesn't start until 8:30am. It's a simple request, but they are pressed for time. What do they do? Let's say your client was the best and also made sure they had an AI ChatBot holding the fort while the help desk team was out of office. Just like that, the customer whipped up the website, opened a chat and someone was there, before 8am, and helped them with their simple issue, like magic. It's not magic, but it's the by-product of having the best live chat provider for your clients. Now, this customer raves about the client on social media, leaves an incredible 5 star review and your client pats you on the back for making the suggestion in the first place. Everyone's a winner. The relationship between the client and their customer, and the relationship between the client and yourself, are both strengthened by this one scenario.
Are you using a foreign chat software for clients?
Digital marketing, website development and IT agencies who use marketing tech tools are all software geeks at heart. The combined love of automation and time-cost savings is what drives them to research every possible software available and may even have a spreadsheet of their options to refer to. Chances are, you have seen a few live chat options based outside of the UK. Data security becomes a concern. Are they GDPR compliant? How is the data stored? Is it secure? Would they expose your client to unnecessary legal implications by not being GDPR compliant? Are they available should you have an issue and can their support team work effectively and in good time from across the pond? With Click4Assistance, you do not have to worry about your client's data security and GDPR compliance. You can rest assured that with a completely UK based team and a fully GDPR compliant solution with the highest level of encryption, that should an issue arise, we will be right there to assist and your client's data is protected and safe.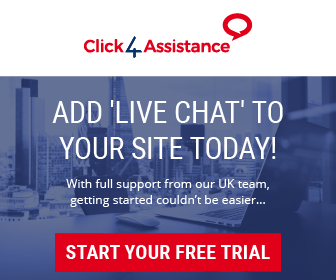 Better satisfy customer needs
Live chat can provide some interesting data, like how many visitors your client's have engaged, and how many visitors converted, but an interesting one is called "voice of consumer" data. In a nutshell, customers can give your clients valuable insight into their mindset and see the business from the customer's viewpoint. By looking through chat transcripts, your team can discover valuable insight like key words or phrases and questions that warm leads and customers use, allowing you to optimise your marketing to eliminate fears or doubts and provide more holistic information about the product. Another benefit hidden in chat transcripts are opinions and ideas that can shape your client's product or service development, since their customers are the ones using and possibly retrofitting their product or service in different ways.
---
If you're interested in deploying Click4Assistance, the UK's premier GDPR compliant live chat software solution and best live chat provider, to make your clients more efficient and productive for 2020, give us a call on 08451235871 or send an email theteam@click4assistance.co.uk and one of our team experts will be with you right away.