DATE
TAGS
AUTHOR
VIEWS
Receptionists Are a Vital Part of Business
The receptionist is an important role. They are the first face of a company and their initial interaction with customers is what forms the enquirer's opinion of the organisation (take a look at the reputation of doctor's receptionists as an example!)
A receptionist has many skills that they utilise in their day-to-day duties. One of the most important is the art of multitasking as they often juggle several tasks at once. This is where finding the best live chat provider for the role is essential to help streamline communications.
Alongside greeting visitors to the office/building, receptionists provide switchboard duties by routing phone calls to the right department and supplying a message taking service should the relevant member of staff not be available. This can be aided with a live chat provider best of all, when looking at other solutions.
Reflecting This in Chat
What some organisations don't know is that they can replicate this structure with their live chat operations.
The receptionist is notified of a new chat where they are able to see if the visitor has entered any information containing what their enquiry regards (depending on the window design), or they can prompt the enquirer for this. Once the information is known, the chat can be passed over to the relevant team or details can be taken if there is no one available.
Receptionists are still able to multitask whether this is greeting a customer in the physical location and handling a chat enquiry, or being on the phone and live chat at the same time etc. They can manage their own workload by switching to unavailable when they are unable to take a chat. The organisations can choose if another team picks up the enquiries, or if the service defaults to its offline status.
How to Route Chats to a Receptionist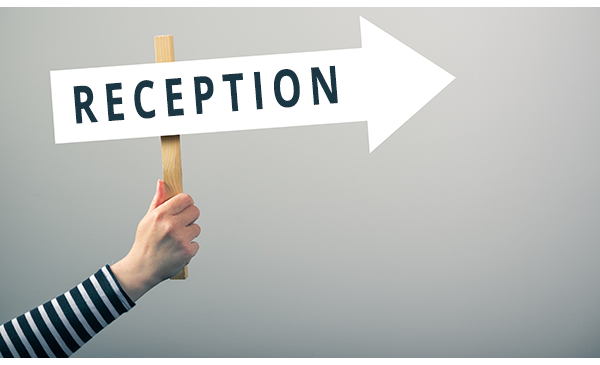 Your organisation will need to set up a user profile for every member of staff they require present on the live chat service. This is easily done within seconds in My Account/Users/Add New. Just simply fill in the form for their user and login information and select any other settings that apply to them:
Phone Number – used for Click2Call functionality
Send Email – sends the users how to log in information
Make Unavailable – defaults the user to unavailable every time they log in (useful for administrators or supervisors etc.)
Primary Contact – select which user is the primary contact of the account (limited to 1 user)
Once the users have been set up they need to be assigned to their relevant area / department within Settings/Routing Groups. These will be used to determine who the chats are directed to and help users to transfer the chat, therefore ensure you have a reception group and a backup group (if necessary) for initial enquiries. You can also choose how each group is alerted in this area.
For the chat system to know where to direct the chats, you will need to define this within the Experience (Tools/Chat/Settings). Your organisation can configure which routing group gets the new enquiries and if there is a back-up. Each one can be configured to include times and days they are available, and where the offline requests are sent if all of the users within that group are unavailable.
Within the Experience, the design of the window is selected. Your organisation can choose from a template or amend the CSS and HTML to create your own. This can contain an area for the visitor to select or type the nature of their enquiry, which will reduce the receptionist time in chat as they can see straight away which person or department they need to transfer the chat to.
This is just one of the ways that organisations can route chats and reflect the vital part that receptionists play within their company. Take a look at our blog Why Your Organisation Should Be Using Routing Groups for more information on configuring your routing groups best with your live chat provider.
Alternatively, contact our team by calling 01268 524628 or email theteam@click4assistance.co.uk. Click4Assistance has been providing live chat for over 15 years, helping organisations to improve their online business.