DATE
TAGS
AUTHOR
VIEWS
Gaining Healthcare Advice over Bank Holidays with Chat for Website
The Easter weekend means for many, some well-deserved time off to spend with the family and a good excuse to eat a large quantity of chocolate. But what happens during this time if you were to feel unwell or need help about an ongoing condition?
Many organisations will be closed between Good Friday and Easter Monday, with 4 days being too long to wait for some who need advice. This can add unnecessary pressure onto already stretched A&E departments as people feel this is their only option for gaining help.
Your organisation can ensure your website is ready to continue supporting your visitors when your staff are unavailable, with the use of 'Experiences' by Click4Assistance, a new enhanced solution complete with a whole range of customer engagement tools.
Offline Mode
The offline button can display on your website when all users are in their unavailable status or are not logged into the solution and therefore the live chat service is not available. When clicked, the offline button will present the offline window; this can be used to collect visitors' details via a form that once completed, the enquiry is routed to an assigned email address. These requests will also be displayed within the solution so that users can keep track of what has been actioned / un-actioned. Alternatively, it can express your operational hours and provide any useful links.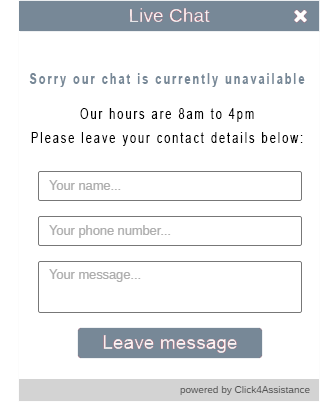 If visitors need a more instant answer they can be encouraged to self-help with the use of promotions. This is an image that displays in front of the visitor depending on which page they are viewing or how long they have been browsing. This image can present important information and latest news, which has a URL assigned to it, so when clicked it automatically redirects the visitor to a page with further information. For healthcare services this can include alternative numbers or lead them to a page that gives them advice for when they should attend A&E or seek other help (call 111).
Both of these customer engagement tools can be fully customised to compliment your branding and display any information you require, making them easy to configure for the Easter weekend.
Instant Help
If your organisation is expecting to have enquiries over the bank holidays and wants to keep your communication channels open, there is the potential to outsource live chat to a contact centre that offers a managed service. Different centres offer various levels of coverage, ranging from message taking to having operators fully trained to answer your visitor's enquiries.
For this short period of time, it may be preferable and a cheaper option for the contact centre's staff to pass on messages to a representative within your business, they can then make the decision whether they need to urgently contact the individual regarding their enquiry.
Alternatively, if your company does not wish to outsource chat, it is possible for representatives to use chat whilst at home. The on call representatives can access the software via their browser if they do not want to download the application to their personal PC. Live chat is scalable so that user profiles and licences can be added easily, for organisations that may be operating with skeleton staff over Easter, they can add representatives as and when they require.
Click4Assistance has been providing live chat for website for over 10 years, and works with private, public and charity healthcare organisations such as BMI Healthcare, CWP NHS and MS-UK. To find out how our solution can help your organisation during the Easter holidays, contact our team on 01268 524628 or email theteam@click4assistance.co.uk.
Author:
Gemma Baker
Gemma is the Marketing Executive for
UK live chat software provider
, Click4Assistance, with a range of digital knowledge within PPC advertising, SEO practices, email campaigns and social media.