DATE
TAGS
AUTHOR
VIEWS
Live Chat Integration: Best Practices to Improve Service
Every business has their own requirements when implementing live chat. They can use the instant communication tool to sell, advise or provide support etc. They can position the chat widget on specific pages or all of their pages, invite visitors to have a conversation, and even send a link within emails, digital documents or social media posts to start a chat. However these companies choose to optimise the solution, there are Best Practices that should be adhered to.
Availability
Before a visitor even starts a chat the appearance of the channel should be considered. It should be clear when your live chat service is available. Some companies prefer to hide the chat button when they are unavailable, however when using an offline button it is better to use a design that differentiates between the two statuses.

If a visitor clicks on the offline button, your organisation needs to decide what is the best way for them to optimise the window. Do you want to encourage call backs / enquiries for representatives to respond to at a more convenient time? Or if saving resources is a more prominent priority, it may be better to include a message stating operational hours, and if within these hours there is unavailability explaining that all agents are currently busy.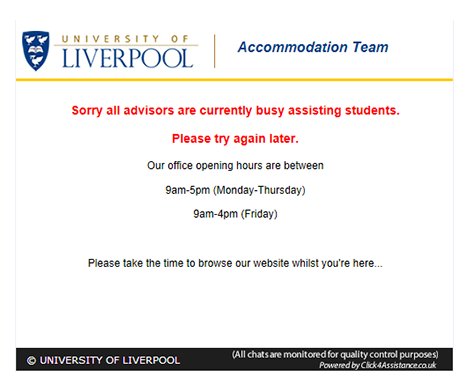 Online Chat
A prechat form should be used if your organisation needs to qualify the visitor before offering them information. This is ideal for providing a service to existing customers. Rather than the operator spending time asking for identifiable details, visitors can enter all of this on the prechat form, this is then pushed through to the agent handling the chat. They can then look up the customer's record whilst the visitor is typing their enquiry, reducing the time spent in chat for both parties.
The prechat form should also include a department selector if more than one team will be handling the chats. This allows the visitor to select the area they are enquiring about, this can increase first contact resolution rates as they are speaking with the relevant representatives straight away.
If your organisation uses queuing, the system message should regularly notify the visitor of their position. As each enquiry varies in complexity, it is not advisable or really plausible to inform them of how long they are going to be in the queue. The best alternative is to provide an average wait time. This manages their expectations as it supplies a rough idea but not an exact time your company needs to abide by.
During Chat
The first key point to starting a chat conversation in the right manner is quickly getting your first greeting out. Unlike the telephone there are no tell-tale signs that the chat is being seen by a representative. The system can send a message to inform the visitor that the operator has taken the chat, however the visitor only knows the conversation has fully started when they receive the first response.
So what's the quickest way to do this? A library of predefined replies is available within the solution which can be personalised to every company's needs. As default "Hi (visitor's name), how can I help?" is included within this list. It also has a shortcut attached to it; therefore as soon as a chat has been taken an operator can select the keyboard shortcut and send the message in a matter of seconds. It is advisable for agents to take a chat and send the first response within 20 seconds.
Predefined replies and shortcuts are ok to use for frequently asked questions as it saves the representative time responding to repetitive questions. These can be edited before being sent to ensure they accurately answer the visitor's enquiry. However they shouldn't be overly used as they can make the conversation become too robotic.
It is important to stay human and show emotions towards the enquirer, this includes being sympathetic if an issue arises, as visitors do not want to feel like they are talking to a robot or that the company doesn't really care. Your operators should also be able to relax their tone of voice when appropriate. Different audiences mean that for example students may be a lot more relaxed and comfortable using emoji's within their messages, whereas public authorities such as councils and police constabularies should remain professional in the majority of conversations.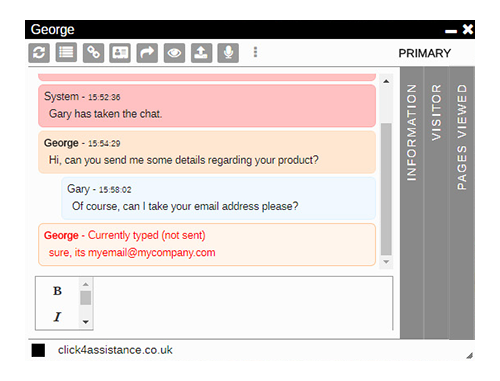 Operators should use the information they have at hand. This can include using the visitor's name naturally throughout the chat and referring to any previous correspondence if the details are related etc. They should also use any readily available information that's provided on the website or within documentation. Visitors can be automatically directed to a webpage with the auto navigate functionality, and documents can be shared with them via file transfer. These are other methods for reducing the time spent in chat as it encourages self-help.
Another tip is not to overtype the visitor. The operator will be able to see what the enquirer is typing in real time, therefore if the agent begins responding it can cause the visitor to stop composing their message to wait and see what the representative sends through. If the operator also sends their response before or too close to the enquirer's message, it can cause distrust as they then are more aware of the ghost text functionality and wonder what else the company can view. Your agents should have patience and only use ghost text to help prepare them to answer.
One of the last steps in chat is closing the conversation. The considerate way to go about this is waiting for the visitor to leave the chat; some individuals can say there's nothing else they need help with, but a couple of minutes later have another question as they are already thinking about their enquiry. If it looks like the visitor has left the conversation open but haven't said anything in a while your operators should prompt them to answer, if still no reply, have a standard amount of time before they close the chat e.g. no response for 10 minutes. This gives the enquirer every chance to come back to the conversation.
Click4Assistance has been providing live chat integration software for over 10 years, for more information about best practices or the solution contact our team on 01268 524628 or email theteam@click4assistance.co.uk.