DATE
TAGS
AUTHOR
VIEWS
Adding Live Web Chat Software can Help you Communicate Better with your Students
One way that Universities can improve their communication with their students is to add live web chat software to their website. The UK has more than 10% of the top 200 institutions in the world's University Rankings for 2015 which have recently been published.
Despite the UK's success it's continued cuts in higher education funding means that the UK must consider new ideas to keep this percentage as high in years to come.
Click4Assistance works with more than 20 universities around the country including the University of Liverpool, Bradford University and Southampton Solent University, helping them to communicate not only with new students but also existing ones using a communication channel that they enjoy.
Students prefer text channel as it is so easy to use and we all know how students like to chat on their mobile devices. Your resources can be saved as multiple chats can be handled by one operator.
Live web chat software for approximately 83p per day
You can join these reputable institutions and gain a wide range of live web chat software benefits and functionality, including but not limited to:
• Efficiency – Unlike a phone call, a live chat application allows your recruitment officers to speak to multiple students simultaneously.
• Accessibility – When you add live chat it is the only means of communicating for free in real-time for international students and some disabled students.
• 100% Customisable – Integrates seamlessly with the design of your university website.
• Pre-Chat Form – Use bespoke questions to identify the nature of the enquiry before team engages in chat.
• File Transfer – Send across digital pamphlets to help students with settling in issues.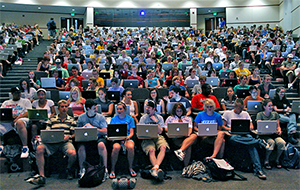 Live chat application can add real value to your marketing, outreach and recruitment campaigns
Let us work together to ensure that the UK continues to have such a high percentage in the World's University rankings by having a serious look at underperforming campaigns that are not working. It is probably better to stop them and re-invest your budget into something new and exciting. For the price of a daily newspaper, your university can offer an entirely new platform of communication to new students. If your university is serious about being the best in the UK, then it's important to distinguish your online presence and what better way than to consider live web chat software.
So when is the best time to deploy a live chat tool? It really depends as each university is unique but our University Coordinators have years of experience within the education sector and will be happy to offer advice to you. For more information, if you want to add live chat, contact one of our friendly University Coordinators for a free demonstration of our live chat application without the pressure to subscribe on Tel: 0845 123 5871 or email us on theteam@Click4Assistance.co.uk or start a chat.