DATE
TAGS
AUTHOR
VIEWS
5 Reasons to Use Video Chat
Video chat is an increasingly popular method for providing customer support. There are several excellent reasons your business should use it. Click4Assistance tells you more.
The use of video chat to provide customer service has been growing. Being able to provide face-to-face assistance to customers and clients, even when it's not practical to see them in person, gives your business a huge advantage. Video chat tools give you a range of options to facilitate communication between your team and visitors to your website so that you can provide them with valuable, attentive assistance. If you're unsure about how using video chat might benefit your business, you should take a look at the following reasons to use it. You could soon be enjoying the advantages of having video chat on your site.
1. Provide a personal customer experience
Too often, the customer experience can feel impersonal. And yet, 86% of buyers will pay more for a better customer experience. Additionally, 1 in 3 customers will leave a brand that they love if they have just one bad experience and 92% will leave after two or three negative interactions. So it's clear that customer experience should be an area of focus for any business, and video chat helps businesses everywhere to make their customer experience better and more personalised.
Video chat gives visitors to your website the opportunity to speak face-to-face with one of your representatives. It's a more personal option than email, live text chat, or even speaking to someone on the phone. You can provide help to your customers when they need it most, whether they have a question to ask, they want to know more about how a product works, or they're looking for advice and recommendations. Offering these services through video chat is so much more personal than other options and makes it possible to build rapport with the customer.
2. Improve your sales
When you add the option to start a video chat on your website, it gives you new tools to help you promote your products and close sales. Video chat facilitates real-time assistance, which means that your representatives can not only offer help when there's an issue but also use their skills to make more sales. Using video chat, sales representatives can steer customers towards the right products and make recommendations. Video chat gives them the opportunity to upsell and to offer a personalised sales service to each customer.
You can build trust between your brand and your customers by having your salespeople speaking directly to them using video chat. Being able to see the person they're talking to is reassuring for the customer and they can get the help that they need to complete their purchase. This could reduce the number of basket/cart abandonments because customers can easily ask questions and have someone guide them through the purchase process. You could see a boost in your sales after implementing video chat, and perhaps a rise in returning customers too.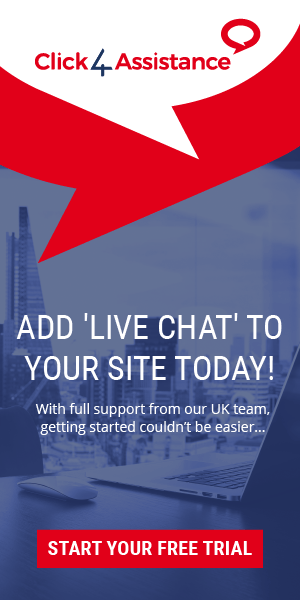 3. Boost customer satisfaction
A satisfied customer is a customer who will come back and a customer who will recommend your brand to others. Installing a video chat feature on your site has the potential to greatly increase customer satisfaction. One study showed that 44% of people think that having a live person available to answer their question in the middle of a purchase is one of the most important features a website can offer. If your customer needs help while on your website, they could simply get confused and then leave, feeling dissatisfied. But if they have direct contact with someone via video chat, they can get the help that they need.
Millennials prefer live chat over other customer service channels, so it's important for your business to get on board with using text and video live chat tools. If visitors to your site don't find their preferred communication channel available, it could immediately put a dent in customer satisfaction levels. Video chat offers a real-time method of solving problems, offering advice, and delivering the service your customers expect.
4. Collect visitor information
Your video chat can be combined with other tools to help you get more from the tools. When you use Click4Assistance to add video chat to your site, you can collect essential visitor information before and after video chats, as well as when you are offline. You have ways of measuring customer satisfaction, collecting leads, and making your online customer service process smoother with the tools that you have available. Before chatting to a website visitor, you can collect their contact information and allow them to select a department they wish to speak to. Afterwards, you can survey them for customer satisfaction, ask them to sign up for your newsletter, and link them to your social media.
Even when your video chat services are offline, you can collect callback details and present out-of-hours information for your customers. These features ensure that you get more from your video chat tools.
5. Get started with ease
Setting up video chat on your site might seem difficult, but it's actually very easy to get started. The ease with which you can start using it is definitely a significant reason to add it to your site. With Click4Assistance, you only need to add a short piece of code to your site to allow your website visitors to request a video chat. All you need to get started is a microphone, speakers, and a webcam, and you can talk to your customers face-to-face.
If your competitors are already using video chat, you should ensure you're able to provide it as an option too. And if they're not yet making use of it, you can be ahead of the wave and be one of the first businesses to offer the option to your website visitors. You can install software or log in through your browser to access the tools that you need. You also have the option to customise using your logo, website branding, and marketing messages.
Adding a video chat option to your website can help you to take your customer service and experience to the next level. Offer video chat to your website visitors to see how it can benefit your business.