DATE
TAGS
AUTHOR
VIEWS
Accommodation Organisations Increase Booking Enquiries with Live Chat
Booking accommodation often sparks questions for consumers, especially when the options they require aren't available, they are making a group booking or they have experienced difficulty whilst browsing and making their selections etc.
Implementing live chat for your website provides an instant communication channel that directly connects the enquirer to a representative in real time. This allows them to get their questions answered quicker whilst remaining on the website.
Communication with visitors as they browse your site enables your operators to use the content on the website as a resource. With information already available along with the advisors expertise they can make suggestions to the enquirer by automatically opening the relevant webpages within the individual's browser.
Accommodation companies have been optimising live chat to encourage an increase in enquiries and improve customer satisfaction. Here are just a couple of case study examples.
Alexander Hotels

Alexander Hotels offer Luxurious 5* accommodation and experiences at their distinctive boutique hotels with award-winning spa facilities, across 3 destinations.
With the website becoming more and more popular, Alexander Hotels were faced with a high level of demand from visitors through email and telephone contact. They decided to implement live chat in order to reduce impact on the customer service team and increase the number of online bookings.
The introduction of Click4Assistance live chat solution enabled Alexander Hotels to continue offering the highest levels of customer satisfaction. As a preferred method of contact, visitors can now have questions answered and complete bookings online with ease.
Alexander Hotels have fully customised the chat widget with a stylish button image to match the luxurious feel of the website's brand. When there are no representatives available to chat the button simply hides itself.
The prechat form provides the ability to login via social media platforms Facebook and Google+. Alternatively the visitor can simply enter their name into the branded window before starting the chat. This gives the visitor an option for their preference and increases uptake as the form only asks for minimalist amount of information.
The chat dialogue window has been customised to include the iconic Alexander Hotel's logo, along with their corporate colour. An options button which displays a list of features is used to optimise the space available for the chat transcript.
After a chat has concluded the visitor is presented with a series of windows. A short survey provides the customer service team with instant feedback. The sign up and social media windows allows the company to naturally build their newsletter mailing lists and social media followers.
Youth Hostels Association (England and Wales)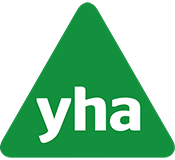 The Youth Hostels Association (England and Wales), more commonly known as YHA, provides youth hostel accommodation in England and Wales. As a charitable organisation they are registered with the Charity Commission and are a member of the Hosteling International Federation.
YHA have been using live chat since 2015 to assist with bookings. Following a recent overhaul of their website, YHA re-introduced the communication channel within their 'Groups' section of the website, targeting their larger audience that consists of universities, schools and youth groups to get in contact.
Chat has been integrated within their 'get in touch' section that presents contact methods and opening hours. A chat can be initiated from this area as a hyperlink, which is placed behind their own image. Incorporating all their communication channels in this manner allows visitors to choose and select their preferred method of communication.
A fully responsive pre-chat or offline form is displayed depending on the representative's availability. YHA is one of the first organisations to have an ombre gradient of colour (rather than a solid block) within their header and button, giving it a refreshing and modern feel, whilst keeping with the imagery used.
A disclaimer is included on the pre-chat form, ensuring compliance with GDPR if YHA has the need to email the visitor. Links to FAQs are also presented on the forms, encouraging visitors to self-help and reduce operator involvement. However should the visitor initiate a chat; the dialogue windows remain consistent with the rest of their window designs.
YHA have configured their survey form to understand visitor satisfaction, this instant feedback helps the hostel association to report on their service and make improvements where necessary. Once submitted the thank you window includes useful links to their contact us page for further information.
Find Out More
Live chat for your website is a great way to digitalise the travel agents experience, help find your visitors their perfect accommodation and answer their questions accurately and quickly.
Why not request the pdf versions of these examples, or for more information regarding how live chat for your website can benefit your travel company contact our team on 01268 524628 or email theteam@click4assistance.co.uk.