DATE
TAGS
AUTHOR
VIEWS
Are your conversations secure enough?
The internet can be a dangerous place. Cyber security has been a concern of every internet connected organisation since they joined the internet world, and it will continue to be a rising concern as we become more integrated with technology. The increase of cybercrime has made charities a target, which is why it is so important to ensure that your communication software is secure and protected against key vulnerabilities that cyber criminals like to exploit. Are your charity's conversations secure and can you trust that your solution is liberated from these common vulnerabilities?
As we move into the world of remote working and work from home policies come into play across every industry, the software world ramps up for this new level of remote accessibility. During the pandemic lockdowns, many charities switched to using free or cheap software solutions for their customer service communication, leaving them wide open for eavesdropping as many of these solutions are not well secured. Your data and the conversations you would have had could have been compromised if you were using an insecure software solution.
Click4Assistance can help your charity, since your data, both stored and in-transit, is secure, and your conversations with your customers are 256-bit encrypted, making them as safe as a payment page, no matter what network you access Click4Assistance software from. Many live chat for your website solutions do not offer this, leaving the conversations you have open to the world to listen to. While some cost effective measures are worth it, compromising your data security is not worth the 'free' options.

As remote working becomes a norm, Click4Assistance is prepared for your charity's customer service team to work entirely remote, since they can access the dashboard from any machine with a Chrome browser. In an instant, your entire team can seamlessly move to a remote model without any additional support or special access codes. This is key to your charity's disaster recovery plan. But the best part about the dashboard isn't just that it's easily accessible… Everything across the entire Click4Assistance solution is accessed in one place, so live chat, video chat, social media messages, your integrated CRM, and even the artificial intelligence chatbot is accessible from this dashboard. The dashboard is also fully customisable for your customer service agents, so they can each keep what they need to focus on and remove the rest, reducing distraction and improving their workflow and productivity.
In addition to state of the art security and seamless remote access, Click4Assistance provides a support level that many live chat for your website solutions do not. We are completely based in the United Kingdom, so you get the support you need, in the time zone you need it, without any language barriers, and should you need onsite support, all of our technical team are based in the UK as well, ensuring that everything is seamless with your support.
Live chat for your website, and then some…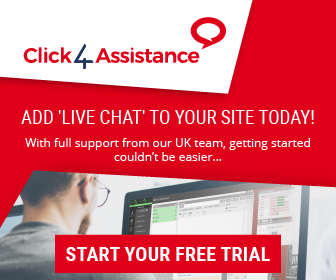 Click4Assistance provides a robust live chat for your website, which allows your customers to contact you on a platform they are familiar with, without the undefined telephone queues. It also provides an alternative option for your customers who have difficulty speaking over the phone or in person, and because it's free to use for your customers and much faster than a telephone call, your customer service satisfaction rate will instantly improve.
The magic of Click4Assistance really shines through when you start using artificial intelligence with your live chat for your website. Artie, Click4Assistance's AI chatbot, is the friendliest robot on the internet, politely greeting all your website visitors as they arrive, helping them with website navigation, answering simple questions and even transferring them to the right customer service agent so they can get a resolution faster with less transfers. He's always online so no matter what time of the day or night your customers come online, he's available to help them, and he can speak with an unlimited number of people at a time, making him one of the most efficient members of your customer service team.
Click4Assistance is the most secure and reliable software solution for your charity's customer service. With over 15 years of industry experience, you can trust that us to provide the right solution for your charity.
If you're interested in deploying Click4Assistance, the UK's premier GDPR compliant live chat software solution, to increase your charity's impact for 2020, give us a call on 08451235871 or send an email to theteam@click4assistance.co.uk and one of our experts will be with you right away. Not ready to reach out yet? Discover how it works, try a demo, or better yet, try Click4Assistance completely free for 21 days.