DATE
TAGS
AUTHOR
VIEWS
Don't Let Hearing Loss Ear-itate You
I apologise for the cheesy wordplay however, in all seriousness our ears are one of the most vital organs for how we experience the world around us. My Nan is a prime example of this; for years, she misheard conversations often leading to some very off-topic input. One Christmas, she thought my brother's girlfriend was talking about having a pet elephant (we were talking about something else entirely!) Now almost 90, my Nan regrets not getting her hearing aids sooner and worries about the batteries running out, concerned she will lose the quality of life she has so recently gained.
It can be harder to detect or come to terms with (like my Nan for at least 10 years) changes in our hearing. The Hearing Care Partnership are big advocates of this and offer free hearing health checks amongst other services, which include:
Free hearing assessment
Ear wax removal
Tinnitus Consultations
Hearing Protection
Hearing aid fittings and aftercare
The Hearing Care Partnership has been established by Leightons Opticians and Hearing Care, allowing independent opticians to offer a hearing clinic to their customers, supported by Leighton's expertise and knowledge.
Leightons Opticians and Hearing Care approached Click4Assistance earlier in the year, wanting to use the live chat for your website service for their hard of hearing visitors on The Hearing Care Partnership's website.
Not only is the communication channel a great addition on the website for the organisation's hard of hearing visitors, anyone can ask questions quickly from booking appointments to requesting information about their more bespoke services such as custom-moulded earplugs etc.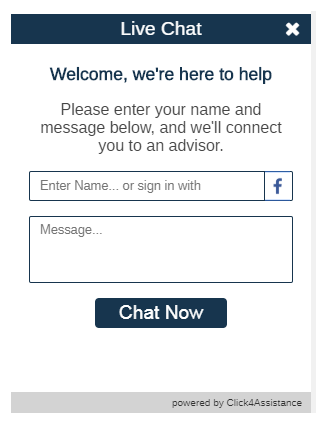 The company opted for a proactive implementation that displays an invitation to chat when a visitor is on a certain pages of the website for a specific time. The window is matched to The Hearing Care Partnership's corporate branding, seamlessly fitting with the website. It includes fields to gather the visitor's name and their message.
If the visitor has submitted a message, The Hearing Care Partnership's agent will be able to view what the enquirer has said allowing the operator to begin advising or asking the questions they need (e.g. for the individual's postcode so they can identify their nearest branch) straight away.
Once the chat has ended a survey is displayed allowing the organisation to receive instant feedback, helping them to improve their chat service. As a natural way to stay connected, links to the company's social media platforms are displayed encouraging visitors to like the organisation whilst the interaction they just had is fresh in their minds.
Text-Based Communication
If something is misheard in conversation, whether this is in person or over the phone, as humans we tend to only ask for something to be repeated a few times before becoming embarrassed and brushing it aside, perhaps even laughing it off. Text-based communication reduces the challenges that accents and bad phone lines can cause.
Live chat for your website is a text-based communication channel, allowing enquirers of all abilities to take their time to understand what is being said, as it is easier to read an explanation or advice. The transcript that has taken place can be sent via email; therefore a record of the conversation can be referred to at any time.
Having live chat on a website can help improve a brand's reputation, as they appear up to date within the digital age. It also gives the impression that the company is accessible as they are truly interested in their customer needs.
Enquirer's may be wary with discussing their health, therefore live chat from Click4Assistance provides a secure one-to-one environment, where data is processed and stored within the UK with full encryption and compliance with GDPR.
Because it is a form of text-based communication, a pre-chat form can be displayed before the chat begins. This can be fully customised therefore a disclaimer can be included to reassure the visitor that their data will be discussed in confidence. This is particular favoured by NHS organisations that have the potential to speak more in-depth with a patient about their health and wellbeing.
A link to an organisation's privacy policy can also be included on the pre-chat form and throughout the other windows, allowing visitors at any point during the chat journey to view how they data is being used and for what reasons. This ensures the company is complying with GDPR when using live chat software.
Click4Assistance has been providing live chat for website software to healthcare organisations for over 15 years, working with both NHS and privately-owned companies to improve their services to patients online. For more information about how we can help your business, contact our team by calling 01268 524628 or email theteam@click4assistance.co.uk.
Alternatively, we offer tailored demonstrations and a free 21 day no obligation trial, allowing you to evaluate the software and see how it can benefit your organisation.