DATE
TAGS
AUTHOR
VIEWS
Live Chat on Website Makes Providing Loans Easier For Mobile Money
Mobile Money provides logbook loans that allow consumers to borrow from £500-£25,000 over 18 to 48 months. The loan is secured by using a car or vehicle as security, allowing customers to gain better interest rates compared to some other forms of credit.
The loan provider has been operating for over 19 years. Their aim is to ensure they provide credit that is affordable and within the customer's budget, even if they have experience some credit issues in the past.
Mobile Money approached Click4Assistance at the beginning of 2018, with plans to test our live chat solution, whilst their sister company trialled another provider. The loan provider originally wanted to use the communication channel on their exit page, which tries to catch any visitors before they leave.
Following the trial period, Click4Assistance became the chosen provider. However, Mobile Money decided to use live chat on website to aid consumers before, during and after the application process, instantly being able to talk them through any issues or have any questions they have.
Live Chat on Website Is Ideal During Loan Applications
In the majority of cases when consumers choose to take out a loan, it is usually a swift decision as they require the funds quickly. Therefore if they have any questions, waiting around for an answer can be disadvantageous for gaining the credit. As an instant communication channel, live chat is the speediest option for visitors to be connected with a representative and have their enquiry answered.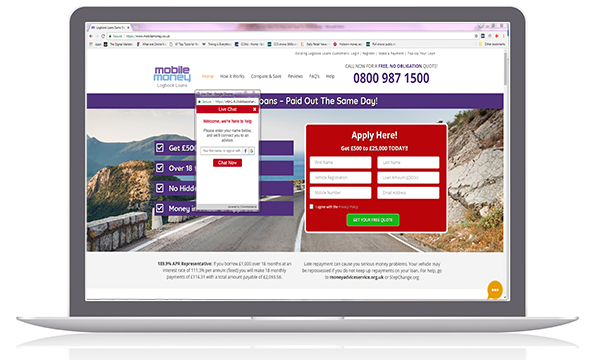 Mobile Money has over 15 frequently asked questions on their website; however it is likely that a consumer will ask within chat about how soon they can get their loan or if they can pay it off early etc. Answers to these questions can be added to a library within the solution, allowing representatives to select from the responses if they receive a repetitive enquiry. The replies can be tailored by the operator before they send their message to visitor.
Another piece of functionality that Mobile Money was investigating is File Transfer. This can enable both the visitor and representative to send documentation to each other, which can include copies of agreements, and proof of income such as a tax return. This allows the process of sending documentation to be streamlined and help applications to be approved sooner.
One of the Securest Methods of Communication
Files that are transferred through the communication channel are ring fenced on a quarantine server. This ensures that any documentation sent will not expose the entire chat system to any harmful content.
Gaining any financial advice can include sensitive data. Chat enables consumers to share as much information as they feel comfortable with, unlike telephone and email that instantly records personal identifiable details such as phone number and email address. All communications via the chat system are transmitted over https/SSL using SHA-256bit encryption, the same level of encryption you would expect within a shopping cart, and is encrypted at rest.
Finance companies, including Mobile Money need to comply with the stringent regulations set out by the Financial Conduct Authority (FCA). With data stored within the UK, Click4Assistance ensures that our finance customers remain compliant when using the communication channel.
Applying Chat to Multiple Websites
Just like Mobile Money who also runs AutoMoney, some organisations have more than one website with very different branding. The Click4Assistance solution makes it easy to differentiate between the various websites, tailoring the chat channel to fit seamlessly within each site.
An experience will be set up for each specific brand, as these control the settings and appearance of the chat channel. Your organisation can select:
Settings
The type of windows displayed
Which team the chat routes to, if multiple departments are set up
Email address the offline form and surveys are sent to if being used
The system welcome text a visitor will see within the chat window
Which email template will be used if the visitor requests a copy of the chat
Whether queuing is being used and the associated settings
If and what email the chat is sent to when closed
If the chat is automatically stored and the corresponding rules
The default size of the windows.
Appearance
The Online and Offline buttons, both for desktop and mobile
The CSS style
A prechat form and it's design
The dialogue window
Post chat surveys and their designs
The post chat confirmation window
An offline form and it's design
An offline confirmation and it's design.
The corresponding script will then need to be implemented onto the website. Any changes then made within the solution to the buttons, windows or configuration will be reflected instantly.
Need More Information?
Click4Assistance has been working with the finance industry for over 10 years, for more information about how live chat can benefit your organisation, contact our team on 01268 524628 or email theteam@click4assistance.co.uk.