DATE
TAGS
AUTHOR
VIEWS
NHS Arden and GEM CSU Implements Chat for Website
NHS Arden and Greater East Midlands Commissioning Support Unit (Arden & GEM CSU), is the latest NHS to adopt chat for website into their online offering. Continue reading to find out more about their implementation of the instant communication channel.
Who is Arden & GEM CSU?
Arden & GEM CSU is one of the leading commissioning support organisations in the UK. To help commissioners, local authorities and providers tackle the challenges faced in building integrated, high-quality, cost-effective services that lead to better health outcomes for patients, Arden and GEM CSU act as a valued and trusted partner.
With offices located throughout the Midlands, North West and South East, their core geographic reach extends to Greater Manchester and Essex. Their hub and bespoke delivery model provides the flexibility to provide services across England, for example, their existing work includes, London, Liverpool, Devon and the Isle of Wight.
Their Live Chat Requirements
The commissioning support organisation was investigating feature rich solutions and selected Click4Assistance as our software met their requirement and we are fully based in the UK, providing support from our Essex based admin office and storing data compliant to regulations on our own servers located in The Docklands, London.
Arden and GEM (CSU) introduced live chat for website to help organisations contact their IT Service Desk to discuss their enquiry quicker. When initiating a chat the pre-chat form requests what type of organisation they are, helping representatives to be prepared on what kind of questions are likely to be asked. The enquiry is then routed directly to the IT Service Desk team.
From the pre-chat form the visitor is taken into chat; Arden and GEM CSU have optimised the automated system message that the individual receives instantly to inform them not to disclose any patient identifiable data. The chat window has also been customised with the commissioning support organisation's logo, to promote their brand and confidence that the visitor is speaking directly with the company.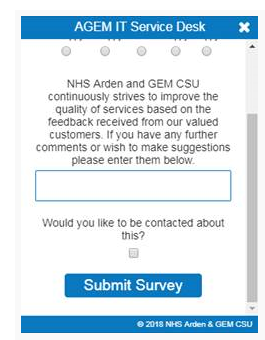 Arden and GEM CSU continuously strives to improve their quality of services, therefore they offer visitors the chance to leave them feedback after the chat has ended. Using a tick box on their post-chat form, the organisation collects permission regarding whether they can contact the individual about any comments they have left, which is noted against the chat record.
If all operators are unavailable or logged off, the offline window is presented. Arden and GEM CSU have optimised the window to display their IT Service Desk's operational hours, informing visitors of when they will be available to help.
Speaking about your health can be sensitive, therefore to help increase visitor's confidence that they are engaging directly with one of Arden and GEM CSU's representatives, the windows have been designed to fit seamlessly within the website's branding.
At any point during a chat, or while viewing a stored chat or report, the information can be emailed directly from the system. Arden and GEM CSU have configured their SMTP settings to ensure the emails sent are from their own email addresses and are branded, therefore the recipient knows exactly who the sender is and that it regards their previous correspondence.
Ensuring Chat Data is Secured
All data is processed and stored within the UK and uses the latest security, this ensures the highest levels of protection are achieved. Identifiable information including the full chat transcript is encrypted at rest and uses SHA256 in transit.
With the use of APIs, live chat can securely be integrated with existing NHS systems, ensuring all communication involving an individual is kept up to date within their record, and streamlines processes for members of staff accessing the information.
Arden and GEM CSU is amongst many NHS organisations to implement live chat to improve their online services. This includes NHS CWP, NHS National Services Scotland and NHS Vale of York. Live chat for website has been proven to increase communication within healthcare industries whilst helping with resourcing and stringent security procedures.
For more information on Arden and GEM CSU's implementation, or to find out how your healthcare organisation can benefit from using Click4Assistance live chat for website solution, contact our team on 01268 524628 or email theteam@click4assistance.co.uk.