DATE
TAGS
AUTHOR
VIEWS
Plan an Armed Forces Day Event with Live Chat on Website
Armed Forces Day is an annual event celebrated in late June to commemorate the service of men and women in the British Armed Forces. This can include cadets, veterans, service families and currently serving troops.
They defend the UK and its interests by promoting peace, delivering aid and providing security. This year's national event takes place in Cleethorpes, North East Lincolnshire. Why not throw a party, join online events or arrange a local event to support Armed Forces Day? Sounds like a good idea, but where to begin?
Many companies have come to recognise the text based communication tool that is live chat. It's the most simple and easy way for customers to engage with businesses without having to be put on hold, or wait for send emails back and forth.
Businesses can use live chat on website to help customers with organising an event for Armed Forces Day. They can fully customise the windows to match the website branding. From the visitor's perspective, looks more personal as they're familiar with the company and feel more comfortable talking with them. Perhaps add a Union Jack as a chat button?
The Career Transition Partnership (also known as CTP) is a partnering agreement between the Ministry of Defence and Right Management Ltd, who are global career development and outplacement specialists and part of the ManpowerGroup, providing resettlement services for those leaving the Royal Navy, Army, Royal Air Force and Marines. Regardless of time served, all members of the Armed Forces can benefit from CTP support when leaving Service.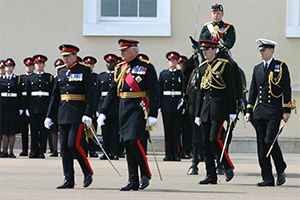 Click4Assistance customer The Career Transition Partnership approached us in June 2014 with the solution being an instant success, the company decided to expand across multiple employers over the last two years.
CTP use the Click4Assistance live chat on website solution to aid easy communication between service leavers and potential employers, running 'open' days where invited service leavers can speak directly to employers including British Gas, BP, Network rail and many more.
It's All Very British
Hosting our data servers in the UK makes Click4Assistance proud to be British, as we know all our customer information is kept safe in Telecity, London, conforming to ISO 9001 and 27001 standards. Click4Assistance also adheres to the stringent regulations laid out by the FCA for data storage, Data Protection Act 1988 and PCI compliance.
Why not support a very British event with a very British provider? However, just because we're British doesn't mean to say your business can't assist those who aren't.
For more information, contact our dedicated account managers on 0845 123 5871 for a helpful demo on live chat on website. Or drop us an email at theteam@click4assistance.co.uk for a free information starter pack.
Author:
Rae Boyling
Rae is the Marketing Assistant for
UK live chat software provider
, Click4Assistance, with experience in copy and original writing, Rae produces content for articles appearing on the Click4Assistance website and email campaigns.