DATE
TAGS
AUTHOR
VIEWS
Happy 10th 'Chat On Your Website' Anniversary Questor Insurance
Questor Insurance is celebrating 10 years of business and their 10th 'chat on your website' anniversary with Click4Assistance. At the forefront of customer service, Questor Insurance saw the importance of adding live chat to their website from starting up, allowing visitors to contact the company easily.
Laden with anniversary goodies, we met with the CEO Andrew Lawrence and Head of Operations April Bushell. They mentioned that when going through the quote process it is easier for visitors to ask than look up the information themselves. If customers are just querying something simple, the example Andrew used was someone clarifying whether Israel is classed as Europe or Worldwide, they do not want to have to wait for a lengthy period of time on the phone, with their reports showing that callers will only wait 17 seconds.
Click4Assistance live chat has been great for Questor Insurance over the 10 years, the system is simple for visitors to use and instantly receive a response, as their operators can handle multiple chats at any one time. They experienced a peak in chat enquiries from last year, when they repositioned the button to a more prominent location.
"Frequently these software companies are fairly faceless. Not with Click4Assistance. Brilliant Customer Care, you can always speak to someone instantly with any queries and they are only too happy to help. Importantly also they are very often an expert in the field. That's before talking about the software which does more than the job and helps us with our constant quest to find new ways of interacting with our clients. Recommend the company and its software to anyone" – Head of Marketing, Questor Insurance
Looking towards the Future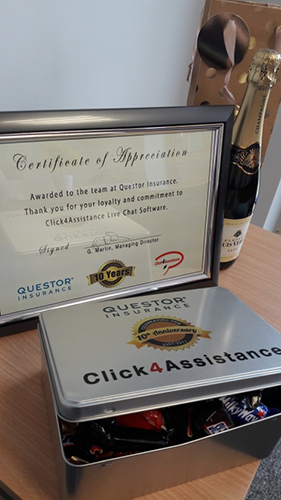 During our anniversary celebrations it was discussed what is in store for both companies. Showing the new enhanced solution, 'Experiences' by Click4Assistance to Andrew and April we listened to their feedback, they are looking forward to using the software and expanding their current use. Involving more advanced reporting to monitor the overall quality of their operators' service and to identify any training needs.
Andrew and April were investigating where they could optimise functionality such as proactive invitations and Promotions to improve displaying important information and opportunities to encourage visitors to discuss their quotes. They also shared their hopes of taking the technology further through future phases of development, building on the foundation already set in place. Their feedback included being able to integrate with third party platforms such as, their telephone system and preferred review site, this would provide them with a central console to record and monitor all communication going through the insurance company.
Our conversation turned towards the use of Artificial Intelligence and that both companies feel this type of technology is not ready to fully take the place of human operators yet. Click4Assistance offers intelligent functionality that can identify keywords used within responses and offer a number of potentially relevant replies to the operator, the human representative is still fully in control of the chat and has the option to continue writing their answer or select one offered by the system. April pointed out that their tag line is "Unexpectedly Personal" and having a bot speaking directly to visitors would defeat the object of delivering a personal service.
We also spoke about the benefits and drawbacks to video chat, as this was something they have considered using. If operators and visitors were comfortable with being involved in a video chat it would build on the personal experience, however many people can become shy when it comes to being in front of a camera. The other downside is that video enquiries would decrease the level of productivity the company currently achieves, as an operator would only be able to handle one enquiry at a time.
Thank you to Andrew and April for hosting us at their office and for the yummy biscuits!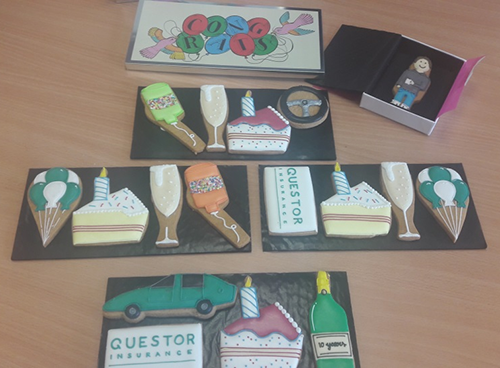 Everyone at Click4Assistance would like to wish Questor Insurance happy 10th years of operating, and 10 years chat anniversary with us. We wish them good luck as they move into new premises this year and look forward to the next 10 years of our partnership.
For more information about Questor Insurance visit their website.
To add chat on your website and find out more about how the Click4Assistance solution can benefit your organisation, contact our team on 01268 524628 or email theteam@click4assistance.co.uk.
Author:
Gemma Baker
Gemma is the Marketing Executive for
UK live chat software provider
, Click4Assistance, with a range of digital knowledge within PPC advertising, SEO practices, email campaigns and social media.