DATE
TAGS
AUTHOR
VIEWS
Universities Optimise Their Staff Resources with Live Chat for Website
The summer period is a busy spell for universities, with last minute applications, potential students hope to be placed for the approaching new term. It is also a prime time for staff with children to take annual leave; some teams are even limited to when they can take their holiday allowance.
This can be a stretch on staff resources which can reflect in the service delivered to potential students; therefore many universities across the UK are turning to live chat for website. This includes:
The University of Bradford
The University of Edinburgh
The University of Manchester
University of Essex
University of Suffolk
Just to name a few! These establishments and many others across the UK have been using live chat to improve online engagement with potential students. The communication channel instantly connects the visitor with a representative where text based messages are sent in real-time.
University representatives can handle more than one enquiry with live chat, unlike other communication channels such as telephone and email which are limited to responding to one query at a time. This increases their productivity and reach to advising more potential students.
Upon entering a chat some universities prefer to use a department selector which allows the visitors to choose the faculty they wish to speak with. Royal Holloway, University of London has 28 departments set up to use chat, by using a department selector the potential student is directed straight to the correct team. This speeds up the process and reduces any frustrations they would experience by tediously listening to all the options via an automated telephone menu.
Logging in and Availability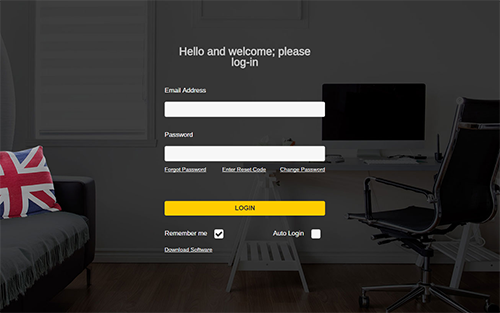 The Click4Assistance solution can be scaled to suit universities staff resources. Licences are added to the account that allows users to instantly log in with their own unique profile. Additional licences can be added easily if the amount has been exceeded, enabling more staff members to cover the chat when experiencing a high volume of enquiries. To save time and the need to download software onto a temporary device when representatives are moving around on campus or between locations, operators can access the browser version of the solution instead.
Users are in control of their own workload by toggling their availability status. It is good practice to switch to unavailable when they are busy, or log off altogether when leaving their desks for a long period of time, allowing another operator to log in.
By having the facility for visitors to leave their contact details, the Click4Assistance solution continues to support universities even when all users are unavailable or logged off. This is particularly useful for international enquiries due to the difference in time zones. The completed information is sent via email to an allocated email address and also has its own section "Offline Requests" in the Dashboard area of the software. Representatives can drill into the enquiries and mark them when they have been actioned to ensure visitors have had contact with the organisation.
Auto Navigation and Co-Browse
Researching different courses, finance and housing options can be confusing for a young individual making decisions about their future. To help the potential student find the information they require the representative can use the Auto Navigate feature to select the relevant page and push it through the system, opening in a new tab of the visitor's browser.
Alternatively, if the potential student is already on the correct page and are experiencing difficulty, especially if they are filling in an online form, the operator can view a replica of the page the visitor is on via the Co-Browse feature and more accurately advise them.
Helping potential students quickly increases universities representatives' productivity as they can help a higher volume of potential students.
Replying Instantly
Another way to answer as many enquiries as possible which increases productivity is to use features such as Ghosting and Pre-defined Replies, which provides a faster response rate.
Ghosting displays what the visitor is currently typing in real-time, representatives can start to gauge the nature of the enquiry and form how they are going to respond.
The Pre-defined Replies function is a pre-set library of agreed answers to frequently asked questions that the operator has access to during their chats, allowing them to edit the reply before sending, providing an accurate response.
Meeting Rooms
Another product that is growing in popularity among universities is meeting rooms. Multiple participants are able to engage and converse with each other during a chat session. University representatives can save time and increase their productivity by advising several potential students at once, providing information about a specific event, course, or details about the campus in general.
Don't let the lack of staff members, especially during the holidays affect how your potential students are served. Ensuring each one has their enquiry answered satisfactorily couldn't be easier with live chat for website. Click4Assistance has been working with the education industry for over 10 years. For more information contact our team on 01268 524628 or email theteam@click4assistance.co.uk.
Author:
Gemma Baker
Gemma is the Marketing Executive for
UK live chat software provider
, Click4Assistance, with a range of digital knowledge within PPC advertising, SEO practices, email campaigns and social media.