DATE
TAGS
AUTHOR
VIEWS
University of Essex Implements a Chat Box For Website System
52 years ago, 122 students arrived for the University of Essex's first academic year. Two of their former students. Professor Chris Pissarides and Oscar Arias Sanchez both graduated from the University. Pissarides won a Nobel Prize in Economics and Sanchez won a Peace Prize.
Their three campuses are located in:
• Southend
• Laughton
• Colchester
The University celebrated their 50th Anniversary back in 2014 and approached Click4Assistance one year later to discuss live chat software.
How the University of Essex Differs from the Rest
Students who receive a place with the University are sent an email with a chat link included. They're bound to have lots of questions, having the chat link within the email not only enables the students to contact the University straight away, but increases phone line availability by preventing calls to the clearing line.
Considering that some may not be able to attend the open days, University of Essex decided the implementation of the instant communication channel would benefit them as the students can start a chat straight from their website, where specialist operators can answer their questions immediately.
Using Features within the Software
Usually, students can't directly contact their tutors, so when they have questions in mind, they might only get through to the admin department who don't always have the specific answers. However, the Live Chat service offers a meeting room feature.
This allows multiple students to join a group chat. There they can discuss any problems or ask questions they may have directly with their lecturer. These group chats can be set on certain days, where students can log in at a specific time and join in with other undergraduates. This is also very popular with international and oversea students, who might not be able to make the open days.
Another great feature that the University of Essex has benefited from is the file transfer. Operators can send any required documents – e.g. brochures, leaflets with information about certain lectures etc. - to students without having to leave the chat.
UK Provider Manages an International Service
The University of Essex approached Click4Assistance with intentions of improving their services to students and thought Live Chat would be the best way.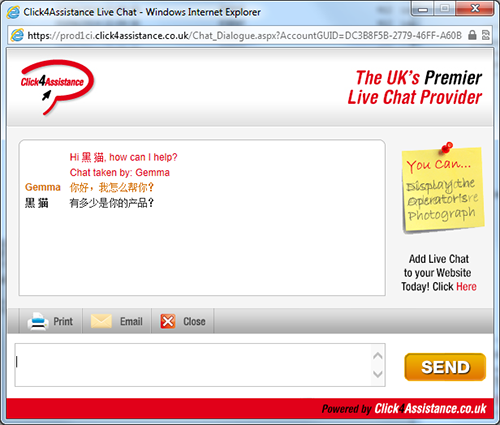 Having a chat box for website system in place means that international students don't miss out. Representatives who operate the solution can use simple translating tools when talking to those who wish to speak in their own language.
University of Essex have successfully been operating Click4Assistance Live Chat solution for a year, for more information on how they've benefitted from the tool, contact one of our account managers on 0845 123 5871 or email us at theteam@click4assistance.co.uk.