DATE
TAGS
AUTHOR
VIEWS
Uniquest Improves University Enrolment with Live Chat
Uniquest are a managed service partner specialising in improving student recruitment and retention for Universities. Supporting the likes of Roehampton and Kingston Universities, they have select teams that handle chats on their behalf.
Uniquest has reported that in a 12 month period they handled over 7000 chats on behalf of their university clients. 51% of these occurred on desktop, with 9am to 12pm being the most popular time for uptake. The UK (19%), Nigeria (12%), India (4%) and Egypt (3%) are the most popular locations that potential students are enquiring from.
The managed service partner has also shared that chat is their second highest communication channel successfully achieving conversions after email. They have experienced a 108% increase in chats year on year, proving that text based communication is preferred by the demographic.
Why Chat has Proved Popular?
"76% of prospective international students expect a response to their enquiry [on the] same or next day." Live chat exceeds these expectations by instantly connecting the potential student with a representative who can answer their questions.
It can break down barriers such as language if the potential student is not very fluent in English. The live chat system can be used in conjunction with a translator such as Google, helping both parties to engage more easily.
Cost can be another factor in why the prospective student doesn't reach out to enquire. It can be expensive to make an international call and the reason why only 30% of students will actually pick up the phone. Live chat is a free communication channel. It's presence on a website can encourage the visitor to get in contact and improve engagement rates.
Ensuring International Students are Accommodated For
It's no secret that international students are of high value; therefore every step should be considered to ensure recruiting them is as successful as possible.
Alongside adding chat to website, there are other communication channels that universities across the UK are using to attract potential international students to engage. These are Click2Call and Meeting Rooms.
Click2Call allows a visitor to request a free phone call over the normal phone network. The organisation is responsible for the charges which are cheaper than usual; therefore perfect for reducing the costs involved for potential international students to enquire.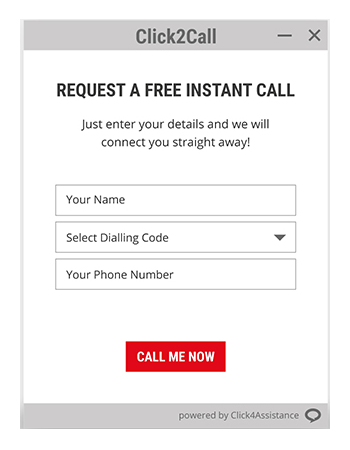 The communication tool is presented via a button or invitation on your website. International students can request a free call by clicking and entering their details, including their name, phone number and country dialling code. When submitted, the representative is notified within the Click4Assistance solution of the incoming request, once accepted both the operator and enquirer's phones will ring, connecting them instantly.
Click2Call is great for international students when there is no or little language barriers, as both parties still need to be able to understand the question and answers being spoken. Meeting Rooms is another text based communication channel; however it provides an environment for multiple participants to digitally engage in online discussions.
This is ideal for providing international students with information, which they would have previously not received due to their location. Universities have been using Meeting Rooms to hold discussion groups during Virtual Open Days, where they can learn about the campus facilities and their course without having to travel. The communication tool can also be used for Q&A sessions to help the students throughout the different stages of the applicant process, from writing their personal statements, to applying through Clearing etc.
International students are important to universities, providing free access for them couldn't be easier. Click4Assistance has been providing live chat for over 10 years, working with clients such as Uniquest, University of Essex and Royal Holloway to supply successful communication channels that improve recruitment of international students.
For more information about the Click4Assistance solution, contact our team on 01268 524628 or email theteam@click4assistance.co.uk.