DATE
TAGS
AUTHOR
VIEWS
Digitalise Face-to-Face Customer Service with Video Chat
Did you know that body language accounts for up to 93% of the meaning people take from any human communication? Therefore, it is very easy for text-based communication such as live chat or email to be misunderstood when the tone can be comprehended in a different manner than what was intended.
Video chat add that extra level of meaning to live chat as the live video stream enables 1 or 2 way face-to-face and voice connection between the visitor and a customer service representative, allowing them to subconsciously analyse each other's body language (should a 2 way feed be used).
When Video Chat Can Be Used
Each industry will have different reasons for using video chat. Ultimately, the communication channel will be implemented to digitally see each participant and build a relationship, as the experience provides a personalised method of communication allowing your visitors to see the real people behind the website.
Retail / ecommerce companies can use video chat to demonstrate products to their visitors. This can be either to present the items of potential interest to buyers, or can help support customers by showing them how the product works, or how to troubleshoot if there is an issue with an electrical item for example.
Travel agencies can deliver the traditional service that was once expected in high streets. Representatives can send digital brochures via file transfer to the visitor and discuss the options available face-to-face, picking up the enquirer's body language to measure interest.
Healthcare organisations can use the communication channel to consult with visitors and provide them with more relevant advice as they can see what the enquirer is referring to. This is a particularly useful service for healthcare professionals advising someone who might be house bound or may prefer to lip read or sign etc.
Universities will be able to hold one-to-one video chats with students at different stages during their education journey. Admissions could hold interviews or advice session for potential students, helping them to apply for a course and ensure they meet the entry requirements. This is useful for international students, who may be restricted by their location, the cost of travelling to or phoning the university, or by language barriers. Lecturers can also hold video sessions for any of their students who need additional help with their assignments, ensuring they understand the information provided.
Other industries will have alternative ways for using video chat. However, this gives you an idea of how adaptable the communication channel is, regardless of the product or services your organisation provides.
Setting up Video Chat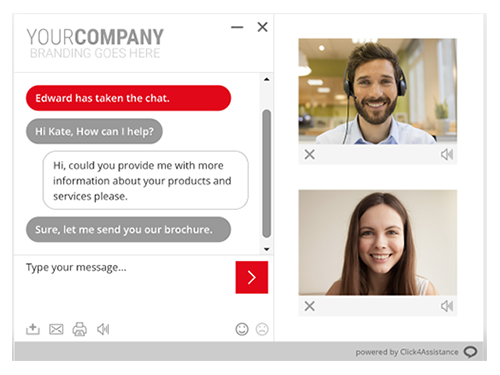 Video chat includes the same features and functionality as live chat with the addition of a live video and voice feed. Once video chat has been added to your package, the chat window will need to be configured to include the feed(s) and any other elements that fit seamlessly with your branding - logo, colours, marketing materials etc. Take a look at our customisation guides available from our support pages, for further information on how to configure your video chat window.
Your organisation can direct visitors to a prechat form, where personal information can be collected or they can be taken straight into chat where the video feed can be initiated. Your company can also choose to present post-chat surveys for instant feedback and an offline form when no operators are available, completely tailoring the customer experience.
Click4Assistance is the UK's best live chat provider who has been providing online communications for over 10 years. Introducing video connections provides your visitors with one-to-one interactions, transforming your online presence into a real life experience. For more information on how to add video chat to your package, or to find out more about the communication channel, contact our team on 01268 524628 or email theteam@click4assistance.co.uk.