DATE
TAGS
AUTHOR
VIEWS
Click4Assistance Are Taking Part In MS-UK's 925 Challenge
The next 7 weeks are going to be eventful, challenging, fun, messy and charitable. Bring it on!
What is Multiple Sclerosis (MS)?
Multiple sclerosis (MS) is a disease of the central nervous system (your brain and your spinal cord). The central nervous system cells are covered in a protective layer of fatty protein called the myelin sheath (a bit like the insulation on an electrical cable). MS is an auto-immune disease, where the immune system gets confused and instead of attacking an infection or virus, the immune system turns on itself and attacks the nerve cells, damaging this protective sheath. This process is called demyelination. The demyelination disrupts the 'messages' being transmitted from and to the brain, causing them to slow down, become distorted or not get through at all.
The term 'sclerosis' is a Greek word that means scaring. Demyelination causes many scars or lesions in different places within the central nervous system. The symptoms that occur depend on the site and severity of the lesions and this is why people with MS experience different symptoms at different times.
Who are MS-UK?
MS-UK is a national charity formed in 1993. They are here for people affected by MS which is estimated to be more than 107,000 in the UK and 2.3 million worldwide. MS –UK are here for anyone affected by MS, to empower them to live healthier and happier lives by helping them make informed decisions, whether that be via medication, complementary therapies, lifestyle changes, a mixture of these or none at all, it varies greatly from person to person.
They are a community-led charity and the voices of people affected by MS shape everything that MS-UK do to work towards their mission of improving the understanding of MS and providing support where it is needed most.
What is the 925 Challenge?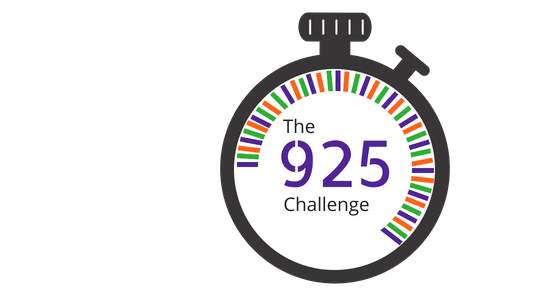 On Thursday 12th September 2019 each team was given a countdown timer. The clocks give each company participating 9 weeks 2 days and 5 hours to raise £925 which can be obtained in absolutely any way possible.
The 925 challenge raises crucial funds for MS-UK and helps to promote awareness about what the charity does.
What Click4Assistance is Doing for the 925 Challenge
Over the next 7 weeks we will be doing our bit to raise money and awareness:
From 1st October we will be opening our raffle, keep your eye out for our post listing our prizes and their generous donors.
5th October we will be doing a boot sale, all items for sale have been donated by the Click4Assistance staff and all proceeds will be going into the 925 Challenge pot.
13th October the staff will be running, walking and in some cases crawling through a 5k bubble course. We expect to get messy therefore pictures will be put up on the website as it's all for a good cause.
Towards the end of October we will be holding a competition for our customers to guess the amount of money in a jar, the closest guess will receive complimentary functionality within our software for a year!
To top it off we will be holding a bake sale in November for the local businesses neighbouring our head office.
On top of all this, our own Amy Joyce from our account management team will be going sober for the whole 9 weeks, 2 days and 5 hours. She has already started her own personal challenge when the clocks started, and we are supporting her every step of the way.
If you would like to help us complete our challenge by donating please visit: https://www.justgiving.com/fundraising/c4a-bubblerun