DATE
TAGS
AUTHOR
VIEWS
Add Chat to Website to Prepare for Christmas Sales
A shop without assistants is like Christmas without a Christmas tree, you wouldn't have it! So why have your website without instant communication for customer service?
Live Chat is a quick communication tool that many organisations such as Local Authorities, Universities and Estate Agents have implemented to improve their customer service and relationships with their clients. It's easily accessible, whether customers are using their mobile, desktop or tablet, as the chat window fits to the screen size depending on what device the visitor is using.
Adding chat to website can increase the productivity of a business, as well as their phone line availability. It can be hard for some customers to reach the company, if they are caught up in lots of calls and customers will have to wait on hold for a lengthy time, or not get through at all.
Many companies are looking for new ways to engage with their customers adding chat to website is the easiest means of instant communication that comes with features including automatic navigation, file transfer, routing and predefined replies. Each of these help improve the customer service experience for the visitor. If the visitor is having trouble navigating around the website, the representative can use the automatic navigation system to redirect them to the page they're looking for. Predefined replies allows the operators to answer frequently asked questions with just a shortcut key, and the routing system allows operators to direct visitors to the correct department that can help with their enquiries.
Benefitting the Consumers
Accessing Live Chat via a website is made easy for the customers. With a chat button in place that visitors can click, presenting a chat window starts a chat immediately. Chats can be anonymous and are one to one with a knowledgeable operator to answer any queries the visitor may have. The solution is completely text based and customers can receive an instant reply. Many businesses are using Live Chat as a way of not just improving their customer service methods, but also to increase sales, convert more website traffic and to generate more leads.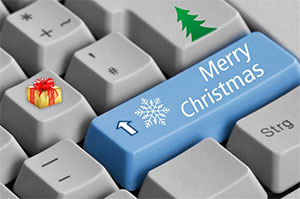 Around Christmas, businesses will be sending out their newsletters to subscribers with deals and rewards. The chat button can be added as a link within the content or as a button to the HTML email; customers can click the link that directs them straight to chat, improving conversions through email marketing.
Add live chat to website with no setup costs. It merely takes 10 minutes to download a small application on the desktop and add a small piece of HTML on the webpage.
For more information, request a free case study by starting a chat, or contact us on 0845 123 5871 to speak with one of our dedicated account managers about the implementation of Live Chat today.