How to add video chat to your website
Now more than ever, businesses need to do everything in their power to stand out from the competition and deliver value to their customers. This includes aiding them along the buying process and providing a personalised experience. This is what video chat can help you to achieve.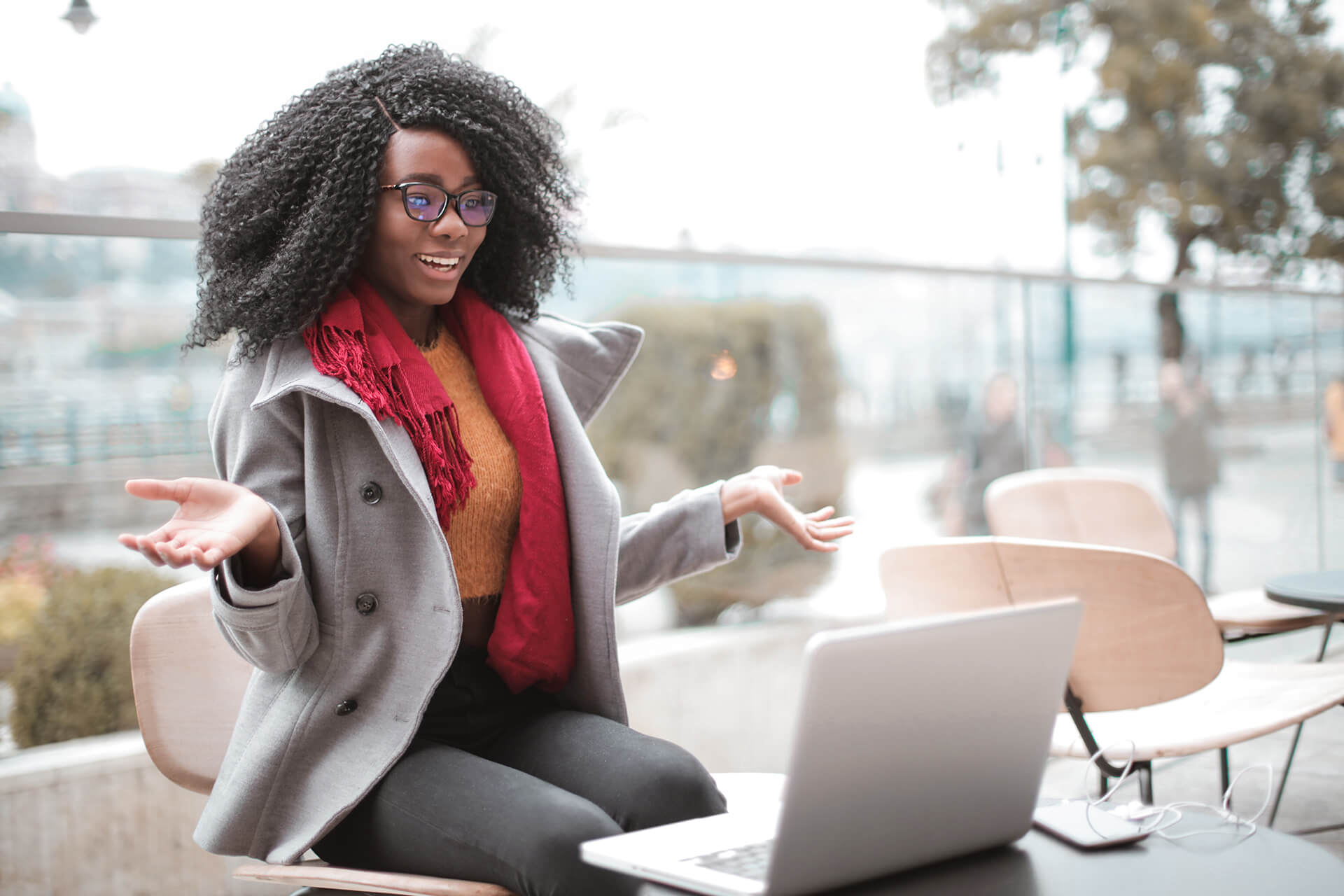 We have all seen the dominance of live chat in recent years as a customer service channel. People love the efficiency and convenience associated with live chat. All they need to do is type their query whenever they need some assistance. This helps to avoid shopping cart abandonment and to increase customer loyalty.
Video chat goes one step further than this. It ensures that customer service agents can demo products and answer queries in the most effective manner.
A lot of businesses are reluctant to add live video chat to their website because they assume that the process is going to be a complicated one. You may be surprised to learn that this is not the case. In fact, it only involves five simple steps, which we will explain in full detail below.
What is live chat video software?
Live chat video software enables you to have a two-way or one-way video chat with another person or group of people. This is something that businesses are making the most of in two distinct ways.
The first is by using live chat to empower collaboration across employees and different departments within the business. This is known as business video chat solutions, with web conferencing products being popular here.
The second, which is what we are going to focus on in this guide, is adding video chat to their website so that they can connect with customers and enhance their experience. This is all about being there for your customers in the best possible way.
What are the benefits of live video chat software?
There are many benefits associated with adding live video software to your website, so we're going to take a look at these before we explain how to add one of these solutions to your site.
Demo your products - One of the main reasons why live video chat is beneficial is because it enables your customer services team to provide live product demonstrations. While live chat can give you the power to answer many different queries, the only way that you can show how your product works is via live video chat. Yes, pre-recorded demo videos are great, but how are customers going to know that a product works in the way they want it to? After all, all customers have different needs, and they all have different ways of engaging with products and understanding how they work. This is especially the case for technological gadgets that have a lot of features. Take smartphones as a prime example. You can provide live demonstrations that take customers through all of the different elements that they are most interested in.
Personalise your customer support - Personalisation is one of the most vital keywords for businesses today. Providing a one-size-fits-all solution to anything simply does not cut it. Customers expect you to understand their needs and requirements. They expect you to tailor to them, rather than providing a catch-all response. Video chat enables you to do this because you can offer face-to-face communication that allows you to personalise support. This is the best way to create loyal relationships with your customers and to ensure they keep coming back for more.

Improve customer satisfaction levels - Happy customers do wonders for your business! They post positive reviews about your company online. They buy products and services from you. They tell their friends and family about you. They write nice things about you on social media. The list goes on! With live video support, you can go above and beyond to make sure that your customers are satisfied. This is more important than it ever has been because it is easy for customers to simply click off a website and switch their alliances today. With live chat support, you can significantly reduce the chances of that happening.
Increase your bottom line - All businesses want to make sure that their profits are high and on an upward curve. Live video chat can help you to do this. There have been numerous studies that have shown that this form of customer support can drive conversions and sales. Think about it; if you're on a website and you're unsure whether the product you are considering is right for you, you are going to be likely to simply click off and look for something more suitable elsewhere, right? Video chat can prevent this from happening because it enables your customer service agents to engage at the right opportunity. They can understand your customer's needs, helping them to figure out what product is going to be right for their requirements, and encouraging them to go ahead and make a purchase that would have otherwise been lost.
Get ahead of the competition - Last but not least, live video chat is something that only a few businesses are making the most of on the grand scheme of things. This is why it makes sense to act now so that you can capitalise on this before your competition does. It pays to be ahead of the game. You don't want to give your competition the opportunity to excel in this department before you do. Adding live video chat can enable you to grab some customers from the competition as well.
How do I add video chat to my website?
The process of adding video chat to your website should not be complicated. Of course, it will depend on the provider you choose; however, most will follow a similar five-step process. So, let's take a look:
1. Create an account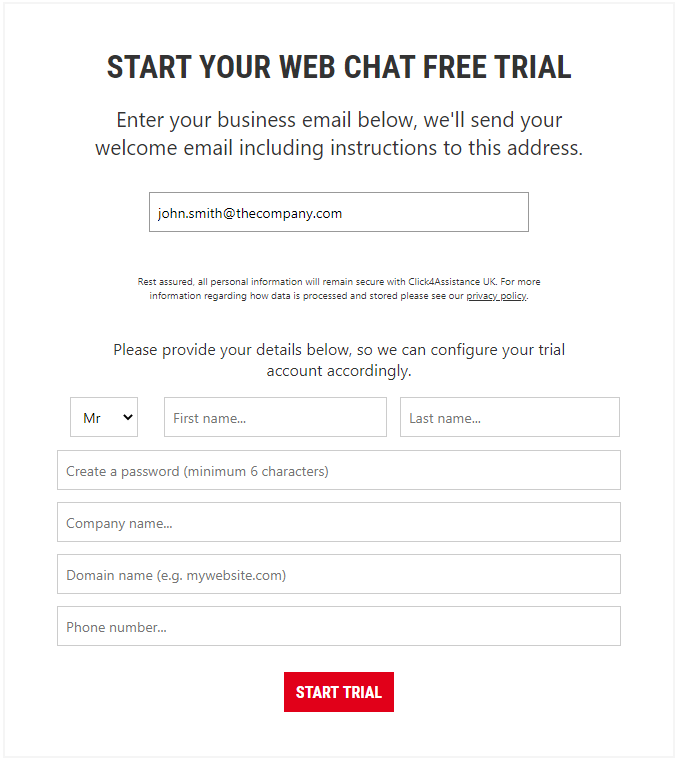 You will need to create an account with your chosen video chat provider. This is a simple process, which will involve entering a few details about your business. Usually each provider offers a trial, so no payment details will be required at this stage.
There are a few companies that offer video chat solutions for free, yet we don't recommend going down this route. This is because these plans are very limited, with few customisation features and they often incorporate the provider's branding, which you don't really want on your website.
2. Copy HTML into webpage

Once you have created an account, you will be provided with a link for the video chat room. You can simply send this link to all of the required participants, either via email or by posting it on your web page. If you're having a live chat discussion with someone, you can send them the link via the chat box so that a video call commences.
These sorts of solutions are very easy and convenient, as they mean you are not going to need to download any programs in order to add live video chat to your website. The Click4Assistance video chat solution is one that does not require any downloads.
3. Configure

You will want to ensure that your video chat solution is configured so that it provides a seamless experience for your customers.
This involves dealing with all of the technical details. How big do you want the video chat screen to be? How is it going to be incorporated into your website? How will the live chat be initiated?
4. Customise

The best live video chat solutions also give you the ability to customise the solution so that it is an effective representation of your brand.
This means that you can include your logo, as well as marketing messages. You can also think about the different ways that you can personalise the experience you provide for each customer.
5. Have a voice and video chat

Now, you're ready to enjoy a voice and video chat with your customers! There are a number of different steps you can take to ensure that the experience you provide is a positive one.
It's all about making the customer feel comfortable. Some people may feel a bit awkward going on live chat to a stranger, so greet them with a smile and interact in a friendly manner.
It is also a good idea to give yourself a second to pause before you reply to anything the customer says. After all, you don't want a slight lag to result in you speaking over the customer.
These are the five basic steps that you need to follow to add video chat to your website. Most of the solutions today come with powerful tracking and analytic features, enabling you to get a better understanding of your customers and sales rep performance too.
You can use this information to drive your business forward and ensure better performance amongst your customer services team.
What are some of the functions of online webcam chat software?
There is a wide range of functions and features available with voice chat software for website purposes today. This includes:
Latest WebRTC technology - WebRTC stands for web real-time communication. This is the technology that enables websites and applications to capture and stream video and audio media. The live video chat solutions of today make the most of the latest WebRTC technology, which means they can be used on any device, from smartphone to desktop.
Nothing to download or install - You may assume that live video chats require an extensive software download. In fact, you don't have to install or download everything. The video chat solutions of today will work from within your browser, meaning there is nothing to install.
Both voice and video - You can make the most of video and voice conversations. Sometimes there is no need for video to be turned on, yet voice calls can be more effective than written replies via live chat. They enable you to connect with a consumer without them having to dial your customer service's line, which could result in them being on hold for hours and facing a costly bill for the honour too!
1- or 2-way video streaming - As touched upon, a lot of people may feel awkward about going on live video chat with a person that they have never met before. This does not mean you cannot benefit from everything that live video chat has to offer, though, as one-way streaming is available as well. This means you could use your webcam to demo a product to someone, yet they don't have to have their video switched on if they don't want to.

Transfer files, documents, images within the chat - This is collaboration at its finest. There are no restrictions with the modern live chat video software solutions on the market today. If you need your customer to upload a file or document, such as proof of identity, or you need to send them a PDF, you will be able to do so. You can also share screenshots and images. This ensures you are able to provide each customer with the unique and personal assistance they require.
Brandable chat windows – It is essential to make sure that your live chat app is an extension of your brand. It needs to represent your business and fit in with your current branding. The good news is that the video chat widgets of today are entirely customisable and brandable. You can change the colour of the window, add your logo, and much more!
Final words on adding live video streaming chat software to your website
So there you have it: an insight into the simple process that you should follow to add live video chat software to your website.
A lot of people assume that it is going to be difficult to add this feature to their website. They envision a complicated website re-design process and lots of software to install onto their devices. This could not be further from the truth.
Adding live video chat to your website is easy, and so there is no excuse when it comes to embracing their revolutionary customer service trend.