The best chat room software for your website
If you think about it, chat rooms aren't new. They have been used for many years now for socialising. However, the way that we are using chat rooms is changing.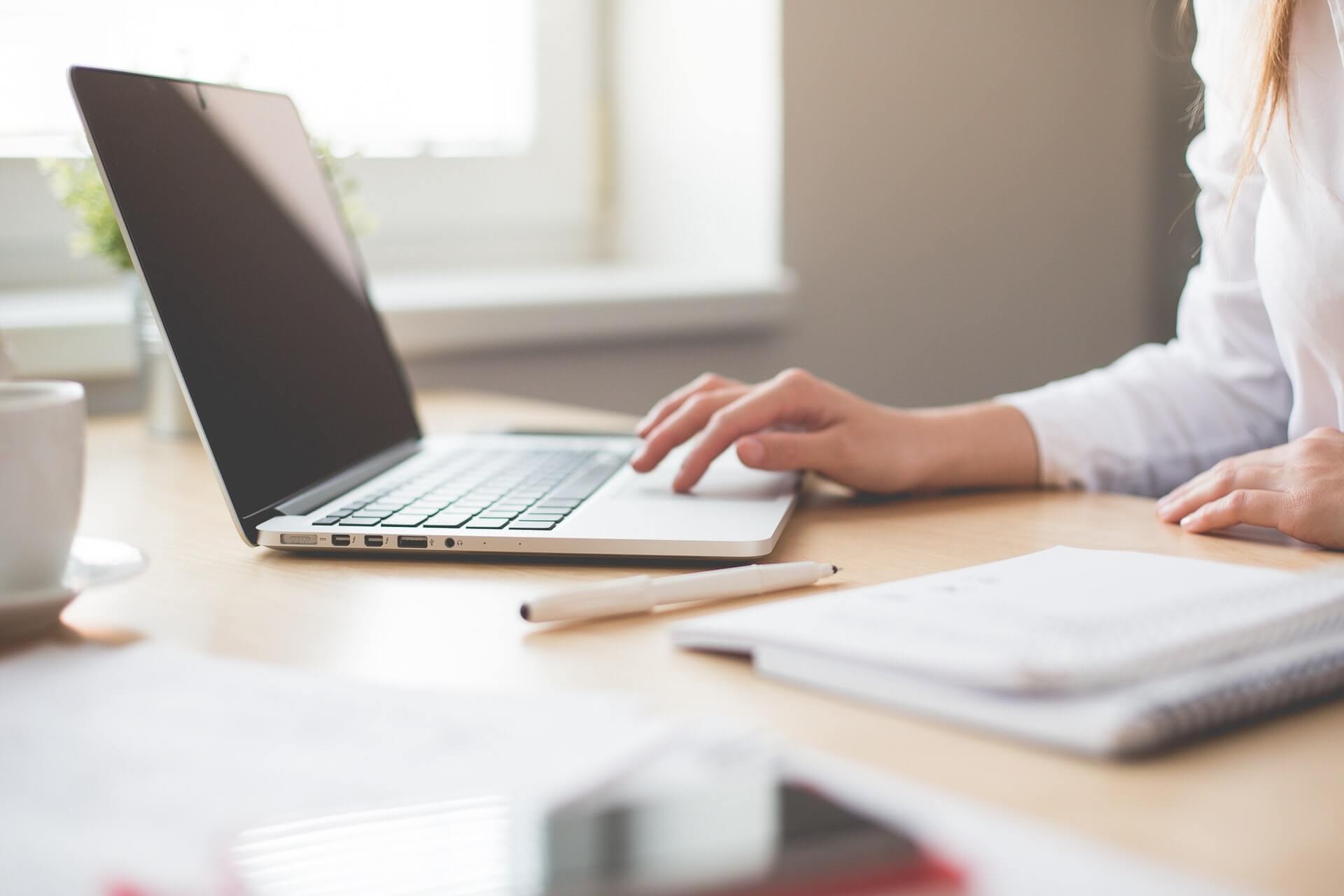 Today, businesses are using chat rooms so that they can connect with potential customers, suppliers, clients, and other departments within their company.
Business chat has a place in virtually every company today, and below we are going to explore some of the best chat room solutions out there today to give you a better understanding of your options.
What are the benefits of chat rooms?
There are many reasons why people use chat rooms (sometimes referred to as a chat room widget or chat room plugin), so we are going to take a look at them before we reveal some of the best chat room services.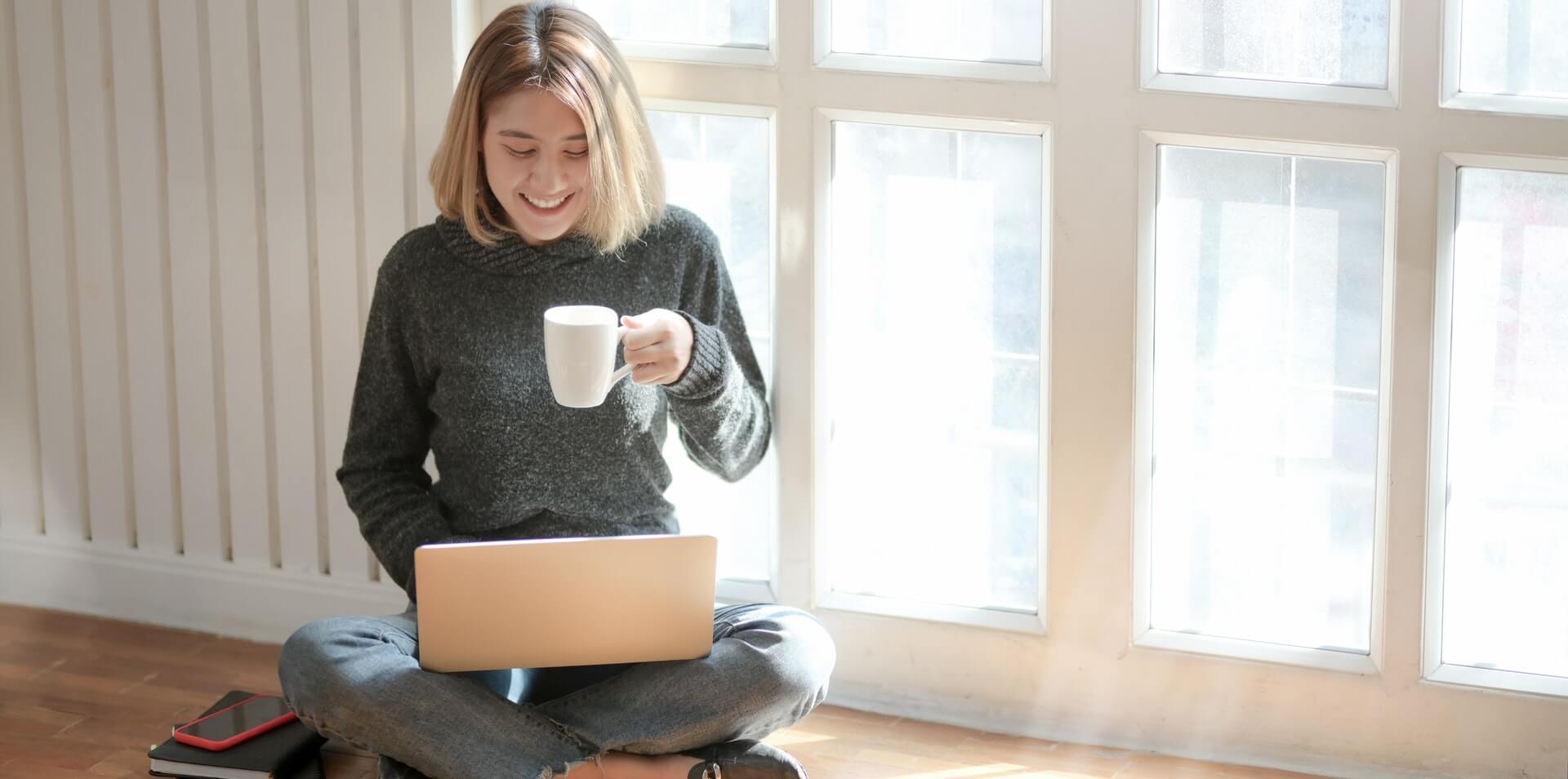 A secure place for employee collaboration
The first reason why a lot of businesses use chat rooms today is so that they can provide a secure place for their workers to meet and brainstorm with one another. Because online chat room software can be restricted based on the credentials of the user, you can make sure that only certain employees will be allowed into specific chat rooms.
Bring remote workers together
You can also use public business chat rooms so that employees can interact with each other throughout the working day. Chat rooms can be beneficial for employees that are working on the same project but are not in the same location. A lot of business owners will also agree that employees are often able to bring better ideas to the table in a chat environment rather than in a face-to-face setting.
Host client conferences virtually
Live online chat rooms are practical in terms of client conferences. Businesses can use a chat room to host a meeting between multiple people. This can include B2B clients, as well as relevant people from your company. This interaction means that people can join in a conference at a time that is convenient for them. If you were not able to meet in a virtual environment, you would potentially miss out on these clients.
Provide a better customer service experience
Live chat rooms are becoming popular as an effective method for providing enhanced customer support to clients and potential clients. A lot of people prefer to use live chat when they have a problem or question because it is more convenient and quicker. It also means that people can get the support they need outside of typical business hours. You can improve customer relations by providing this instant gratification, and you can ensure that you better cater to your clients' needs.
Improve training and employee support
We are seeing live chat used as a medium for providing distance training. It can often be challenging to get all workers together for training, and so live chat rooms provide a more accessible and low-cost solution. They can also be used to provide employee support throughout the day, as well as increasing productivity because employees will not need to leave their desk to find the support they need or to have a meeting with their peers.
Top chat rooms for your website
There are many different options for you to choose from when selecting a virtual chat room for your business, so we are going to take you through some of the best ones.
Click4Assistance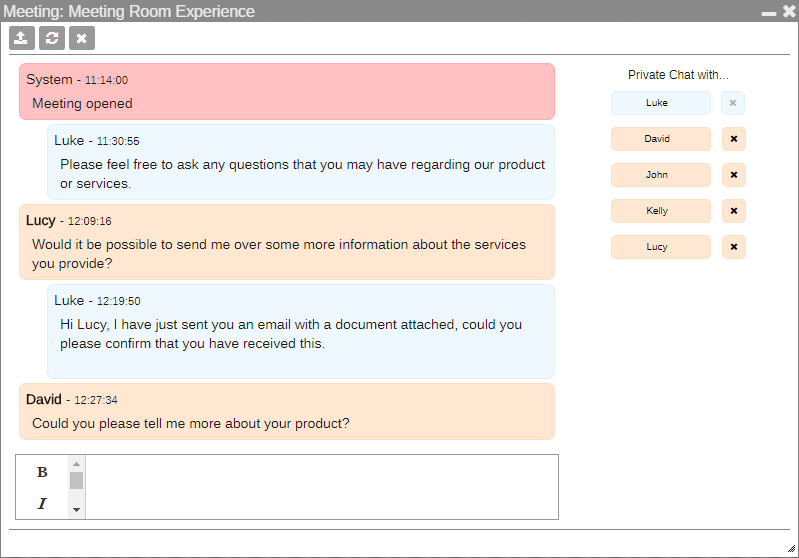 Find out more about the chat room solution by Click4Assistance.
The first service that we would recommend is Click4Assistance. This solution allows you to collaborate with many people within a single session, which enables vital information to be sent to the right people quickly and efficiently. You can conduct virtual conferences, host product launches or webinars, have a meeting room for employees online, or hold an open day.
One of the great things about using this solution is that you can host your meeting in a way that suits you. This is because you have the option of holding a public meeting or a private meeting.
Public meetings - A public meeting room is one that does not have any entry restrictions, which means that anybody is going to be able to access the room with the click of a button. This is beneficial for increasing participation during product launches or when hosting a seminar.
Private meetings - You could also host a private virtual meeting room where users must provide a username and a password to gain access. This is beneficial for corporate meetings that involve a guest.
You can also add a reactivate button to a webpage so that participants can access the virtual meeting room. This could be sent via email for anyone who uses a pre-meeting entry form.
One of the great things about using Click4Assistance is that you are going to have everything you need to make the most of your virtual meeting room. You do not only get the software, but you will get lots of useful information which is provided by a simple and easy-to-use dashboard.
This means you can track visitor activity so that you can make improvements to this customer service element of your business. This gives you a deeper understanding of how visitors are finding your virtual chat rooms and what they are doing on your website. You will also be able to identify visitors by country and region so that you can interact with them in the best possible way. Monitoring conversations and identifying hot leads will help your business to boost your conversion rate and have greater success in the online sphere.
You also benefit from click-to-call, video chat, promotions, chatbot AI, integrations, and expert reporting. With this level of service, you have everything that you need to make sure that your business is operating effectively. The reports that you receive can be based on monthly, weekly, daily, or hourly segments, and you can apply several different filters so that you can easily display the information that you require.
Chatzy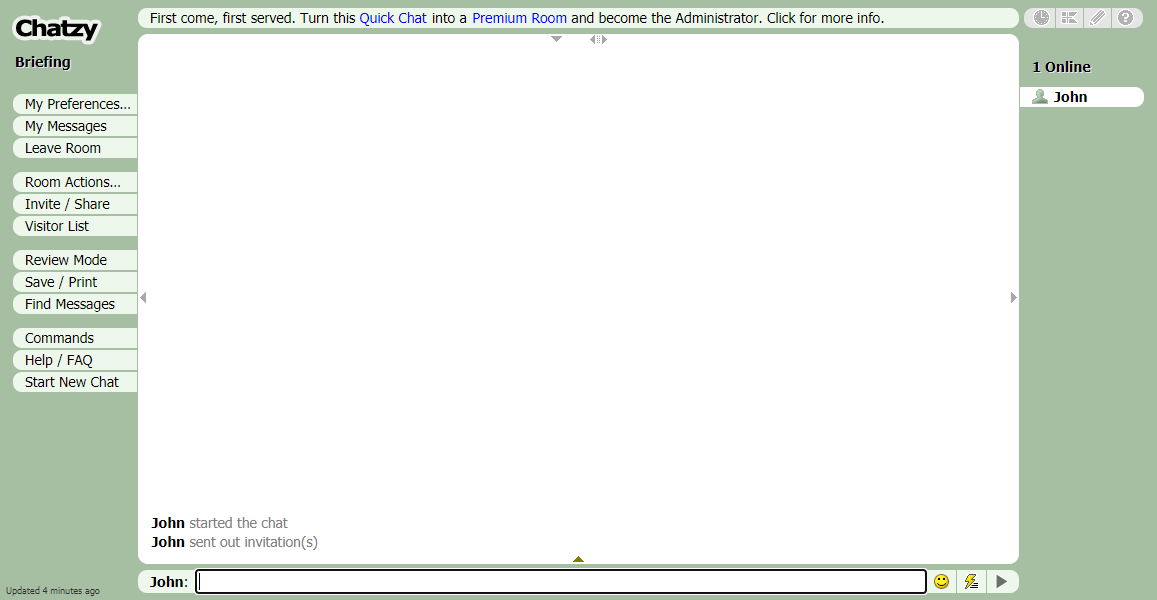 Find out more about the Chatzy online live chat room.
Another recommended solution is Chatzy. With this chat room service, you can also create private and public chat rooms. You will receive a link to the chat room, and you can easily publish this in an email or on a webpage.
One of the best things about using this solution is the different ways the chat experience can be customised to suit your needs.
You can also easily view your chat room list by registering on the website, and this will make it a lot easier for you to keep track of all of the chats that are going on in your virtual chat rooms.
The simplicity of this service is another real benefit. All you need to do is select start quick chat, and you will be able to start a conversation with ease. After this, you enter your subject and your name, and you can enter the room.
There will be a share and an invite button on the left-hand side of the menu bar, and this will give you a share link with ease.
It is easy to embed this private chat room onto your website. All you need to do is head to "hosted rooms" on the left-hand side of the page, and this will give you information on how to embed the provided code into your website. Before you do this, you may want to customise your chat room so that it offers seamless integration into your site. This is something else that you can do with ease.
Tlk.io

Read more about the Tlki.io online chat room software.
Next, we have Tlk.io. This is another solution that is very much based on simplicity.
Once you enter the website, you will be asked to input your nickname and a channel name.
If you click on the word "join," you will be able to start your very own chat room. Simply copy the URL for the chat room, and you can use it on your social media page and in your emails. If you want to embed this into your website, you can get the embedded code by scrolling down on the home page and until you see it.
When you do this, you are going to have a much broader selection of customisation options available to you. You can name your channel, as well as choosing a height for the chat room and you can even pick a theme as well. This is a great way of making sure that your virtual chat room fits into your website and provides a seamless experience.
A lot of people love the convenience that is associated with this chat room and, therefore, it is often used for team communication, especially remote teams.
Dead Simple Chat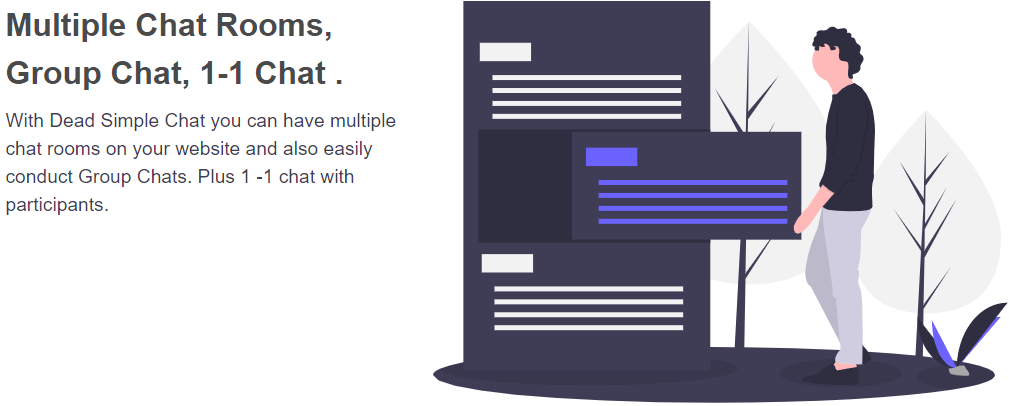 Learn more about the online private chatroom provided by Dead Simple Chat.
Dead Simple Chat is another live chat solution that is worth considering at your business.
Several different plans are available when you go for this solution. If you decide to go for the Pro Plan, you will benefit from an unlimited number of chat rooms, and you can have up to 2000 different users. All of the chats will be stored for up to 180 days, which gives you ample time to backup anything important to you. This type of solution is beneficial for those who need a comprehensive chat room service.
Like the other solutions that have been mentioned, you do have the ability to customise your chat room. Before you get into the customisation side of things, though, you are going to need to register for an account. This is a swift and easy process.
Once you have done this, you will be directed to your own dashboard, and here you will get all of the information that you need to manage the virtual chat room effectively. You will be given a shareable link for your chat room, and you also have the option of embedding it onto your website with the code.
Now, as mentioned, you do have the option of customising your chat room. To do this, you will need to head to the left menu bar and click on chat rooms. Under the chat room of your choice, you will be able to select settings. From this, you can change the name of the chat room, change the sidebar, and alter the background colour of your chat room so that it fits in with your website effectively. When you are done making all the changes that you want to, there is an update button, and then you can embed at the chat room using the updated code that has been provided.
Minnit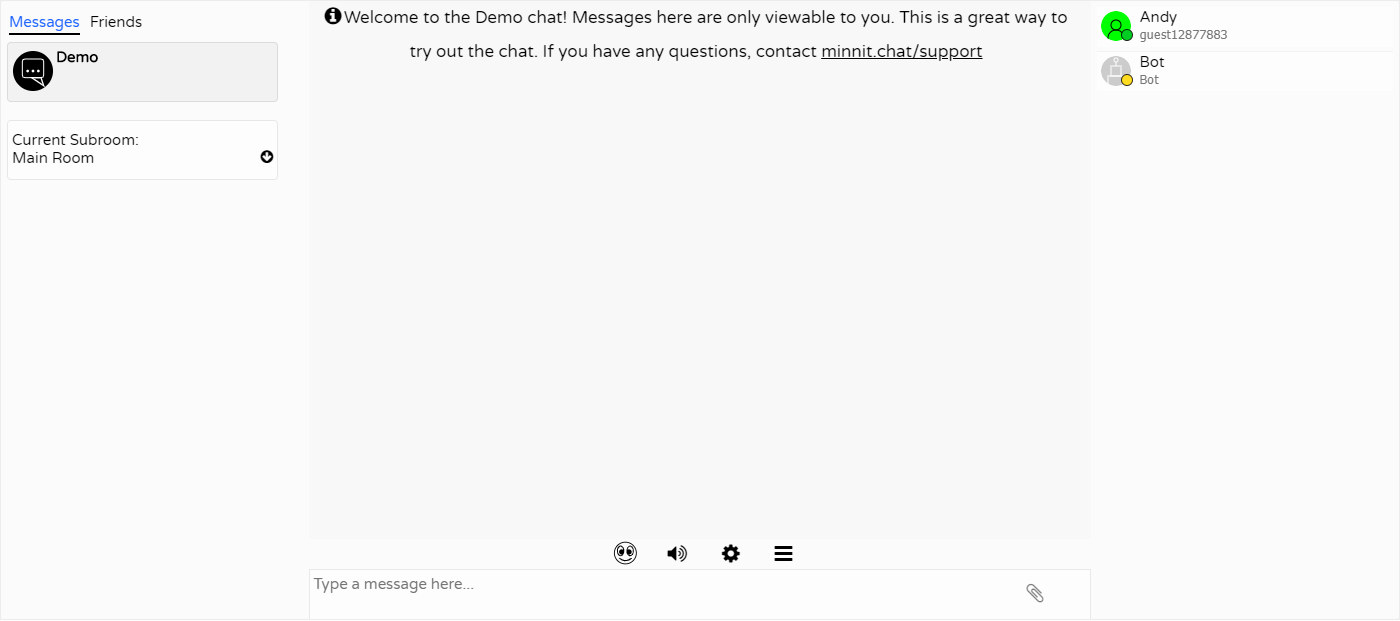 Find out more information regarding the Minnit online chat room software.
The final solution that we are going to take a look at is called Minnit. You are going to be required to make an account to create a chat room using this solution. Once an account has been created, there is a simple dropdown menu that gives you all of the information and options that you need to create your chat room quickly.
You can have a chat room up and running within 60 seconds! All you need to do is decide what you want your chat room to be called, a description for your chat room, and then determine whether you want your chat room to be public or private.
After this, your chat room will be created for you, and you will be prompted to select a plan. There is a free plan available, which is very basic but may be appropriate in some cases. You can have up to 40 users with this plan, and messages are unlimited. One feature that you get is the ability to censor some words. There are many more customisation options if you decide to go for one of the paid plans, though, so do keep this in mind.
When Choosing the best chat room software
There are various aspects which you should take into account when you're looking around for chat room software. Here's some more details which I'll explain so you can weigh them up based on your personal needs.
Customizability
Branding to suit your corporate image
Public chat rooms, or private chat room with authentication
Moderation to allow messages to be vetted before they are seen
Date and time restrictions or open 24/7
Online and Offline chat buttons
Data Storage
In these days data storage and security should always be considered.
Remember, all the data is stored with the service provider. Due to your legal obligations and requirements (especially GDPR if in the UK), don't forget to check where the chat room data will be stored and for how long.
Ensure the provider is transparent regarding the location of you data, and where their data-center is located.
Usability
Where it's your work colleagues or the general public using the chat room, ensure it's a simple to use as possible.
Don't forget with the many devices out there, PC, Tablets and Mobile Phones, each of these could be used to access the chat room. Any chat room solution you choose should cater for all these devices.
Final words
So there you have it: an insight into some of the best chat room software for your website that is available today.
We hope that the information that has been provided has helped to give you a better understanding of the options that are available to you.