DATE
TAGS
AUTHOR
VIEWS
Be Easily Approachable with smartContact
Importance of being contactable
By providing contact details on your website you are presenting the impression that your company is easily approachable and contactable, encouraging potential clients to do business with you. Phone numbers can give visitors' confidence that the organisation has nothing to hide; once they have made contact you can easily qualify the enquirer on whether they are genuinely interested.
Showing your company's location and address helps potential customers to see who they will be doing business with, as some would prefer to only deal with organisations within their own country. It can also help with postal correspondence, as the sender can easy gain your address from the website.
Having your email address on the website means that your representatives don't have to respond straight away to enquiries, unlike a phone call where it demands attention straight away. They can pick up the email when they are ready within the time frame set for responses.
The only issue with providing an email address is that a lot of companies or individuals will use it to try and sell to or spam your company. Businesses can use email forms on their website instead; when completed the website sends the enquiry to the designated email address, without providing this to the visitor.
Psychology of Gathering Contact Details
Email addresses are vitally important, gather an email address and your business gains a lead. But how do you encourage a visitor to part with their details?
Make them want what you are offering!
Book a demonstration – this is a good way for potential customers to see the service / product you are offering in action, they don't have to sign up for anything and your organisation gets the chance to nurture the lead and wow them with your pitch.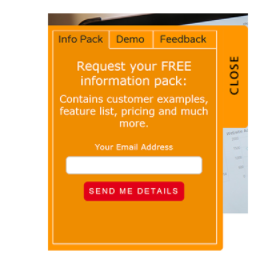 Book a test drive – similar to a demonstration, the enquirer can experience what they are considering buying first, without the hefty financial investment, helping them to make the correct decision and if it's really the vehicle for them.
Download information packs / whitepapers – people like information, and they especially like information they can take away from a website and review at a later stage, therefore visitors are more likely to enter their email address if it means the information is quickly delivered to their inboxes.
A/B Testing
Whatever your business model, your organisation should test your forms to ensure you are getting the best results possible. The aspects that can be tested are:
1. The CTA
The call-to-action can be tested on different pages, in various positions on the page alongside different sizes of the forms.
2. The Form Fields
People are more likely to fill in a form that asks for less information. B2B companies can take the risk of just asking for an email address, as in most cases their email address will contain the information they need, e.g. firstname.surname@companydomain.
B2C companies have it a little more difficult trying to tell who their lead is if they are only provided with 'justinbieberissohottt_12@yahoo.com*'.
Try different fields on your form to see what gets your visitors filling in the form, if you need more information but find a drop in completion, try comparing the quality of leads and deciding whether your business if after quality or quantity.
3. Images and Colours
If you use images in your forms, try changing the image, the position and size, also try it without images to see if it is distracting to visitors from completing the forms.
Your colours should represent your branding but they need to be subtle rather than over powering. Try to keep your form looking sharp with using hints of your corporate colours.
4. Form Copy
Try different text within the form; ensure the incentive is clear of what they are getting in return for providing their details.
smartContact Forms
smartContact by Click4Assistance are fully customisable forms within the new enhanced solution 'Experiences'. It can be expensive for web designs to customise a contact form and implement on your website. smartContact makes it easy as the forms are already provided within the solution to be placed on your website using a small piece of html script. Your logo can be simply added to the forms and the colours changed. Those with a bit of html / CSS knowledge can add in or update the fields.
For further information on the Click4Assistance best live chat solution and the smartContact functionality, contact our team on 01268 524628 or email theteam@click4assistance.co.uk.
---
* Disclaimer: I'm not affiliated to the email address justinbieberissohottt_12@yahoo.com, nor is this a personal opinion!
Author:
Gemma Baker
Gemma is the Marketing Executive for
UK live chat software provider
, Click4Assistance, with a range of digital knowledge within PPC advertising, SEO practices, email campaigns and social media.