DATE
TAGS
AUTHOR
VIEWS
How does your local authority save time and money?
All organisations constantly aim to save time and money, but local authorities have a tricky game to play when it comes to this. Budgets are traditionally quite constrained and staff are not normally flexible enough time-wise to try and learn new processes, workflows or software in the hope that they may gain more time in the future. So really, innovation only really happens when there is a larger form of digital transformation in-house.
But what if we told you there was a way to increase your productivity and your communication with the public, reduce your daily call volume and save money in one solution? Sounds amazing, right? It's not too good to be true, it's actually Click4Assistance live chat software. Let's get into how this all works, and how this can save time and money.
It all started with a click for paperless
Do you remember when nothing was done via computers, when physical forms and documents had to be filled by hand and carbon copied? The days when fax and postage were commonplace and computer technology was mostly fiction? Technology progressed in the decades following and pushed us closer to achieving extreme productivity, the paperless era. The paper queens of yesteryear are probably looking at you with utmost envy as you quickly type in a customer's name or postcode and pull their details, a simple task that took you all of 2 seconds whereas it could take them hours to locate a misplaced customer file. Three cheers for productivity.
From paperless systems to digital communication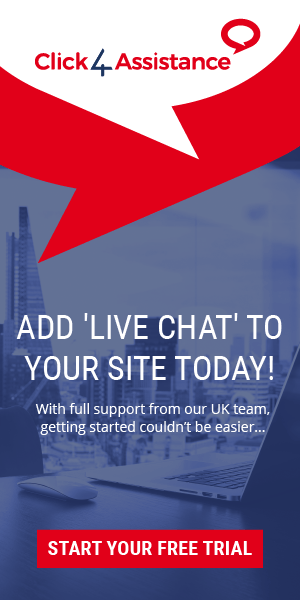 Our journey of digital transformation doesn't end at paperless, it has only just begun! Technology has impacted and accelerated many industries, including communication. Where communication used to be almost exclusively postage, then it became a mix between post and telephone. Email made an entrance in the mid-1990's but took a few years to really catch on, and then in the mid-2000's, instant messaging and social media became a mainstay of communication, progressing society from the prose of a letter to abbreviated web jargon worthy of 140 characters. Needless to say, those 140 characters and internet lingo became a central component to most of the communication today.
With the growth of instant messaging came the entrance of live chat for websites, which allowed website users to speak with customer service staff instantly, skipping the telephone queues and not having to wait for a response via email. Live chat is effective because it's a method of communication that customers are familiar with and trust. Knowing that our live chat is as secure as a payment page, users are more likely to give their details to a customer service agent on chat than drop it in an email. And customer service agents can chat with multiple customers at a time making them at least 300% more productive than solely speaking to customers one-on-one over the phone. Live chat is incredibly time saving, and reduces your customer service strain drastically.
Time to bring in the robots
To take your productivity to the next level takes one addition to your customer service team, a virtual assistant named Artie. Click4Assistance's AI chatbot, Artie, can send your productivity and customer service satisfaction rate through the roof. Artie does not sleep, so he can engage your customers 24/7, even while your team is out of office. Essentially, your local authority will be available and online 24 hours, giving your customers the option of contacting you even when you are closed. Because Artie can answer basic questions and help with website navigation, some website users would not even need to speak with a human customer service agent, freeing up their time for other tasks. This jump in productivity means that your team can focus on high quality contact, rather than just responding as soon as they can as Artie has already taken care of that. He's an excellent addition to any customer service team.
And when you mix them all together… voilà!
The big productivity bonus is where everything comes together, live chat, artificial intelligence, social media instant messaging and seamless integration with your internal CRM, all into the fully customisable desktop dashboard. You never miss a message, can easily find all incoming messages in one place and manage quick responses nimbly. Your social media messages from Facebook Messenger and WhatsApp are delivered straight to your dashboard, so no more switching apps all day to keep up. Your customer service will suddenly feel effortless, as this is the peak of customer service productivity.
If you're interested in deploying Click4Assistance, the UK's premier GDPR compliant live chat software solution, to increase your local authority's productivity for 2020, give us a call on 08451235871 or send an email theteam@click4assistance.co.uk and one of our experts will be with you right away.