The best 5 live video chat applications
There is no denying that the face of business has changed astronomically over the past few years. We have the growth of the Internet to mostly thank for this. However, COVID-19 has had a drastic impact as well.
We're living in a day and age whereby human interaction is reduced, and people are becoming more and more inclined to purchase products and services from the comfort of their home. This applies to both B2B and B2C businesses.
Because of this, you need to ensure that your customer service is on point.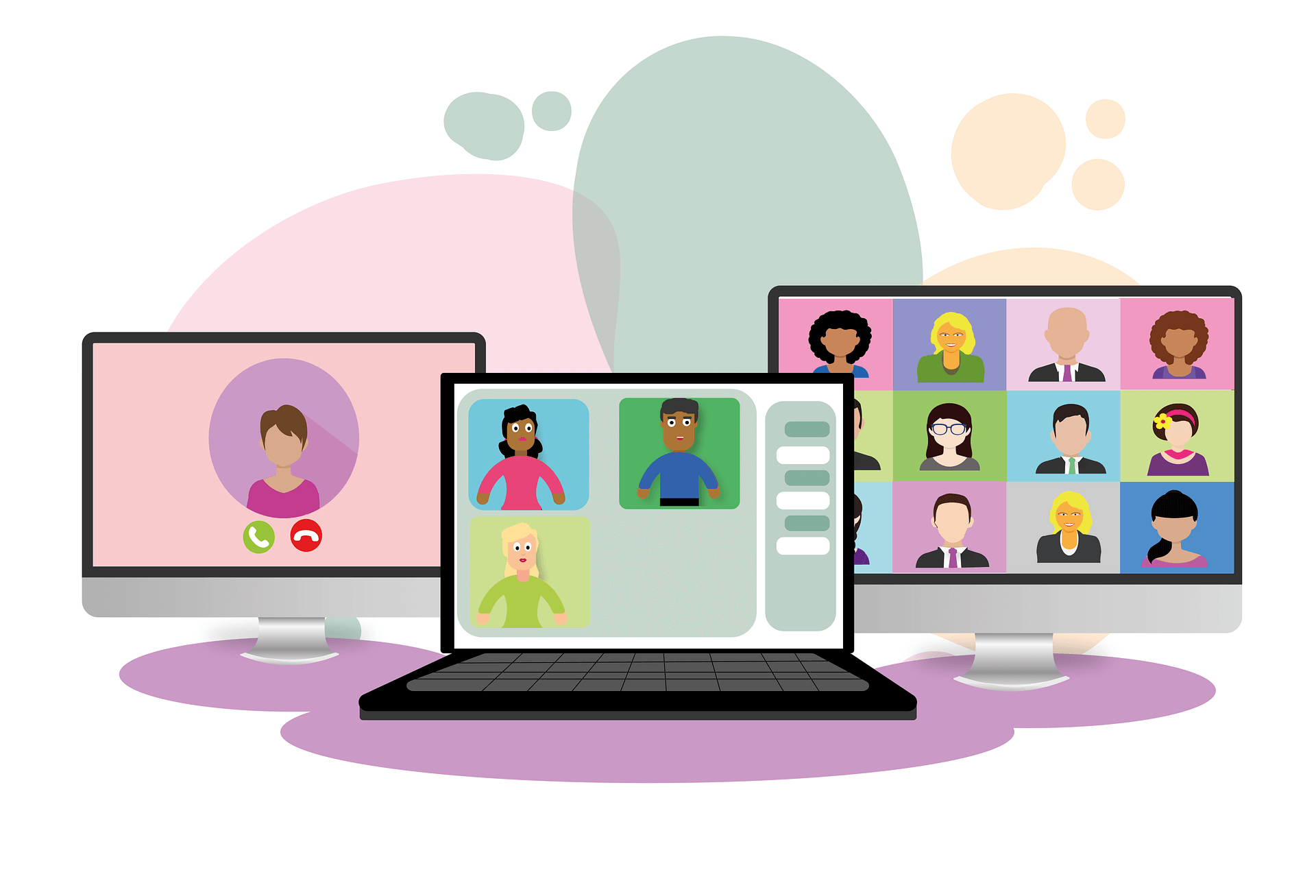 If you look at the statistics regarding live chat, you will see a compelling case has already been made. According to CrazyEgg, 38 per cent of customers are more likely to buy from a business if they provide support via live chat.
When your live chat support offers human connection in the form of video calls, the benefits extend even further. Plus, by investing in this technology while it is still relatively new, you're tapping into an unexposed area of customer service and engagement, which can see you soar ahead of the competition.
With that in mind, in this guide, we are going to take you through everything that you need to know about live video chat applications, including their benefits and the best providers on the market at the moment.
What is the difference between consumer and business based video chat?
It is essential to understand that there are two different ways that video chat online software can be used at a business.
Business video chat
The first is to have a business-based video chat application installed. This would be for use between members of your company.
The primary purpose of this is to enhance efficiency and make it easier to connect with key members of your organisation. This can be especially beneficial for large global or nationwide businesses.
You can control who enters the chat, and you can also use this to speak with suppliers or long-term clients, for instance.
Customer video chat
The other solution is customer live video chat apps for your website. This type of video app will be added to your website so that you can connect with customers, offering better customer service and experience.
These apps are used to provide support and to aid the sales process. Of course, you can tweak them to suit your business. For instance, you can set-up the chat app so that the customer needs to answer a few automated questions before they have the option of having a live video call with one of your members of staff.
What are the benefits of video chat software for websites?
Implementing the best live video chat app can help you to take your business to the next level, in several ways. Let's explore some of the key benefits of going down this route in greater detail…
Stand out from the competition
A horse never runs so fast as when he has other horses to catch up and outpace. – Ovid
As briefly touched upon, this is an area of customer service that is yet to be fully explored and exposed. This presents you with the perfect opportunity to get your foot in the food ahead of the competition.
Research shows that over 72 per cent of customers expect businesses to understand their expectations and their needs. With video chat support, your customer service funnel is improved, ensuring your business grows because your customers are satisfied.
You will see enhanced customer loyalty and sales figures once you add live video chat support to your system. You will probably note that a portion of customers jump ship; switching from a competitor service to yours because of the enhanced support you can give them.
Enhance your sales levels
What differentiates sellers today is their ability to bring fresh ideas. - Jill Konrath
Let's face it; all businesses want to boost their bottom line and increase the number of sales they make. Live video chat can give you the ability to do so.
Research has indicated that video chat is one of the most effective tools in terms of driving customer satisfaction, conversions, and sales.
Chatting face-to-face with a customer enables you to create a sense of trust and loyalty between your business and the consumer. You can, therefore, reduce cart abandonment rates and increase conversions, which is the ultimate goal for most companies.
Provide a personalised experience
If you don't care, your customer never will. – Marlene Blaszczyk
The final reason why you should consider adding a live video chat solution to your website is that this will enable you to provide a personalised experience to your consumer base.
According to an Accenture survey, 72 per cent of customers have changed brands because of a lack of personalised value-added experience.

Video chat support enables you to provide a helping hand to customers who have hit a bit of a roadblock during their shopping experience. This could be because of an issue with your site, or they are struggling to decide on items to purchase. By having a friendly face there to guide them and offer personalised support, this can be the difference between shopping cart abandonment and making a sale.
What should you look for when choosing a video chat online software provider?
With many video chat providers out there, it is essential to narrow down your search effectively so you can find the best online video chat app for your requirements.
With that being said, here are some of the different factors that you should consider:
Quality - There is only one place to begin, and this is with the quality of the video. After all, you are only going to cause frustration if there is a lot of latency and lagging, and the customer service agent looks like a pixelated video game character! If you're going to do something, do it well, as they say!
Look for value-added features - There are a lot of providers that are willing to go the extra mile, as you will soon discover. They do not only offer a video live chat app for your website, but they provide branding opportunities as well as powerful analytics that will enable you to take your business to the next level.
Pricing - Of course, price is something that needs to be considered when investing in any business service or solution. Spend some time looking at different quotes to get an understanding of what is a fair price. It is all about value, i.e. spending money that is going to deliver the best ROI.
Read reviews - The Internet has made it easier than ever before to get an understanding of the level of quality provided by a service provider. There are great independent review websites where you can read the feedback that has been left by people that have already used the service in question before. We recommend checking these out for more information.
Ease of use and adoption - You want a video chat solution that is going to be easy to use and install. No one wants to experience hurdles from the moment they get their product out of the packaging, so to speak! You need something that offers sleek and straightforward adoption so that you can start reaping the benefits right away. The onboarding process does not need to be difficult with live video chat, as we will discuss in the next section.
Consider privacy and security - Finally, a video discussion needs to be secure. Check out what the provider does to ensure that your communications are protected. The last thing you want is to end up with a data breach scandal on your hands. Compliance, privacy, and security are three critical ingredients, which simply cannot be compromised on.
Adding live video chat to your website should be easy
Of course, all providers will have a different process in place in terms of adding their product to your website. However, adding live video chat to your website should be easy. In many cases, it will be as simple as adding some lines of coding to your site. If you did not build your website, you could simply get your developer to do this for you.
The best online video chat apps
Now that you have a complete understanding of the benefits associated with live video chat, as well as the factors to consider when searching for the best online video chat app, it is only right that we take you through the top picks in the industry at the moment.
1. Click4Assistance

Click4Assistance are leaders in business communications, offering powerful solutions to help brands perfect this area of their business. The great thing about working with Click4Assistance is that they have connections with all of the industry's best live video chat providers, meaning you will end up with the software that is right for your company. After all, all businesses are different!
Pros of Click4Assistance
Set-up is easy and simple
Fully customisable
You can request a demo
Free trial available
Expert analytics to drive business growth
Used by a variety of UK businesses
Click4Assistance offers live video streaming that makes it simple for voice and face-to-face communications to take place between your site visitors and your team. The set-up is easy. All you need is a webcam, speakers, and a standard microphone. You are not going to need to install or download any added software.
The Click4Assistance live video chat solution can be completely customised to suit your business needs. It will be configured so that it fits in seamlessly with your existing branding and website. You can add marketing messages, as well as positioning your video feed and logo in a way that tailors the experience to suit your business values.
The main reason why Click4Assistance has taken the top spot is that the brand offers a lot more than just live video chat. They provide a wide range of other features, which includes promotion integration, tracking visitor activity, ChatBot AI, an intuitive dashboard, and reporting.
You can use the analytics to make intelligent decisions that will drive your business forward. You can assess current interactions and get a better understanding of your customers so that you can continue to grow. This is what the best video live chat app solutions do; they don't only open communication, but they empower your business.
Website: https://www.click4assistance.co.uk/
2. Proficonf

Another great live video chat provider is Proficonf, although we would recommend this solution more for those seeking a communication tool for business collaboration or communication with long-term clients. This is because guests are pre-registered.
Pros of Proficonf
Works in your browser
Control your guest list with pre-registration
Cutting-edge security protocols
Works well on poor connections
Recording and sharing features
Proficonf ticks a lot of boxes when it comes to live video chat. One of our favourite things about this application is that it has been designed to work well on poor connections. After all, you cannot control the quality of the Internet that another person is going to have, yet with Proficonf, this is not going to hold you back.
Several other features make Proficonf a wise choice. As mentioned earlier, security is one area that you cannot afford to compromise on when it comes to any type of communications solution. Luckily, you don't have to worry about this with Proficonf, as you can rest assured that your data is safe. A number of security and privacy measures have been implemented, which includes using the TLS-protocol to protect your data. This is a global standard cryptographic protocol.
As all good live chat providers should be, Proficonf also offers simple set-up, just like Click4Assistance you're not going to need to download anything. This chat service will work directly from your browser. This means that all you need to do is share the link with those you want to participate in the video call you are having.
You are also going to be able to save your best moments, as all video chats can be recorded in HD. You can also share your screen, whiteboard, slide presentations, audio, video, or files, and you can do this simultaneously, which is ideal for increasing productivity levels at your business.
Website: https://proficonf.com/
3. LiveHelpNow

Empowering customer service agents, LiveHelpNow is a full live chat suite and help desk system. This is very much for customer video chat for websites. Despite being easy to set-up, there are advanced features included that can help you to take your business to new heights.
Pros of LiveHelpNow
Simple set-up
Advanced customisation features
Multiple brand support
Track rep performance in real-time
Save unlimited canned messages
The advanced customisation features of LiveHelpNow help to empower your sales team so that they can offer an experience that represents your brand and caters to your customers' needs. Another excellent feature is that you can support numerous brands at no extra cost or hassle. This makes it an excellent choice for partner relationships and call centres.
You can set-up LiveHelpNow to work in any way that is most appropriate for your business. For example, if you receive a lot of common queries, you can save an unlimited number of canned messages for these issues. This enables your reps to respond cohesively and quickly to customers.
We would also recommend LiveHelpNow for managers because of the number of coaching and monitoring features. Routing and round-robin assignment features eliminate admin work or escalation so that time is saved. Plus, monitoring agent performance in real-time is made easy, allowing you to track performance to ensure that your reps are putting their best foot forward.
Finally, we have to tell you about our favourite feature; Whisper Technology. This is a patented technology that enables you to send coaching suggestions during a chat without the consumer being any wiser. Not only is this beneficial in terms of training your customer service agents, but it can help you to turn around a conversation that may have gone downhill.
Website: https://www.livehelpnow.net/
4. ClickDesk

If you have yet to come across a live chat provider that tickles your fancy, another option to consider is ClickDesk. ClickDesk provides voice and video chat software for businesses, as well as providing weekly and daily chat statistics.
Pros of ClickDesk
Initiate chat from interactive maps
Pre-chat surveys
Transfer chats to different agents
Weekly and daily chat statistics
Personalised greetings
ClickDesk excels in terms of the different features that are offered as part of the service, for example, they enable visitors to start a chat from interactive maps. This creates more opportunities for you to connect with customers and help them through the buying process. Valuable contact information can also be gathered via pre-chat surveys.
If you have a comprehensive sales team, ClickDesk is a solution worth considering, as it gives you the ability to transfer chats to other agents. This is an effective way of ensuring the customer gets the right help and assistance they need. For example, you may run a VIP membership program as part of your business, and so you may want to have specific agents for customers that are part of this program. Alternatively, you may sell a wide range of products, and so you may have different agents for different product categories. It is all about making sure that the customer gets the right help for their needs.
Daily and weekly chat statistics are another part of ClickDesk. This means you can track the likes of average chat duration and how many chats were missed while offline. You can also translate your support into more than 90 languages and create personalised greetings.
Website: https://www.clickdesk.com/
5. Smartsupp

The final recommendation is Smartsupp, which is a live video chat app that integrates with some of the most popular site building solutions on the market today.
Pros of Smartsupp
Automated messages
Free plan available
Track visitor behaviour
Integration with Shopify and WordPress
Video recording available
Smartsupp is a live video chat app, which also comes with recording and tracking features. Video chats can be recorded, and sales reps can also see the movement of every website visitor. This helps them to understand their behaviour better, so they can assist them in the best possible way.
Smartsupp has also been designed to integrate with platforms such as Shopify and WordPress. You can also use Google Analytics to track the impact of your video chat conversations.
There is even a free version of Smartsupp available, so you may want to try this out before paying for their service. We would always recommend opting for a paid video chat app for permanent use, though, as you get a much higher level of service, features, and security.
With the paid plan, you will get detailed analytics, chat transfer, more customisation, and unlimited shortcuts.
Automated messages can be used so you can engage with visitors at the right moment, and there are also personalisation features as well.
Website: https://www.smartsupp.com/
Final words on adding a live video chat app for website use
There is no denying that there are many benefits associated with investing in video chat online software. However, to experience these benefits, you need to choose a solution with care.
You need to ensure there are plenty of advanced customisation features so the solution can be adapted to suit your business.
If you opt for one of the video chat providers that have been discussed in this guide, you can be sure that you will end up with the best online video chat app for your requirements.