DATE
TAGS
AUTHOR
VIEWS
Motor Trader Profits are Slowing for 2016: Convert More with Business Chat Service
With reports that the profits of cars sales are slowing down in 2016, we explain how a business chat service can help maximise on sales and help profits maintain in the upcoming year.
A recent article by Motor Trader website states that profits of new cars will fall in 2016. Increased new car sales and stronger margins in aftersales would be offset by rising labour costs. Mike Allen, Analyst at Zeus Capital, believes that the operating environment continues to favour large groups therefore we are likely to see further consolidation within the industry. They believe that the market is in a stable mid cycle phase, the growth of the new car market in 2016 is to be expected.
The used car market will come under pressure as the supply of vehicles up to 3 years old increases, but more used car stock will be a boost for aftersales. With opportunities for dealers to drive profits through increased volume, this ongoing growth of stock should continue to support the aftersales markets, where prospects are seen to increase group margins. The assumptions applied across the board are conservative as modest levels of organic growth are being pencilled in through 2016.
Ensuring your website has a business chat service benefits both your company and your customers. When visitors are on your page, your operators can talk with them directly through online sales chat, without the struggle of corresponding emails and waiting ages on the phone. If the customer's in need of any assistance, they simply need to click the button which opens up the chat. Visitors can then ask questions straight away. When help isn't offered, visitors can become uninterested and leave the page.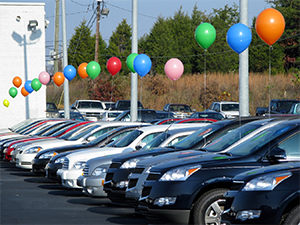 Clients can also benefit from the live chat tool with after-sales when booking MOTs and services, as they can easily visit the website and talk straight with an operator. At Click4Assistance, customers like; Mazda, The Car People and Scania all use live chat software for their services on their websites.
Mazda & Business Chat Software
Click4Assistance provide the solution to 6 dealerships within the county of Dorset. The solution ensures chats are routed seamlessly to the relevant sales representative whether a purchase or service enquiry is made for a specific vehicle.
Scania & Business Chat Service
Scania is a major supplier of trucks, buses, coaches and engines for industrial and marine applications to British industry. They use the Click4Assistance live chat software for promoting their fuel card. The chat button is available on all pages, should the visitor have any questions.
The Car People & Online Sales Chat
Each chat button routes through to different departments or locations. Buttons have been placed on selected pages, allowing visitors to chat with the operators most knowledgeable in that area. Going straight into the chat and not presenting a pre chat form, The Car People are standing by their "No Pressure" approach. "We've been using Click4Assistance for years now. Chat is an integral part of our on-line offering and Click4Assistance helps us deliver that with a great product backed up by responsive support."
To find out more about our business chat service, contact us on theteam@click4assistance.co.uk or tel: 0845 123 5871.