DATE
TAGS
AUTHOR
VIEWS
Charities Aid Foundation Efforts Reach Further with Chat Box for Website Software
The Charities Aid Foundation (CAF) is a registered UK charity, which provides services and assistance to UK and international charities and their donors, and promotes general donation to charities. They describes themselves as "a charity, bank and champion for better giving, and for over 90 years we've been helping donors, companies and charities make a bigger impact. Our independence, expertise and reach mean we're uniquely placed to do this."
Charities Aid Foundation approached Click4Assistance in 2015, looking for a live chat service that complies with FCA regulations. We fully understand why physical and data security is so important; therefore Click4Assistance is proactive in this environment with security a top priority. As a UK based company with data centres in London conforming to ISO 9001 and 27001 standards, Click4Assistance adheres to the stringent regulations laid out by the FCA for data storage, Data Protection Act 1998 and PCI compliance.
Reactive Implementation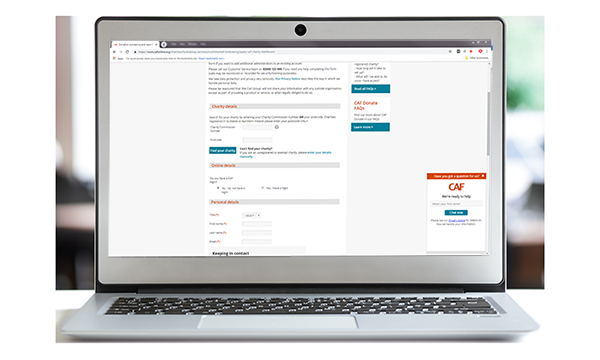 They have added their reactive button to their 'Apply for CAF Charity Dashboard or CAF Donate' webpage, where charities can apply for whichever fundraising tool they require or existing customers can also add additional administrators to an account. To apply, the enquirer needs to complete a form therefore having the chat button available alongside the fields allows the individual to instantly ask questions if they experience difficulty.
The chat button is of a modern design, it explains what the button is for 'chat live with us', and fits seamlessly on the website as it conforms to Charities Aid Foundation corporate colouring, orange. When no operators are available the chat button simply doesn't display. This manages customers' expectations as they are not clicking on the button expecting to chat but receiving a 'not available' message instead.
When operators are available, the chat button will open the pre-chat form. This requests the visitors first name therefore advisors can address them accordingly in chat, by asking for the minimalist amount of information it's also improves chat uptake rates. The form has been matched to CAF's branding used throughout the website. This includes a header with white text 'Have you got a question for us?', their logo and their call-to-action button. The pre-chat window also includes a link to their privacy notice ensuring the service complies with GDPR.
CAF have also customised the dialogue window in a similar manner (orange header, teal send message button) keeping their branding consistent across the chat box for website service. They have also included a disclaimer within the window about not sharing personal information on live chat, and provides a phone number to contact instead if the enquirer wants to discuss their account or service they have with the charity. This ensures only the right type of enquiries is dealt with via chat.
A survey is presented once the chat is concluded. This allows CAF to gain instant feedback regarding the operator's performance and how likely they are to recommend the charity. The form also continues the branding for a seamless journey. This is then followed by a thank you message to acknowledge the visitors feedback.
Proactive Implementation
The charity was particularly interested in a proactive implementation. Which is an image that appears on your website after a certain amount of time and/or if a specific page is being viewed, inviting your online visitor to chat. The individual still has the choice to accept or decline the proactive invitation; however this approach has proven to increase chat uptake as it can be prompted on pages where visitors require more help, therefore a more targeted tactic.
Charities Aid Foundation's proactive invitation is the same design as their pre-chat form, the implementation makes the window appear without the visitor having to click the button. This brings their attention to the communication channel and can increase chat volumes.
More information?
To find out more about Charities Aid Foundation's implementation, or how your organisation can benefit, contact our team on 0128 524628 or email theteam@click4assistance.co.uk.