DATE
TAGS
AUTHOR
VIEWS
Click4Assistance: A Year in Review
2018 has been a great year for Click4Assistance, with the year starting off with the launch of 'Experiences'. From there the company has gone from strength to strength.
From the introduction of 'Experiences' our client base has grown 60% within the last year. With this success it has meant the company has required more talented staff members in order to support our customers and the product. Our staff base has grown by 43%, over achieving the target to increase employee numbers by 30% in 2018. Some of the departments that have welcomed new members this year include sales, account management, development, marketing and finance. New positions have also become available as the need for them has risen.
Also with the release of 'Experiences' and the growth of the company, a lot of attention has been circulating Click4Assistance. We have been featured in Information Age, ITProPortal and The Government and Public Sector Journal. One of our senior managers was highlighted as a thought leader in Women in Leadership publication, where Jill Stephens shared her insightful knowledge and expertise around GDPR and compliance.
Jill had also been nominated for several categories within the Women in IT Awards, this includes Woman, Security Champion, Transformation leader, Advocate, Business role model and Digital leader of the year. She is also in the running for Editor's choice, which we have recently found out that she has been successful in being shortlisted for, and will find out at the end of January if Jill is a worthy winner at the gala ceremony in London.
Jill's shortlisting follows our managing director's success earlier in the year, as he won CEO of the Year for Most Innovative in Software and Technology. Gary Martin commented, "It was a true honour winning the award, when I made the decision to start the business and provide live chat nobody had heard of it, and today we are being widely recognised for all the hard work. Awards like this give us the boost we need, helping to drive Click4Assistance into the future wherever that may lead. To be fair, it should have been given to the whole team, they have all made Click4Assistance what it is today."
To celebrate a good year gone and all of their hard work, the teams at Click4Assistance enjoyed their annual Christmas party, being entertained and partying into the night; providing them with motivation to drive forward with the year ahead.
What 2019 Brings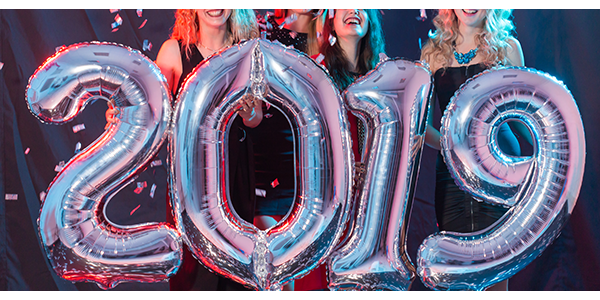 We will continue pushing the growth of the company, and in 2019 we are not slowing down. With a marketing plan in place and a team of skilful sales people we are looking to increase our customer base by at least another 60%. With this our account managers and support engineers will continue to expertly guide all our clients with their live chat implementations; and our developers will continue to execute their roadmap and deliver useful enhancements to 'Experiences'.
A new functionality that will be coming to 'Experiences' in 2019 is an Artificial Intelligence Chatbot, which will enable organisations to prequalify visitors or answer frequently asked questions before transferring to an advisor if necessary. The research and development involved in creating the bot has been an in-depth process, ensuring that reliability remains a constant priority.
Click4Assistance will be going into their 15 years of operating, with experience and knowledge within a range of industries; we have helped universities, local authorities, police constabularies, NHS organisations, and retailers amongst other companies successfully implement live chat software into their customer strategies and improve service, support and engagement with their audience.
For more information regarding how Click4Assistance can help your organisation achieve your engagement goals in 2019, and how you can become part of our success story, contact our team on 01268 524628 or email theteam@click4assistance.co.uk.