DATE
TAGS
AUTHOR
VIEWS
The robots are taking over
Everywhere we look, you see glimmers of artificial intelligence. At home, it's behind that fancy smart toaster. At work, it's within Microsoft. In your hand, it's powering Siri. On your wrist, it's used by your smartwatch, tracking your steps and sleep. It's the driving force for the newest cars, and helping banks effectively track fraudsters. Artificial intelligence used to be a thing of sci-fi fantasy novels and films; not anymore.
<Chat has begun>
Artie: Hello <student name>, I'm Artie, the University's Virtual Assistant. How can I help you today?
Student: Hi, what time does the office close today?
Artie: Today the administrative office closes at 4pm. Is there anything else I can assist you with today?
Student: Umm, thanks. Are they open on Saturday?
Artie: Yes, they are open on Saturday, but only from 10am to 2pm. Is there anything else I can assist you with today?
Student: Nothing else no
Artie: Okay, thank you for contacting us. Have a great week! If you have any other questions, feel free to come back here and I'll be happy to help you.
<Chat has ended>
How familiar does the above feel? We're going to assume very normal, as this is a reality for most website users today. People are used to getting answers to their questions now rather than later. Website users, especially students, prefer to use a live chat than pick up the phone and speak with someone as it is usually much faster, far more convenient and more in line with their lifestyle. With so many spam filters, contact forms that go to email accounts often end up in spam, or stuck in a queue, lost on the 'interwebs', rendering this form of communication with a somewhat unreliable reputation.
Live chat is also beneficial to those who have difficulties with telephone or face-to-face communication, making it an excellent choice for more inclusive communication options. When you add an AI chatbot to this, you'll see even more returns, with an objective virtual assistant online, helping people without getting personal, or being neutral even if asked the same question by a thousand visitors a day. There is no room for interpretation as a virtual assistant is neutral by nature.
Artie works while everyone sleeps
Many students, active and prospective, often burn the midnight oil, leading to a higher level of traffic on your university's website outside of regular office hours. If students have questions when your team is out of office, what happens? Do the questions go unanswered or get lost in a sea of emails to the info@emailaddress inbox? Would you not prefer if someone were always there to answer their questions? Isn't it nice to know that you have someone working for you, even when your entire administrative team is asleep?
This is where Artie, Click4Assistance's artificial intelligence chatbot, comes into play. Because he doesn't sleep, he can answer any basic questions your university's website visitors may have. This works in two ways. Firstly, he engages your website visitors immediately, and secondly, he is the first point of contact, taking the pressure to respond instantly away from your administrative staff and giving them breathing room to deliver a higher quality of customer service.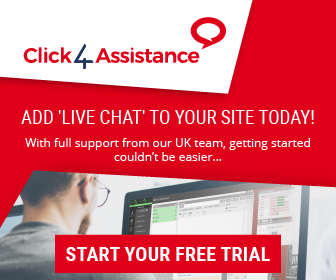 Artie can also speak to an unlimited number of people at the same time, making him perfect for immediately engaging your website visitors. This instantaneously improves your customer service satisfaction rate, but it also increases your university's conversion rate.
When someone is available to answer a question, human or virtual, it immediately places some trust and reassurance in the person's mind, giving you a much higher chance of success than a competitor with a lower trust level. Even though the engagement is from an AI chatbot, it's an always-online system, which feeds into a reliable dashboard, guaranteeing a human follow up, if required, on the next available work day. This communication is trusted not to get lost, unlike direct email. Higher conversion rates mean a higher student potential, which can directly impact revenue in a positive way.
AI technology can save you time and money
Not only does an AI chatbot keep website visitors engaged and increases conversion rates, it saves you time and money too. When your administrative staff are having a busier than normal day, or have more pertinent tasks to attend to, Artie can act as a buffer to answer the simple questions like the one in the conversation above, rather than have human intervention. This will make that time available to your staff to get more things done, saving massive chunks of time and delivering a higher productivity level.
By saving time, that also means it can save you money, as the money required to ensure that a human agent online 24/7 would be saved, and a virtual chatbot can do the job of an unlimited number of agents. Think of the returns on that sort of system alone. All of your international students and website visitors can have simple questions answered, immediately, regardless of time or time zone.
The way we interact with technology has changed, and universities, like every other business and organisation out there, needs to move with the waves of technology progression. If you're interested in deploying Click4Assistance, the UK's premier GDPR compliant live chat software solution, to increase your universities' productivity for 2020, give us a call on 08451235871 or send an email theteam@click4assistance.co.uk and one of our team experts will be with you right away.