DATE
TAGS
AUTHOR
VIEWS
Creating a more personal experience with prospective students
Universities suffer from a unique condition when they are tasked with creating a personal experience for thousands of international students. Breaking language and cultural barriers, a university has to make students feel safe, comfortable and secure, while ensuring that they are positioned as state of art, confident and proud of their students and alumni. If it's too strong, they can come across as intimidating, but if the impression is too weak, the student may select an alternative institution. This is a delicate balancing act and can prove to be more challenging in the moment than perceived.
How does one create a personal experience that instills confidence, technological advantage, superiority and security, without overpowering and intimidating nervous students? Prospective students and parents are hunting for an educational institution that matches their combined hopes, dreams, morals and values, and has a level of prestige that parents can be proud of. So how can a university make the entry process easier for prospective students and parents, without intimidating them and reducing the overall cost of interviewing?
Video chat is one of the best ways to communicate with local and overseas prospective students in a way that is sometimes more affordable than face to face meetings, allows you to read body language and saves time. There are many benefits to substituting in-person interviews and meetings with video chat, the biggest of those being how user friendly it is for those who have difficulties communicating in person.
Non-verbal cues are critical
In any meeting, body language is key to understanding how someone feels, beyond the words they speak. A large percentage of our communication is non-verbal, like our posture, our hand gestures, and even our facial expressions; all of these amalgamate, telling a story of our emotional state, pointing to whether we are comfortable, anxious, scared, happy, or disinterested, even if our words say otherwise.
These non-verbal cues are just as important, if not more important than tone of voice, as they give us a clue to what our subconscious is thinking and processing. You can say that you are comfortable, but if you are making yourself smaller, folding your arms and positioning yourself in the far side of the room, then you are more than likely uncomfortable, even if you are not aware of it. This is where both universities and prospective students can benefit from video meetings.
Less cha-ching, more productivity
Travelling for meetings has always been an expensive venture, regardless of your industry, but it can be especially costly for students, more so for those who live abroad. With international students, they need to think of the cost of travel, tuition, housing and student visas before they even consider a university.
For some, any savings could be a make or break for their decision. Take, for instance, a partial scholarship recipient in Asia, whose parents are proud but aren't incredibly wealthy. They are willing to do whatever they can to give their child this opportunity, but travelling to another country for an interview may not be possible. This could be the make or break for them. However, if they had the opportunity to have a video chat with a software like Click4Assistance, this would be a great way for them to speak with the university, and be able to make a more informed decision on where their child's education investment will go.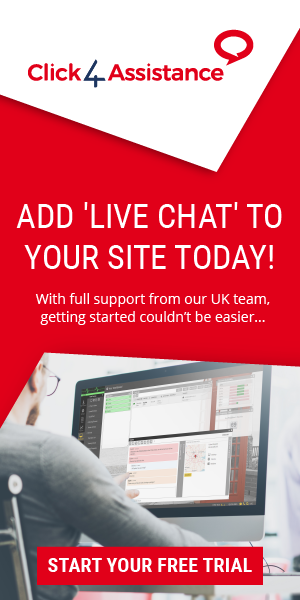 Click4Assistance's video conferencing solution is a robust and effective method of communicating with prospective students locally and internationally. It's cost effective, more efficient, reduces travel costs, and also protects everyone from the spread of infectious disease, a concern that resonates with everyone this year. It increases productivity for your administrative staff, as data shows that video calls can be more productive and shorter than traditional physical meetings, allowing your administration team to communicate with more people overall. Since video chat on your website can allow a free flow of communication from anywhere in the world, your team will also save time from physically going to meetings, as even if a meeting is in the same building, the journey to and from can be interrupted by other colleagues passing by.
The ultimate bonus is having all the bells and whistles in one comprehensive suite. From live chat to social media integration, meeting rooms to video conferencing, artificial intelligence to detailed reports, everything is available, including a completely personalised dashboard that you can make your own. With your business's security in mind, data in transit is 256-bit encrypted and our storage has been penetration tested by an independent accredited body, so you know your data is safe.
If you're interested in deploying Click4Assistance, the UK's premier GDPR compliant live chat software solution, to increase your universities' productivity for 2020, give us a call on 08451235871 or send an email to theteam@click4assistance.co.uk and one of our experts will be with you right away. Not ready to reach out yet? Discover how it works, try a demo, or better yet, try Click4Assistance completely free for 21 days.