DATE
TAGS
AUTHOR
VIEWS
The importance of the right customer service for local authorities
Customer service is so important for local authorities, but delivering the right customer service is crucial. Local authorities have to manage so many customers from different walks of life, and no two are the same, so how can they provide a service that meets the needs of many while satisfying each one on an individual level?
The team members for customer services at local authorities are constantly adapting to accommodate their customer's vulnerabilities and anxieties, to provide them with the right conditions to comfort and relax them. It's no easy feat and it's a constantly moving target, so customer service agents need to adapt quickly while keeping a calm disposition and managing expectations. Click4Assistance's live chat on your website can support these workers to ensure their workflows are more efficient and their work days are more productive.
Be accessibility friendly
Data shows that customers who have mobility restrictions and challenges with communicating in-person prefer virtual or online forms of communication as it is physically, emotionally and mentally easier for them. Instantly, the local authority's customer service satisfaction rate will increase as this demographic will feel included and cared for. For those with mobility restrictions, getting to and from your office can be physically exhausting but also difficult as many of them require assistance getting around which may incur costs they cannot always afford, putting them under financial strain. Click4Assistance helps you relieve them from this burden.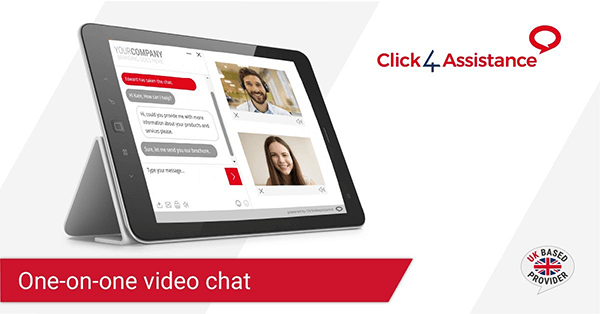 Relieve the financial burden
Financial burdens are not only limited to your mobility restricted customers, but to everyone. The cost of travelling to your office can sometimes also have hidden costs. If one of your customers has a meeting with you but they work an hour away, it would mean that they would need to take that section of the day off, or even a full day off of work, which for many can mean a loss of pay for that meeting and the travel costs to get there and back. For some fortunate customers, this may not be an issue, but for those on a lower level of income who are just about making ends meet, this can be challenging for them. By providing an alternative option, you will be able to help these customers without putting them in a strained situation.
Mind the gap
Due to the COVID-19 pandemic, physical distancing has been observed to slow the spread of the virus and protect UK citizens. Remote working has become a reality that every organisation in the UK has now experienced and been impacted by. Click4Assistance live chat for your website is equipped to manage complete remote working scenarios for your customer service team. However, your customers will also benefit as they will be able to contact your local authority from the safety of their own home. They will also have the benefit of visual contact without any cost to them as they will have the option to have a video call if they have difficulties communicating via a text chat, or if they prefer, they can also have an audio call through the Click2Call feature with Click4Assistance, completely free of charge to your customer.
The good stuff
By using live chat, video calling or even Click4Assistance's Click2Call service, your local authority would be supporting resident's needs while providing your services. The Click2Call service is free for your customers, allowing them to speak with your customer service agents without it incurring a cost for them. Our live chat for your website is simple and easy to use, and your live chat, video calls, social media integration and artificial intelligence are all available in one fully customisable dashboard, so you can focus on the important work and reduce time switching between multiple applications for your customer service.
Click4Assistance has extensive experience in supporting local authorities with their customer service software solutions. If you're interested in deploying Click4Assistance, the UK's premier GDPR compliant live chat software solution, to increase your local authority's productivity for 2020, give us a call on 08451235871 or send an email to theteam@click4assistance.co.uk and one of our experts will be with you right away. Not ready to reach out yet? Discover how it works, try a demo, or better yet, try Click4Assistance completely free for 21 days.