DATE
TAGS
AUTHOR
VIEWS
Customer Service doesn't Have to be Serious All the Time
Why not drop the seriousness of your customer service this August and embrace National Joke Day? On August 16th, people nationwide will officially have an excuse to express their humour to friends, family and colleagues. What better way to provide customer service?
So far we've heard;
"How do you know a crab is drunk? It walks forwards!"

"I'd like to buy a new boomerang. But I can't seem to throw the old one away!
Jokes are supposed to make people smile and just like the ones above, can be cheesy. They seem to have got worse over the years! Some people don't take jokes as well as they tell – ever heard of the term 'they can't take a joke'? It's not always the joke itself that's funny, maybe it's the person's laugh while telling the joke, or the fact they can't remember the punch line! Whatever the situation, jokes are told with positive intention. They have been part of human culture for centuries. To sound funny they often play on sarcasm, word play or irony. Jokes can be made from anything, maybe a video gone viral on the internet, or someone has mispronounced a word in the office and has been teased ever since.
In customer serviced based businesses, it's vital that staff stay professional, providing customers with a positive impression of the business and encouraging intentions of visiting again. A business using Live Chat can have a team of friendly representatives operating the solution, offering a personalised one to one chat whilst still maintaining the professional factor.
No matter what the status of the business, chat on your website has proven to be the simplest means of instant communication between business and customer, with both parties benefitting from the solution. Having Live Chat within the business increases productivity, allowing staff to continue with their tasks, only having to reply when a visitor starts a chat. Any member of staff can answer a chat when it comes through, if a visitor makes a department selection, then they'll be transferred to the department e.g. sales, support etc.
Increase Sales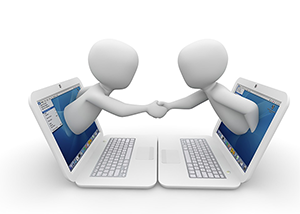 Chat on your website can be a favourable way of increasing sales as well as converting traffic to websites. Any company using social media can add links into posts, reverting the visitor back to chat – which is another popular way of engaging with customers and encouraging them to use the chat button. Promoting the chat button on social media is a great way to encourage interaction, with at least 310M users on Twitter, companies are bound to be noticed!
As well as Twitter and Facebook, email marketing is another helpful way of promoting the chat button. Businesses can add a link to chat within the content of their email, or at the bottom of the template. When clicked, a chat window will be presented immediately. Towards the end of the chat, visitors can leave their feedback using a post chat survey.
Why not tell your best joke to your visitors via chat today and see what feedback they leave you! For more information on how chat on your website can keep your business engaged with its customers, give us a call on 0845 123 5871 or email us at theteam@click4assistance.co.uk . Don't hesitate to start a chat to receive a free case study!
Author:
Rae Boyling
Rae is the Marketing Assistant for
UK live chat software provider
, Click4Assistance, with experience in copy and original writing, Rae produces content for articles appearing on the Click4Assistance website and email campaigns.