DATE
TAGS
AUTHOR
VIEWS
How Will the GDPR Affect Finance Companies Using Live Chat for Website?
In June 2016 the UK voted to leave the European Union, however as Article 50 was not triggered until 29th March 2017, it means the UK will be a member of the EU until March 2019. Businesses within the UK will need to comply with the GDPR that will take affect from 25th May 2018.
As explained in our article Comply with New Data Protection Regulation with UK Online Chat Provider, the General Data Protection Regulation (GDPR) is the reform "to catch up with the digital era" setting "out to modernise effective data protection rules".
Where an organisation controls and processes personal data, a DPO – Data Protection Officer needs to be appointed, they are responsible for researching how the GDPR will affect the business and updating current policies to ensure compliance. They will need to know how to fully document any data breaches and apply for an EU Data Protection Seal.
Changes to Chat
Click4Assistance's DPO has been researching into the regulation and comparing with the way the solution works.
Firstly consent cannot be assumed going forwards with the GDPR; your online visitors will need to know before entering a chat how their personal data will be used, how long it will be kept and needs to agree for it to be used in the manner intended.
Finance organisations are already used to complying with stringent data regulations set out by the Data Protection Act 1998 and the Financial Conduct Authority (FCA), therefore it should be straightforward to make amendments and comply with the GDPR as well.
The Click4Assistance prechat windows are fully customisable; this can include your discloser text, a link to your privacy policy and a mandatory tick box for the visitors consent before they enter the chat.
Buckinghamshire Citizens Advice Bureau included a link on the prechat form to their data policy where further information can be viewed by the visitor. When the GDPR takes affect any additional information that the Bureau needs to disclose can be added to this area, and the visitor can give their consent on the prechat form.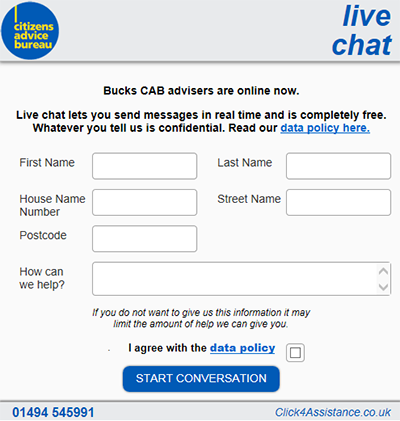 For simple contact capture forms, they will need to feed into a robust, secure and compliant back end which adheres to time limits and provincial requirements. These forms will need to have the visitor's consent before they send their enquiry. Similar to the prechat form, Click4Assistance smartContact forms are completely customisable, enabling them to be designed in the same manner as the prechat form but feed the enquiries to a designated email address rather than into a live chat.
If the visitor withdraws their consent at any time after their data has been processed they have the right to erasure. Chats that include the individual's personal data or visitor tracking that has identifiable details relating to the person concerned, such as IP address and Internet Service Provider, can have this information easily purged from the chat system.
Click4Assistance Security
Click4Assistance views security as a top priority, encrypting data to the highest levels, the same as you would expect on a payment page, it is transmitted and stored in compliance with stringent regulations set out by ICO and FCA. Our appointed DPO will ensure our chat solution will continue to conform with new data protection laws and advise our customers on how they can remain compliant when using the Click4Assistance solution.
Click4Assistance has been supplying live chat for website software for over 10 years to the finance industry, ensuring customers, such as Card One Banking, Sheffield Mutual and Go Skippy's use of live chat for website complies with data protection rules. For more information speak with our finance co-ordinator on 01268 524628 or email theteam@click4assistance.co.uk.
Author: Gemma Baker
Gemma is the Marketing Executive for UK live chat software provider, Click4Assistance, with a range of digital knowledge within PPC advertising, SEO practices, email campaigns and social media.