DATE
TAGS
AUTHOR
VIEWS
How to Add Live Chat to My Website: Compatible with Mobile Devices
Many customers ask how to add chat to my website which is compatible with mobile devices. This how to article explains how the Click4Assistance online chat solution is compatible with mobile device and how to add it to your website.
Mobile Compatibility – Providing a Seamless Experience to All Customers
The latest figures show that 31% of website traffic comes from mobile phones and tablets. It is thought that this number will only increase in the coming years, eventually over taking desktop users and so it is vital that all aspects of your website are designed with these users in mind.
How to add live chat to my website, for mobile users should not be a problem which needs to be overcome but rather an opportunity to be seized. Mobile users potentially present many new methods which allow you to gather details about your visitors and promote your business in ways which have not been available before.
Social Media – With their permission, a visitors detail's such as name, email or contact number can quickly be gathered from Facebook, LinkedIn or other popular platforms. These essential details can help speed up a chat sessions whilst providing a personal experience.
Contact Details – By sharing your contact number with a visitor on a mobile device during chat, most smartphones will recognise it as a phone number and provide the option to call, save or copy it.
Mobile-Specific Technology – Take advantage of unique mobile technologies such as Geo-location, QR codes and NFC.
You have spent a lot of money and time ensuring that your website is fully responsive and automatically adjusts itself to fit on any screen whether this is a laptop, tablet or phone. So when you ask "how to add live chat to my website?" the same level of flexibility should also be expected.
Click4Assistance provides a Live Chat solution which works seamlessly on mobile phones, tablet devices and PC's. The solution was created with all visitors in mind with the chat interface accommodating landscape/portrait orientation as well as different types of input such as touchscreens.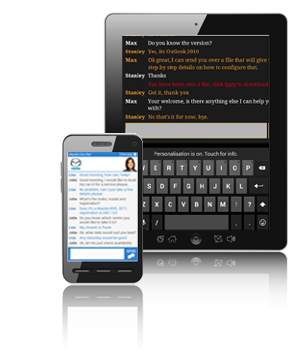 Our solution uses responsive windows which automatically adapt to the size of the visitors device. This ensures that every visitor to your site has a pleasant experience regardless of the device used.
When using the Click4Assisance embedded windows on your website, the solution will automatically detect the type of device a visitor is using and will display the popup windows if they are on a mobile device. The popup windows open in a new 'tab' within the browser, allowing visitors to continue to browse your website whist engaged in chat.
By providing a responsive experience to your visitors, the design and style of the live chat interface doesn't have to suffer. Our responsive solution provides a high level of customisation, allowing the windows to be designed to your companies branding and colour scheme.
Simply add the chat script onto your website and mobile customers will instantly benefit from a seamless, fast and natural chat interface.
Sources Used:
http://smallbiztrends.com/2014/07/online-traffic-report-mobile.html
http://www.smartinsights.com/mobile-marketing/mobile-marketing-analytics/mobile-marketing-statistics/