DATE
TAGS
AUTHOR
VIEWS
How well can your contact centre operate remotely?
2020 brought with it a challenge that no one could have expected, and organisations across the world scrambled to stay online when the world stopped for weeks. Many businesses were forced to quickly reorganise their operational model to a remote working or suspended operations altogether if they did not have a disaster recovery plan. How was your contact centre affected?
Remote working, right out of the box
Click4Assistance is one of the few live chat software options that is built with remote working in mind. Your customer service agents can access the dashboard from any device with a Chrome browser. The Click4Assistance dashboard is fully customisable, allowing your agents to keep what's important to them in focus, and remove the rest, reducing distractions and improving productivity and efficiency. But the icing on the cake is everything in one place: live chat, video chat, social media messages, AI chatbot, meeting rooms, and even your integrated CRM. Having everything in one place increases the productivity of your customer service agents by reducing the time spent switching applications and reduces the opportunity of distraction. Not many live chat for small business options can deliver this level of productivity and remote access capability right out of the box.
Always secure, all the time
One of the biggest difficulties with accessing work remotely is security, and it's a valid concern with the volume of digital eavesdropping that companies of any size and type can fall victim to, which is why it's so important to choose the right software solution for your contact centre. Click4Assistance live chat software was built with this in mind, with data encryption in transit, so the conversations between your customer service agents and visitors are as secure as a payment page. State of the art security ensures your data is always secure, and is hosted in the United Kingdom, alleviating the worry that your data may be stored or processed overseas.
Support, when you need it
As a contact centre, getting the right support from your customer service communication software can be challenging, as many suppliers are based overseas but not Click4Assistance. This is even more important if your team is working remotely. You need support in your timezone, in your language, when you need it and not a minute later. Our entire operation and team is based in the UK, available during your working hours to ensure that your contact centre remains online, with no timezone complications.
Live chat for small business and all business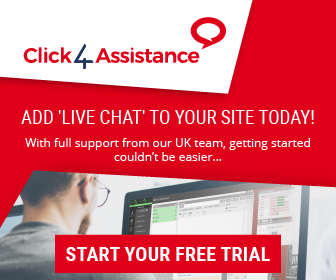 Live chat software is a staple of a contact centre's communications pyramid as it is one of the most efficient and productive communication methods currently. It allows your customer service agents to chat with multiple customers at a time, as opposed to telephone which is one-on-one only, making them much more productive with live chat. In addition to giving your clients' customers an alternative communication method, your clients' customer satisfaction rates will improve massively, since they will spend less time waiting to speak with an agent and more time getting their issue resolved. Being a familiar platform, it's easy to use for beginners and gives those who have issues with speaking over the phone or in person an alternative form of communication, which is a win-win on the inclusivity front for your clients.
Automate with artificial intelligence
The next level up for your customer service team is to automate your live chat so that they can focus on the more complex requests. Click4Assistance's artificial intelligence chatbot, Artie, does not sleep and is always online to speak to website visitors, even when offices are closed and customer service agents may be offline. Artie can manage simple tasks and answer basic questions without human intervention, giving your customer service team time to manage the more complex requests. He can even transfer your client's customers to the right department, saving lots of time spent finding the right resolution agent. This instantly makes your customer service agents more productive, effective and efficient.
Simply the best, better than all the rest
Click4Assistance has 15 years of experience supporting contact centres and their customer service teams. The software is developed with contact centres in mind, keeping their needs at the forefront. If you're interested in deploying Click4Assistance, the UK's premier GDPR compliant live chat software solution, to level up your contact centre in 2020, give us a call on 08451235871 or send an email to theteam@click4assistance.co.uk and one of our experts will be with you right away. Not ready to reach out yet? Discover how it works, try a demo, or better yet, try Click4Assistance completely free for 21 days.