DATE
TAGS
AUTHOR
VIEWS
Attention Digital Agencies: Our Partnership Program was made for YOU!
We have been in the chat business for over 15 years, so we know a thing or two about live chat software and the way it can help your business, and your clients. The landscape of customer service communication has changed dramatically in 15 years, leaving many businesses trying to now catch up with these technological progressions and implement social media, live chat and artificial intelligence into their operational workflows. We know the importance of this, and have developed a partnership programme with you in mind, which will improve your client's business, and earn you revenue while you keep full control.
Live chat and social media are here to stay
Many years ago, technology and business experts said that live chat, like social media, was a fad, would not work, and would fizzle out like many other emerging technology initiatives at that time. Today, there are few websites that function without live chat, and many contact centres and customer service agencies state that live chat accounts for more than 50% of their incoming customer contact points. That is a massive chunk of customer service happening in real time.
Live chat is one of the most productive forms of customer service any business could use. The major reason is simply because a customer service agent can speak with multiple customers simultaneously, rather than just one over the phone, instantly making every customer service agent at least 400% more productive immediately. It's less mentally and emotionally taxing for the agent as well, since speaking to an aggravated customer over live chat is far less stressful than over the phone, and the communication over live chat is much more coherent and clear, leaving much less room for misinterpretation.
Social media instant messaging is growing faster than the social networks themselves, making mobile messaging apps, like Facebook Messenger and WhatsApp, more popular now than ever before. Click4Assistance recognised this trend and developed a seamless integration with the social messaging apps to bring all instant customer communication in one place. With more customers using social media instant messaging to contact companies, it's no wonder that more businesses are starting to pay attention to social media as a viable form of customer service and sales, however, many companies are still not paying the attention required to social media, only checking the apps weekly for new messages and having loads of potential clients falling through the cracks.
Automaaaaate!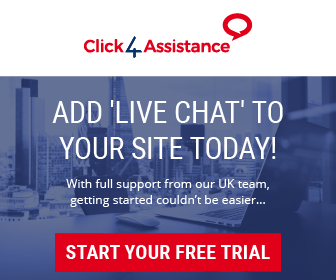 As with all productivity hacks, automation is at the top of everyone's list. The more you can have artificial intelligence manage, the more productive you can be, and this can increase the quality of the work done as the little things are all taken care of, like responding to every website visitor. This is where Click4Assistance's AI chatbot, Artie, comes into play. He's always online, which gives your clients a competitive edge over their competitors, and can speak with an unlimited number of website users simultaneously, making him their most productive customer service agent. He takes the pressure off customer service agents, which is what is needed to ensure that they can focus on providing a higher quality of customer service.
And we have developed a fully customisable desktop dashboard, allowing customer service agents full control over what they see and what they don't on their dashboard. All of your clients' live chat, social media instant messaging and AI chatbot chats are all in the same place, so they never miss a message and don't have to switch multiple apps to keep on top of everything. It is customer service productivity on steroids. And can earn you revenue as well.
Who is the partnership program for?
We have worked with many digitally focused agencies, including marketing agencies, advertising agencies, website development agencies, contact centres, and technology companies. The biggest benefit is how much value our solution adds to your service offering and business. The Click4Assistance partnership program grants your business an avenue of offering your clients the latest in customer service technology, while earning your business revenue. It will also strengthen your relationship with your clients as well, since they will benefit from an improvement in their online business.
Click4Assistance is simple and easy to implement and allows for complete brand continuity while giving you full control. If you're interested in deploying Click4Assistance, the UK's premier GDPR compliant live chat software solution and best live chat provider, to make your clients more efficient and productive for 2020, give us a call on 08451235871 or send an email to theteam@click4assistance.co.uk and one of our experts will be with you right away. Not ready to reach out yet? Discover how it works, try a demo, or better yet, try Click4Assistance completely free for 21 days.
Or find out more about the partnership program and how it can improve your business now!