DATE
TAGS
AUTHOR
VIEWS
Live chat software: Embedded or Pop-Up Buttons – which ones are better for your business?
Here at Click4Assistance, we offer a fully flexible, versatile and customisable live chat software ensuring a seamless fit with your website and business needs. We can provide complete flexibility, including full customisation of Chat Buttons, Chat Windows and Proactive Invitations. But what are the differences?
There are two types of Chat Button in the live chat software which can be added to your website – an Embedded Chat Button and a Sticky Chat Button. Each type of button is fully customisable (as it is basically just an image) enabling you to choose where the button is placed on your website, as well as how it appears.
Buttons are normally dynamic, allowing them to show an 'online' and 'offline' image based on your operators availability status. The live chat software will even hide the button when 'offline' should you so wish. An Embedded Chat Button can be added anywhere within your web page, giving you complete control over its location by simply adding a small piece of HTML. A Sticky Chat Button 'sticks' to the top left or bottom right of the web browser. When the customer is scrolling up or down the page, the button will always remain in the same position and be visible at all times.
There are also two types of Chat Window which can be added to your website, an Embedded Chat Window and a Popup Chat Window. Each type have their pros and cons which will be different to each business and there are the following for each:
Embedded Chat Window Pros
• Due to social media platforms using this type of window, your visitors will be more familiar with this type
• During a chat it remains in constant view while your website is being browsed
Embedded Chat Window Cons
• If the visitor closes your website or navigates to another website, the chat will end
• As the embedded window is part of the webpage, its size must be taken into account to minimise impact on the website's design
• The window appears in the bottom right of the webpage, therefore a 'sticky' chat button should be used and located in the same position
• The window cannot be resized and remains locked in the bottom right of the browser screen
• As the window size is restricted, there is limited space for a large amount of fields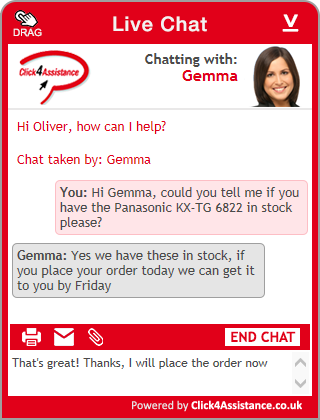 Then if we turn our attention to Popup Chat Windows, you have the following:
Popup Chat Window Pros
• Even if the visitor closes your website or navigates to another website, they still remain in the chat
• The design can be as large and elaborate as you wish as potentially you have the whole screen area to use
• Either a 'sticky' or 'embedded' chat button can be used and located anywhere within the webpage
• The window can be resized and moved around the visitor's screen
Popup Chat Window Cons
• The Window can lose focus or become hidden behind the main browser or any other application running on the visitor's PC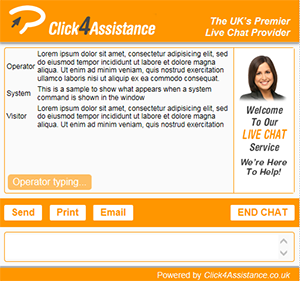 Finally you can also use a Proactive Invitation which is an image which you are able to push in front of the visitors to your website. You are able to define how, when and where the Proactive Invitations appear by defining a series of rules. For example, you can set a rule to display a Proactive if a customer has been on your website for more than 30 seconds.
Proactive Invitations are used for two main objectives, a Chat invite or a Promotion. A Chat Invite will ask the visitor if they would like to join a live chat with an operator, allowing them to enter their name and start a chat. A Promotion can be used to display special offers, highlight a product or send any message you wish to display. When accepted, the visitor will be taken to a specific page within the website.
Click4Assistance can offer any of the above services and recognise that what may be the best option for one business is not necessarily the best option for another. We are UK based provider, who's dedicated Account Managers offer fantastic customer service and a fully customisable visitor interface. Click4Assistance really stand out from the rest as we have a wealth of experience working with clients in a wide variety of market sectors, providing a stable, robust and proven web chat solution, regardless of your company's size or requirements.
For an informal chat or to arrange a free no obligation web chat solution demonstration, without the pressure to subscribe, contact the team on Tel: 0845 123 8971 or email us on theteam@Click4Assistance.co.uk or start a chat.