DATE
TAGS
AUTHOR
VIEWS
Live Chat Software for Business: Giving You the Best It's Got This Valentine's Day
This time of year we shower the one we love with gifts and treats to show how much we appreciate them. Businesses should be doing the same with their websites and treating it to live chat software for business.
It's that time of year again, so why not show some love to your website by implementing a chat on your website?
How Chat on you Website can Help Couriers?
When doing some last minute Valentine's Day gift ordering online, the pain is waiting for the delivery! Live chat for business can help. Amazon, the worldwide internet retailer wants to improve its delivery couriers, aiming to send out customers' parcels from around the world in 30 minutes. A web live chat solution will enhance Amazon's development, as they can use the solution to answer customers' questions regarding their parcel's whereabouts.
Long correspondence via email can be irritating, especially when they're just short emails answering visitors' questions. Adding live chat software for business allows the visitors to speak to operators in real time without sending emails back and forth. They can chat straight away with just one click of a button! It's that simple. Talking on the phone isn't for everyone, which is why implementing a web live chat solution is the best means for communication.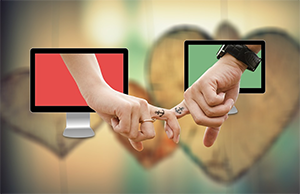 Is the web live chat solution customisable?
Live chat software for business is fully customisable and perfect to fit exactly how the visitor want it. There are two types of chat buttons; either embedded or sticky buttons. An embedded button can be added anywhere within the webpage, allowing full control of its location, by adding a small piece of HTML. A 'sticky' button sticks to the top left or bottom right of the page. When scrolling up or down the page, the button will remain in view.
Pop up and Embedded chat windows are other features that can be added to your live chat for business collection on your website. Again you can make a choice as to which fits better. Due to social media, visitors will be more familiar with an embedded chat window. Or implement a Pop Up chat window; if the visitor closes the website or navigates to another, the chat will remain.
So having reviewed these options, which do you choose for a perfect website? Show some love this month and contact us on 0845 123 5871 or send us an email on theteam@click4assistance.co.uk.