DATE
TAGS
AUTHOR
VIEWS
Prestigious university implements UK's leading live chat
The University of Cambridge has recently implemented Click4Assistance live chat on their Madingley Hall website, where their department, Institute of Continuing Education (ICE), is based. In this article we will be sharing the elite university's integration story.
About the university
The Institute of Continuing Education (ICE) is a department of the University of Cambridge and is a provider of higher education courses for professional development and personal enrichment. ICE offers award-bearing courses resulting in Cambridge qualifications and non-award bearing short courses in subjects including arts, humanities, social science and natural sciences. Alongside the provision of courses, the Institute also delivers a series of Summer Schools, Events and Open Days.
The university aims to increase student enrolment, improve staff efficiency and effectiveness, and eliminate manual and time-consuming processes. They identified live chat as one of the means of helping them reach these objectives.
The institute's requirements
ICE undertook a comprehensive market evaluation to compare vendors; they listed how they wanted their implementation to work and invited providers to explain how their solution can match their needs, and note any additional costs that would be involved to meet the requirements. For example, a minimum number of licences were needed for the free trial, if that couldn't have been supplied then additional costs needed to be itemised.
Following the assessment of suppliers, ICE found that Click4Assistance matched their requirements the best, and put together their project plan. As part of the pilot period, the instant communication channel was rolled out to Conference and Sales team, where initially they would be receiving enquiries from across the website.
External design requirements
They required the chat channel to look like an integral part of the Madingley Hall website. They have chosen a button that seamlessly fits in with the imagery used on the homepage and the chat windows have been designed with the website's corporate colours.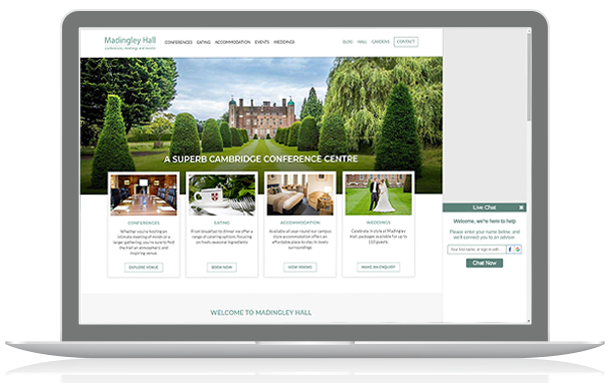 Information capture is important to the department as they can instantly receive the information they need to know and act accordingly. On the prechat form they collect the visitor's name (so they can address them), their email address (to follow them up), and Subject (of their enquiry); this includes, conferences, breakfast, lunch, afternoon tea, dinner, accommodation, gift vouchers, weddings, events, other.
Capturing information after a chat has concluded provides ICE with instant feedback of visitor satisfaction as they ask the enquirer to rate their experience from awful to great. A free text is provided on the post-chat survey for the individual to expand on their experience, if necessary. A marketing preferences checkbox is also included to provide an option to the visitor to opt into receiving marketing information, helping the organisation to comply with GDPR.
Configuring the account
ICE took time to understand the solution, already setting out who would oversee the account, who their users would be and their particular permissions. This allowed the institute to get up and running with the account in a quicker timeframe than just creating an account without investigating the functionality first.
The organisation introduced customised pre-defined replies into their account during their trial, enabling them to fully test the feature properly to increase efficiency and consistency by providing the most relevant responses.
Supporting the university
With a dedicated account manager assigned to their account, ICE has consigned a member of staff to liaise with their manager, providing a single point of contact for both organisations. This will then be fed back to the supervisor overseeing the day to day running of the Conference and Sales team operations. This allows them to work efficiently as the communication paths have been clearly defined.
Click4Assistance has been providing live chat for over 10 years, and supplies over a third of the Universities within the UK with the instant communication channel. We ensure every implementation meet each establishment's unique requirements. For more information on how your university can add chat to website, arrange a demo with our education co-ordinator on 01268 524628.