DATE
TAGS
AUTHOR
VIEWS
Claims Management Firm 4 Years Success with Chat for Website
Crusader Assistance has been operating since 1989 providing full claims management and motor legal expenses to insurance brokers.
The company is over-seen by the Claims Management Regulator in respect of regulated claims management activity. Crusader Assistance are also authorised by the Financial Conduct Authority (FCA), meaning they have to comply with the rules set out by these bodies.
Providing Great Customer Service
The claims management company pride themselves on the professionalism and commitment of their friendly and knowledgeable staff. To deal with ongoing claims Crusader Assistance implemented live chat for website in 2013. Visitors connect instantly with the customer service department and can use the chat to:
Check on the progress of the claim
Give the company updated details about the visitor or their accident
Answer general questions about the claim or the company's service to the visitor
Customising Chat for a Personalised Experience
Crusader Assistance has a dedicated page on their website for chat. This contains their customised chat button and information on where the customer is connected to and what they can use the communication channel for.
Customers can access the page through a button that is available on every page under the company's phone number. This button makes the customer aware that the company can be contacted through this communication channel, however leading them to the information page first can help manage their expectations.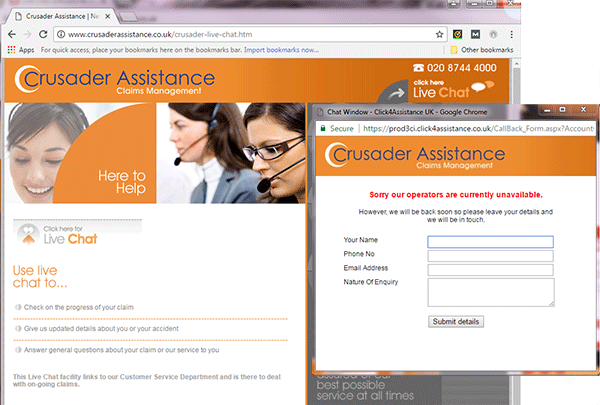 Crusader Assistance uses a pop up chat window. Due to having the chat button on a specific page, this style of window works the best with their current set up. The Chat opens up in a new browser window and is separate from the visitor browsing the website, if the customer was to navigate to another page or exit the website, the chat will remain active ensuring no interruption to the conversation.
Handling Personal Data
When entering the chat Crusader Assistance request just a name from the visitor, asking for less information can increase the chat uptake. Once in chat the customer service team can address the customer by name and then ask for further information if and when they need it, reducing the amount of personal data that is transmitted through chat.
The FCA defines customer data as "any identifiable personal information held in any format, for example National Insurance records, addresses, dates of birth, family circumstances, bank details and medical records. This information must be kept securely to comply with your obligations under the Data Protection Act 1998, but also because criminals can use it to commit offences such as identity theft."
The regulator body explains that when "outsourcing to a third party does not mean you have outsourced your obligations to look after customer data. Therefore, you should carry out due diligence on third-party suppliers before hiring them, try to establish what their vetting procedures are, and ensure that they respect your firm's security arrangements."
Click4Assistance and Data Protection
Click4Assistance fully complies with the Data Protection Act 1998, and are regulated by the Information Commissioner's Office (ICO).
All chat communication and account information including chat transcripts are secured using SHA 256bit encryption. Sensitive data such as credit card and account numbers are masked as default to ensure this type of information does not reach our servers. Payments cannot be made through the Click4Assistance solution to remain PCI compliant.
Data is stored in LD8 London IBX® Data Centre, one of Europe's most dense Equinix International Business Exchange™ (IBX) in the UK. LD8 has the following certifications:
ISO 27001
OHSAS 18001
ISO 50001
PCI-DSS
ISO 9001
ISO 14001
The Click4Assistance databases are constantly backed up and replicated to stand-by servers (also based in LD8) on a transactional, differential and full basis.
The facility tightly controls entry to the data-centre using a permanently manned security presence with strict procedures in place to monitor and control visitor access both into and within the data centre. Extensive CCTV video camera surveillance is in place across each facility, along with security breach alarms, biometric checks and controlled physical barriers.
"Data security is an important factor for every client, our continued investment in the latest technology methods and world class data centres show our commitment to this valid concern"- Managing Director Click4Assistance
Request our System Security document from our Click4Assistance support page for further information.
Click4Assistance has been providing live chat software to financial organisations for over 10 years. To find out more about our services book a free call with our finance co-ordinator on 01268 524628 or email theteam@click4assistance.co.uk.
Author:
Gemma Baker
Gemma is the Marketing Executive for
UK live chat software provider
, Click4Assistance, with a range of digital knowledge within PPC advertising, SEO practices, email campaigns and social media.