DATE
TAGS
AUTHOR
VIEWS
Training Staff To Give Great Customer Service Through Web Chat System
Having tech-astute staff in the workplace is always a bonus, and when there's plenty of enquiries coming in from customers that the telephone can't quite handle, why not set them up and put their talent to good use by implementing a web chat system? Answering queries from clients couldn't be easier!
A recent article in SC Magazine stated that PWC's Global CEO survey studied 1,322 respondents from 77 countries in Europe. CEOs are concerned about the shortage of tech-astute workers not being able to keep up with the developing technologies, which are top threats for innovation and future income growth. The UK's CEOs are looking into a longer-term view on growth, and planning to hire more people than their European peers.
Training Employees to Become Diligent Workers
When working in a business, it's imperative to recognise and address employees' weaknesses to improve skills, and also to help them learn new ones. An employee who receives necessary training will show better performance in their job, so providing them with a training program allows them to strengthen the skills they need to learn.
Having a structured training plan means workers will have background knowledge and consistent experience. Constantly performing the skills they learn means staff become more aware of safety, best practices and proper procedures for basic tasks ahead.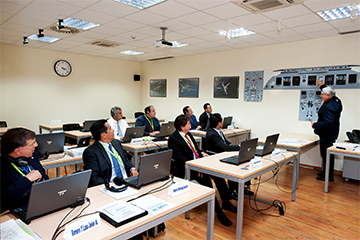 Click4Assistance Offer Full Training
Click4Assistance, the UK's leading web chat system provider, offer staff the tools they need to successfully operate a web chat system. A help system is included within the software, which contains a simple variety of PDF documents that go further into detail about aspects of the solution. These documents include:
Getting Started Guide – This is for new users of the system that includes information about adding the chat button, handling conversations with customers and setting up additional users.

Customisation – Explains how to update and change the chat button and windows, and proactive invitations. All of which can be designed to suit the company's website.

System Overview – Clarifies what the different functions do and how they can benefit the website. This document will take the users through each module as they are presented in the software and the various features contained within.
For those who prefer to practically and visually practice skills within the web chat system, Click4Assistance have a YouTube channel that includes "How To" videos which guide the users around the software. Some may prefer this method due to possible visual impairments or the ease of listening to a voiceover showing where certain aspects of the software are. Using videos as a way of learning about the solution allows viewers to pause at certain points for easier observing. Viewers can also save the videos in playlists, so they can easily go back to videos they want for further learning.
Assisted Screen Sharing
In as little as an hour, staff can be trained on how to take chats and learn how to use the features at full advantage. For example: predefined replies, which allows operators to send stored answers to frequently asked questions from different clients, auto navigation that allows operators to redirect visitors to other pages of the website or file transfer which allows operators to send required documents to the customer.
Onsite Training
Training advisors will spend the day running through our successful agenda covering operator and admin training, including useful guides, worksheets and role-play.
"On behalf of the BNCE, I would like to thank you for all your positive energy and fabulous information delivered with style and clarity." – Sandra Grahor of Brazilian Naval Commission in Europe (BNCE), about the training with Click4Assistance.
Training representatives is vital to us as we want to ensure they give the best customer service to their clients using a web chat system, as the best means of communication. So if you'd like some more information or to discuss our training options, give us a call on 0845 123 5871 or email us at theteam@click4assistance.co.uk.
Author: Rae Boyling
Rae is the Marketing Assistant for UK live chat software provider, Click4Assistance, with experience in copy and original writing, Rae produces content for articles appearing on the Click4Assistance website and email campaigns.