DATE
TAGS
AUTHOR
VIEWS
Shopping online? Tips on how to stay safe
In our post pandemic world, most of us are turning to online shopping to stay as safe as possible. Online shopping is not a new thing in our world, but since there are many people who prefer to shop at a brick and mortar shop, we at Click4Assistance decided to put this list together to help everyone, new and old to online shopping, stay safe online. Today's online world is full of scams and cyber attacks, leaving many inexperienced online shoppers weary about the security of their money, which is entirely understandable. Here are five questions that you may wish to ask yourself before shopping online.
Have you done enough research?
Many people see an enticing product on Instagram and are immediately tempted to make an impulse purchase, but it's important to do a reasonable amount of research determining if this online vendor is legitimate. A quick Google search can save you the headache of receiving a faulty product, or at its worst, being another victim of online fraud. Make sure you know who you are buying from before you make a hasty purchase. Additionally, with your search, you will know whether your source is giving you a good price, permitting you to opt for an alternative vendor with a lower price.
Is the website secure?
While this might be a well-known security practice, many people still don't know how to identify a secure website. On most browsers, you're looking for a padlock at the top of the address bar at the top of the screen, which may be black, grey or green, depending on your phone's settings, or the entire address bar may even be green. Clicking on the padlock will allow you to see the certificate, telling you registered the website, and if you see any warnings, avoid the website until you can verify its safety. Another surefire way is https:// at the start of the address, with the 'S' standing for secure.
Are you using a credit card or secure money service?
According to section 75 of the Consumer Credit Act, if you pay by credit card it will grant you protection for purchases over £100 and up to £30,000. Should the merchant refuse a refund or replacement for a faulty or undelivered item, the card issuer can reimburse you. Some card issuers offer protection for purchases under £100, allowing customers to claim a refund via a chargeback. You will need to contact your card issuer for verified details.
Digital money services such, as Paypal, are a very good way to pay online, since you don't have to give your card details directly to the merchant. Paypal has their own customer protection policies which can cover you in the event that your product never shows up or is faulty and the merchant refuses a replacement or refund, however it's best to contact them for official regulations.
Are you using public Wi-Fi?
It stands to reason that a public, insecure internet connection, such as open Wi-Fi networks available at coffee shops or shopping centres, would not be the most secure place to make an online payment. In some cases, website or mobile applications offer encryption so that public Wi-Fi may not be an issue, but it's always recommended to stick to the side of caution. Make your purchases from a secured private network.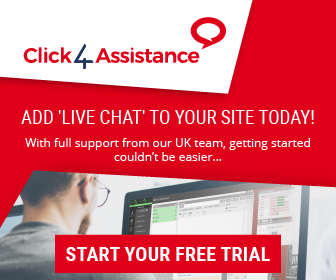 While this doesn't ring out to be a security benefit exactly, it may offer some peace of mind when it comes to pre-purchase questions and following up on purchases. It's wonderful to be able to ask someone a few quick questions about a product before you purchase, with the knowledge that should something go awry, there is someone on the other side to assist you.
Are you a business owner with a website? Click4Assistance might be exactly what your business needs to improve your customer service, skyrocket your productivity and increase your website's revenue. If you're interested in deploying Click4Assistance, the UK's premier GDPR compliant live chat software solution, to increase your business' productivity for 2020, give us a call on 0845 123 5871 or send an email to theteam@click4assistance.co.uk and one of our experts will be with you right away. Not ready to reach out yet? Discover how it works, try a demo, or better yet, try Click4Assistance completely free for 21 days.