DATE
TAGS
AUTHOR
VIEWS
Click4Assistance MS-UK's 925 Challenge Update
On Sunday 13th October the Click4Assistance team were meant to participate in a fun run for charity at Maldon, Essex. The run would have consisted of several inflatable stations where cannons are fired filling the passageways fully with different colour bubbles, creating a 4ft deep bubble bath.
Unfortunately, the adverse weather warnings meant the organisers had to make the last minute decision to postpone the event. Therefore Click4Assistance will be taking part in a Santa Run in December.
So far we have been able to raise £240, 25% of our overall goal of £925. If you would like to donate to our running efforts the link is: https://www.justgiving.com/fundraising/c4a-bubblerun
Our Other Fundraising Efforts
Grabbing a Bargain
The team took part in a car boot sale on Saturday 5th October, raising £150 (16%) in 1 hour and a half! All items were donated by the team, family and friends with all proceeds donated to the challenge.
With the overwhelming donations we received we had lots of quality items left over, therefore the team attempted to attend another boot sale, however once again the weather was against us with many local boot sales now closed for the season.
However, this hasn't dampened our spirits, turning to social media many of the items have now been placed within Facebook's Marketplace.
Alcohol Prohibited
Our account manager for MS-UK who bought this challenge to the rest of the team's attention has taken on her own personal challenge. With a family member living with MS, She decided to go sober for the whole 9 weeks, 2 days and 5 hours. She is doing extremely well and has raised £160 so far contributing 17% to the overall challenge.
Shake that Tin
Jenny from our finance team is a proper social butterfly, taking a MS-UK branded tin everywhere with her from her local club to a monthly medium night. The organisations have been generous to allow Jenny to advertise it on the bar, helping to raise at least £70 (8%) for the cause.
Current Fundraising Events
Customer Competition
Starting today we are holding a competition for our customers to guess the value of coins in a jar. Each guess will cost £1.00; this can be donated via our JustGiving page along with your guess and company name.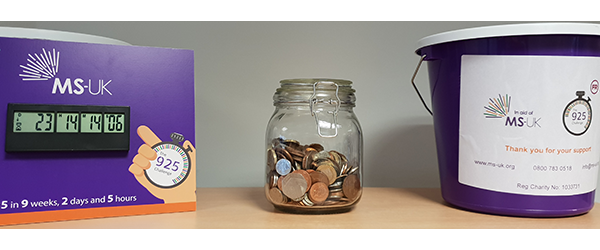 The company that guesses correctly will receive our Management Dashboard complimentary for a year saving over £600.
The Management Dashboard is a user control to override operators log in and availability status. This enterprise feature also adds graphs and indicators for real-time operational information. For customers already using this, we will swap this for a free user licence or chat experience.
Raffle
Our raffle started on the 1st October and is running until the 31st October. Winners will be picked at random and announced on 1st November so keep your eye on our social media feeds if you have entered.
So far we have sold 45 tickets, raising £90 (10%) for the challenge. We have some brilliant prizes on offer donated by our fabulous customers. This includes:
1st Prize: Shadow 2KW Remote Silver Heater donated by Heat Outdoors
2nd Prize: Stacked Books Ornamental Table with Lift Up Lid donated by The Garden Furniture Centre
3rd Prize: Filtered Melitta Coffee Machine & Costa Cup donated by Hughes / Phippsters Coffee Beams donated by Coffee Sense
4th Prize: Laurent-Perrier Brut Champagne / Baylis & Harding Pampered Body Set donated by Click4Assistance.
Entries are £2 a ticket / £10 a strip, which can donated to our JustGiving page. Please leave your name and contact details within the comments, alternatively you can email theteam@click4assistance.co.uk. We will assign the relevant number of tickets to you and will contact you with your number(s) and if you are a lucky winner.
Still a Little Way to Go
We are three quarters of the way to our minimum and only have 23 days left! During November we will also be holding a bake sale for the local businesses around our office in Basildon, if you're close to the area feel free to pop in for cake and coffee!
Why We are Doing This
MS-UK is a national charity that has been running for over 25 years, helping those affected by Multiple Sclerosis (around 107,000 people in the UK and 2.3 million worldwide).
Multiple sclerosis (MS) is a disease of the central nervous system (your brain and your spinal cord). The central nervous system cells are covered in a protective layer of fatty protein called the myelin sheath (a bit like the insulation on an electrical cable). MS is an auto-immune disease, where the immune system gets confused and instead of attacking an infection or virus, the immune system turns on itself and attacks the nerve cells, damaging this protective sheath. The demyelination disrupts the 'messages' being transmitted from and to the brain, causing them to slow down, become distorted or not get through at all.
The term 'sclerosis' is a Greek word that means scaring. Demyelination causes many scars or lesions in different places within the central nervous system. The symptoms that occur depend on the site and severity of the lesions and this is why people with MS experience different symptoms at different times.
Taking part in the 925 Challenge helps raise vital funds and awareness for the disease and the work the charity does.
Thank you to those who have donated towards the cause and those who are planning on entering our competition/raffle. We couldn't have done this without you.