DATE
TAGS
AUTHOR
VIEWS
Save Staff Resources with Chat Monkey
Live chat on website is a proven communication channel for increasing leads; however some organisations can miss out on these opportunities if they are experiencing resourcing issues with staffing levels. So how can companies juggle between increasing business and assigning their employees' roles?
Introducing Chat Monkey
Chat Monkey is a UK based managed service provider for live chat, reducing the hassle for organisations needing to balance their workforce in order to increase business. Their team of office based customer service professionals allows the management of your live chat to be outsourced, helping your customers quicker whilst providing the excellent service you would expect from your own employees.
It is common that most missed chats occur outside business hours, as this is the optimum time for consumer browsing. Whilst visitors are looking at your site they may have questions, however it is likely that during evenings and weekends the only contact method that will be available to them is email. Therefore Chat Monkey's Standard and Professional services are available between 8am to 10pm 7 days a week and times can be extended on their Enterprise package for a fuller coverage, so that visitors can instantly speak with a representative at the times they are browsing.
To answer your visitors' questions, Chat Monkey will require a list of your frequently asked questions along with the replies you would like their representatives to respond with. These can be entered into the Click4Assistance solution as Pre-defined Replies, allowing representatives to easily access and select the answers relevant to your company, which provides your visitors with an accurate response. For more complex enquiries, the managed service provider will gather the individual's contact details, enabling your experts to follow up with the lead or customer, ensuring you never miss an enquiry.
Some organisations may require more administrative services in conjunction with the chat handling, therefore within their Enterprise package Chat Monkey also offers:
Appointment Making
CRM Updates
Diary Management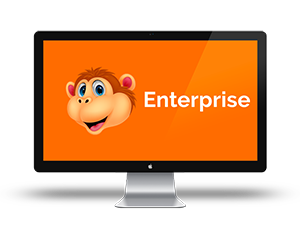 "Engaging with your online customers is more important than ever and at Chat Monkey, our Live Chat service allows your business to be accessible all day every day, even after your doors are closed." – Chat Monkey
Will Your Visitors Know You Are Using a Managed Service?
"We treat your customers as our customers and place great emphasis on creating real conversations, to always create the best first impression possible and provide an excellent platform for you to best serve your customers." – Chat Monkey
The visitor facing aspects of the Click4Assistance solution are 100% customisable, allowing your brand to be represented within your chat buttons and windows. This boosts visitors' confidence that they are speaking with the right company as your designs will seamlessly fit within your website.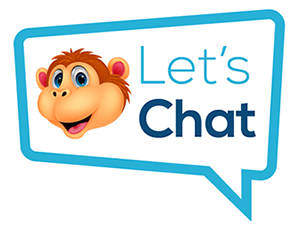 For example, Chat Monkey has customised their chat button complete with their cheeky mascot; this encourages visitors to click as it is a clean image that maintains their branding and simply explains the purpose of the button.
Chat Monkey are one of the many partners that Click4Assistance works closely with to ensure your live chat on website implementation runs as successfully as possible. You can take a look at their website and services by clicking here. Alternatively, you can call our account managers on 01268 524628 for a free consultation, to understand your requirements and pair you with the most suitable managed service provider, based on your needs.
Click4Assistance has been providing live chat for over 10 years, for more information about the solution email theteam@click4assistance.co.uk for a free info pack.