Add Live Support Chat To Your Website
More and more people are carrying out their business online. From online shopping to banking services, online is the preferred choice for many. But despite the ease of online transactions, customer service remains important.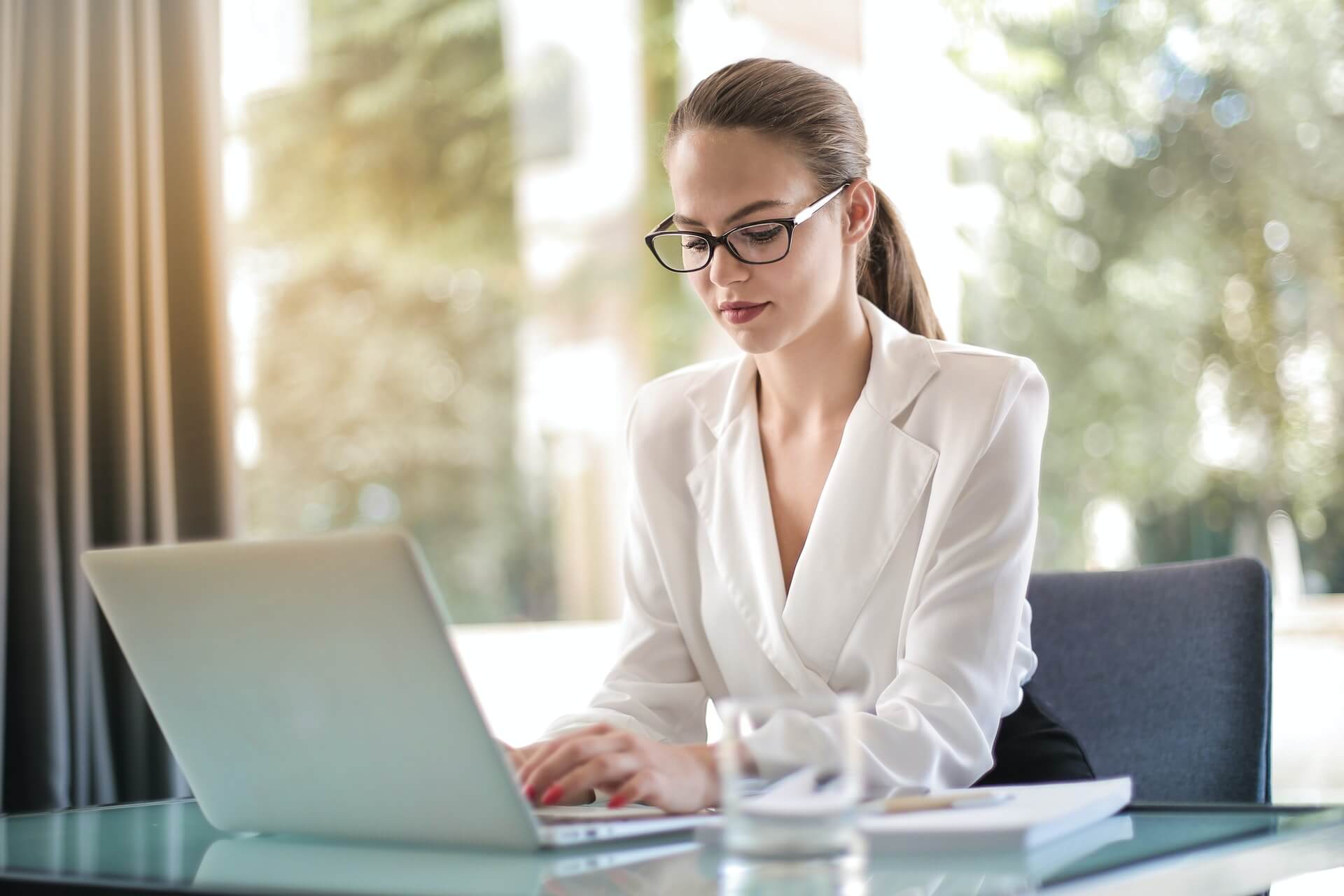 Being able to provide excellent customer service can set your online business apart from your competition, helping to answer their queries and make sure they are satisfied. And one key way you can do this is through live chat. Having a live support function can help your customers find what they need, becoming their own online shop assistant that helps them complete their purchase or get access to the right services.
In this handy guide, you can find out everything you need to know about getting live chat to your website, helping you provide the best experience for your online customers.
Why live chat support?
When you enter a physical store, there's usually someone there to help you out. Whether you're looking for a specific product or you want more information about something, it's handy to have an assistant nearby to help you make your purchase and leave you satisfied. If you encounter a problem and would like a refund, for example, it can be easier to speak to someone about your problem to help you come to a satisfying resolution.
When you shop online, however, that one on one interaction is missing. And this is where live support chat comes in. Through live support chat, customers can get answers to their questions and get their issues resolved. Replacing that physical interaction, it's a simple way businesses can enhance their website's customer support.
Live chat support has seen a steady increase in popularity. In 2019, customers experienced an 83.1% satisfaction rate with live chat, highlighting an upward trend as businesses and organisations take additional steps to make live chat support more meaningful and useful to the customer.
Wondering if live support is the right move for your business? Give the following statistics from Tech Jury some consideration:
75% of people prefer to use live support over other contact methods.
44% of online customers believe live support during a purchase is a website's most important feature.
51% of people want businesses to be contactable 24/7.
38% of businesses found that scripted responses to queries are a source of frustration for customers.
Live chat software is on the up, with the market expected to be worth $987M by 2023.
If you want to improve conversions and provide a more positive experience to your customers, then adding live support chat is something to consider as part of your website's ongoing strategy.
Benefits of live support chat
The argument for adding live support to your website is growing. Among some of the benefits of live support chart are:

Faster response times for better customer satisfaction
If a customer has a query that needs answering before they can make a purchase, timing is important. If they have to wait around for an email response or a long phone queue, they're unlikely to continue their purchase. Adding live chat could increase your conversion rate by 45%, and this is partly the result of faster response times.
Customers prefer it
More and more customers are selecting live chat as their preferred method of communication to speak to businesses. A report from eDigital Research found customers preferred live chat over other communication channels, helping them to get the help they need quickly and easily. Many people feel uneasy about picking up the phone, so providing live chat services could help you reach out to more people.
It's more cost-effective
Live chat support can be more cost-effective than running a call centre. It's also more time-efficient, helping agents resolve queries quickly, and potentially dealing with more than one query at a time. It's also easier to direct a customer to online help resources such as FAQs through a live chat, allowing them to get answers to common queries.
It could boost sales
Chat support is ideal for answering customer queries, but it can also benefit customers during the sales process. As a way to provide further information about a product, it could provide an opportunity for you to push sales, and even offer customers a discount code or special offer to help them complete their purchase.
It could boost loyalty
A website that offers a web chat service is more likely to see returning customers, with 63% of consumers stating they will return to a website that has a chat support function. If returning customers is something you're looking for, then adding chat support could help.
It can put you ahead of the competition
With many businesses still yet to embrace live support chat, you could get ahead of your competition by adding it to your website. With more and more consumers expecting to see live chat support, you could stand a better chance of meeting their expectations than your competitors.
What you should know about integrating live chat into your website
Live chat support is a long way from its infancy, making it a great time to integrate live chat into your website. With many different platforms available, you'll be sure to find something that meets your website's needs.
From adding chatbots to making live chat a part of the customer journey, there are different ways you can make it a valuable feature for your website. New and exciting features are constantly being developed, transforming the way customers seek help online.
Integrating live chat can transform the way your business communicates with its customers, but it can add to your workload too. If you're looking for ways to help your business grow, then a chat support function is one of the things you can do to make it happen.
Things to consider when adding live support chat to your website
To help you get the ROI from your website's live support, there are things you will need to consider. The placement, size and functionality of your live support chat are all important - you want to make sure that people know it's there and that it's easy for them to use.
Can you easily update your website HTML to allow you to add the chat box?
To enable web chat, you're going to need to add code to your website that will allow you to build in the function. If your website doesn't allow this, you might need support from an IT consultant or consider changing your website to a different web host. If you're unsure how to get live chat on your website, most providers will guide you through it when you sign up.
Many providers will also offer a free trial, so if you're unsure if the features are right for you, you can try them out before you commit to a subscription.
How many chats do you expect, and how many staff will need to handle the incoming enquiries?
Adding live support to your website is a fantastic way of connecting with customers and providing them with an additional contact method. But you need to make sure you're ready to offer an effective service before you introduce it.
It's important to get a feel of how many chats you expect to receive, and one way to test this is by asking customers to complete a survey. Your results may not be 100% accurate, but it will give you an idea to help you get started.
Once you estimate how many chats you can expect to receive, you can work out how many staff will be needed to handle incoming enquiries. This could be a case of trial and error, and will require bringing in further employees to your business. If the service takes off, you might need to reassess staffing levels for phone, email and social media queries and make sure your resources are directed to the right places.
Does the solution allow to you brand the chat window so that it's in-line with your website design, and enable you to collect any information before and after the chat starts?
A web chat function has a lot of potential for your business. To make it more effective, it should be a natural fit within your website, which is why being able to brand your chat window is important. Many support chats can look like an unintentional pop-up or a scam, so having your branding will help things look more legitimate.
Another way you can make the most of your live support chat is to use it to gather key information about your customers before and after the chat starts. This can be as simple as adding a couple of questions to the general 'name' and 'email address', and could include questions such as 'is this your first visit?', 'have we helped you make your purchase today?', and others. This kind of data can help you make some important decisions about your website, and could enable you to add further live chat functions in the future.
Where is the provider based, and more importantly, where is your chat data secured to ensure you conform to the latest data protection regulations?
Data protection is vitally important for online businesses, with the threat of a data breach always a possibility. It's important that you gather data securely and responsibly to ensure you do right by your customers, and your business too.
The UK is bound by GDPR, and a breach of these guidelines can cause serious problems for your business. When choosing your live chat provider, it's vital you ensure your data is secured according to GDPR rules. Read their privacy policies carefully to make sure you're satisfied with the security provided. You should also include information about data security for your live support within your own privacy notice.
How long has the provider been established, do they offer account management and telephone support as standard?
As live support chat becomes more and more popular, the number of providers is increasing. When choosing your provider, you should look to see how long the provider has been established to give you an indication of their effectiveness, as well as their reputation amongst others. Most providers will boast about the clients they work with, which can help give you confidence that you're choosing the right provider.
When comparing providers, you should also compare features, assessing which are the most important to you. As your live support can become as vital as your phone or email services, you need to feel confident that there is support available to you when you need it. Providers who offer account management, telephone support and round-the-clock customer care can give you the reassurance that you're making the right investment. A disruption to your service can cost you time and money, so you'll need to feel confident that your provider can get you back up and running if you encounter an issue.
Adding voice chat to your website
Not only is text based chat an important must have for your website, both voice chat and video chat are options worth looking at.
Whether a visitor is browsing the website, or partaking in a text based chat. By adding voice chat to your website gives them another communication method, allowing both the visitor or potential customer to be directly connected to your agents with one simple click.
Voice chat usually works over the normal telephone network, connecting both parties via landline or mobile phones. However, using WebRTC technology both parties can communicate using voice chat through their devices microphone and speakers like a normal phone call.
Key features to look out for
Live support chat has come a long way since the first applications were launched. As they become more advanced, you can benefit from further features and functions that can provide an even better experience for your customers. Some of the key features you should look out from your live chat provider include:
Video chat
Video chat features can be very beneficial to your service. While not everyone will want to talk face-to-face, having video chat available provides customers with reassurance that they're talking to a human. In some industries, like fashion, beauty and health, a video chat can be a useful function, helping people enjoy a face-to-face consultation like they would in-store.
In light of the COVID-19 pandemic, this is a feature worth considering to help you maintain key customer interactions and enhance the website experience for visitors. Adding video or voice chat to your website could help you replace phone calls, helping you to save on your running costs and make remote working even easier for your employees.
Integration with ChatBot
Artificial intelligence enables your live support chat to work with Chatbot services that can help guide your customers to the most appropriate solution to their problems. There are different kinds of ChatBots available, some that collect information from customers and answer accordingly, while others will ask questions to the user to help provide answers in a more structured way.
These functions can be useful for making sure your service isn't inundated with queries that can easily be resolved. Should your customer still need assistance from one of your agents, the chat can then be transferred accordingly.
A ChatBot can also be a useful feature when there is nobody available to answer customer queries, ensuring some assistance can be provided out-of-hours.
Facebook Messenger and WhatsApp integration
Providing multiple channels of communication can help give your customers a variety of choice, while also giving you an advantage over your competitors. Facebook Messenger and WhatsApp are two key platforms for providing live support chat, and you can choose a chat provider that integrates these platforms with your website's web chat.
Being able to manage all of your communications in one place can make them easy to manage, enabling your teams to deal with all incoming queries seamlessly.
Ability to invite visitors to chat automatically based on a set of rules
While some visitors will seek out web chat automatically when they encounter a problem, for others, it might not be so obvious. One of the smartest live support solutions is the ability to invite visitors to chat automatically based on rules built-in to your website. This could be something simple, such as inviting a chat after a certain amount of time spent on a website, or when browsing certain products or features.
This kind of automation can provide a better experience for your customers, helping them get the help they need before they even have to ask for it.
Automatic replies
Not all businesses are able to operate 24/7, so if you only have limited working hours for customer support teams, you could benefit from setting automatic replies for your live chat. Automatic replies can help you communicate when you're offline, how long a customer can expect to wait for a reply, as well as highlight your other communications channels when your live support is unavailable.
As a basic, but useful tool, automatic replies can avoid causing frustration to your customers, and allow you to manage your chat hours effectively.
Add live support chat to your website in 5 simple steps
It couldn't be simpler to get started with live support chat. By following the five simple steps below, you could soon integrate live chat with your website to enrich your visitor experience and delight your customers.
1. Create Account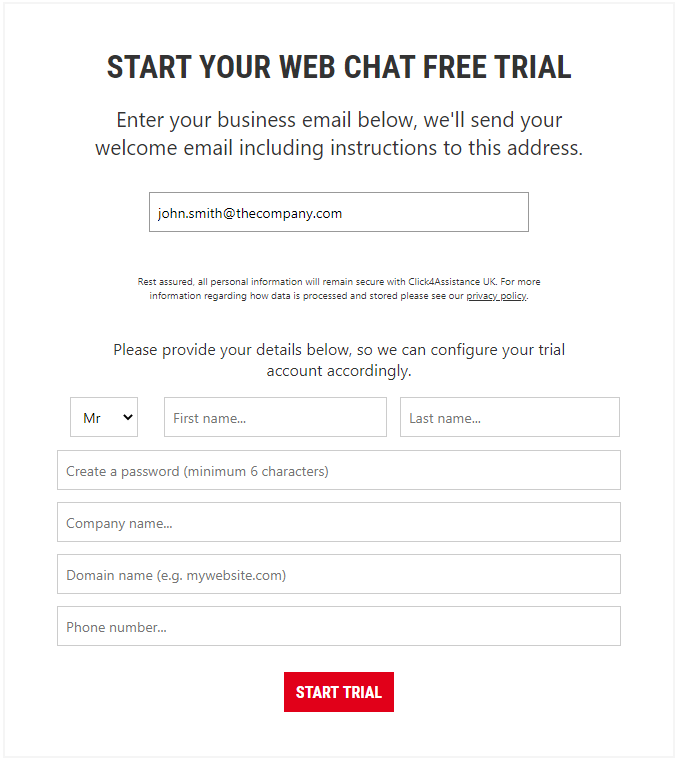 The first thing you'll need to do is create an account with your chat provider. You can begin with a free trial or demo to help ensure you're making the right choice when it comes to your live chat.
You can also choose different price plans depending on the features and functions that you require. With packages available depending on your monthly impressions, you can choose a service that best suits your business.
2. Configure

With your account set up, you can now configure your live support chat to ensure that it meets your needs. From setting up your greeting to setting your available hours, this is your opportunity to configure your system to tailor it to your business. If you intend to integrate your live chat with other messenger services, you can also do this at the configuration stage.
3. Customise

Your live chat function should be unique to your business. Branding your live chat can make it fit in with the rest of your website, creating a seamless application that customers will be familiar with. Choose the fonts, colours and images that fit within the rest of your branding for a fully integrated support system.
4. Add HTML to website

With your live support chat configured to your website, you can now add the HTML code to the backend of your website to ensure everything is linked properly. You might need to consider the layout and positioning of your chat function in comparison to the rest of your website, making sure it is clear and visible.
5. Login & handle incoming chat

With the HTML added, your live chat is now ready to go. You should take the opportunity to watch available tutorials to ensure that you are confident with how the system works. Training should also be provided to team members who will be responsible for the online chat.
Carrying out some initial testing can also help you to iron out any issues and ensure that your live chat runs as expected. It's also a good way to measure the performance of your customer service teams to make sure they're delivering a five-star service to customers.
From there, it's a matter of logging in and begin handling the incoming chat!
Don't forget to assess your live chat performance
It's important to assess the performance of your live support chat regularly. From measuring the success rate of interactions, to surveying your customers on their experiences, your live chat functions can always be improved. As new and exciting features are released, you can further enhance your online customer support options to make sure your business continues to provide the best service possible to your customers.
Customer service is one of the most important aspects of your business. Websites today rely on positive reviews and word of mouth, which means it's vital that customers have a positive experience when using your website.
Providing live support chat is one way you can add to your customer contact solutions, helping to reach a wider number of people who expect to communicate in this way through web browsers and via mobile. Live chat provides simple, clear communications to your customers, helping them to get the answers they need. With improved satisfaction and conversion rates on the cards, isn't it time your business joined the live chat movement?