DATE
TAGS
AUTHOR
VIEWS
Contact Centres Promote Full Range of Services to Clients with Live Chat
Live chat has grown in popularity and is now expected when offering an omni-channel service to clients. Providing this additional communication channel increases your potential customer base and revenue streams.
Versatile Solution for Omni-Channel Service
Click4Assistance has been successfully partnering with contact centres for many years. Working closely with these organisations, we have developed an enterprise solution that is flexible for contact centres' needs.
Many solutions are rigid only allowing contact centres to handle all client chat enquiries with no other options; however we know that this isn't the reality in which you operate. 'Experiences' by Click4Assistance enables contact centres to provide a 24/7 fully managed service, overflow and fixed hours services to allow for the best live chat management.
Every client will have a unique account, allowing them to handle their own chats when their agents are available or during business hours. This is integrated with the main contact centre account; the intelligent chat distribution system will direct the enquiries to this account based on each client requirements, overflow or fixed hours (fully 24/7 managed chats are always routed through to the contact centre account.) It is easy to switch between the different types of coverage at any time.
The flexible solution is designed to complement and integrate with your environment, whilst seamlessly reflecting your client's corporate brand offering you the best live chat solution in the UK.

"An excellent company to deal with! We have worked with the team at Click4assistance for just over five years now; we use their services for our own company and also recommend them to any of our clients who are looking for the best live chat solution. They are really friendly, helpful and easy to deal with, and a great benefit to the service is that they are always on the end of the phone if we need assistance with setup, running of an account or reporting requirements. The system itself has a very user friendly interface with all the functionality happening behind the scenes. Would not hesitate to recommend them to anyone!" – Lucy Kitson, Relationship Manager, Your Business Voice
Contact Centre Enabled Functionality
For contact centres using dedicated agents, all users be situated within the same account; however they can be restricted by permissions to only see the chats and functionality associated with the assigned client.
Bureau teams will be able to see all their clients' chats; the chat list displays which customer the enquiry relates to. This is also made evident within the chat itself, with the website URL displaying at the bottom of the window which has been colour coded for easy identification.
All chats contain a client details tab, which shows the account name, primary contact and any other important information the agent would need to know in order to answer the enquiry as if they were the client's own representative. When the chat is stored, the full chat transcript can be automatically emailed to the client for review and to action anything that needs following up.
During the conversation, a library of predefined replies is available to the agent. These pre-agreed answers are organised into folders which can be divided by client. This allows the agent to respond the enquirer quickly whilst providing the correct information.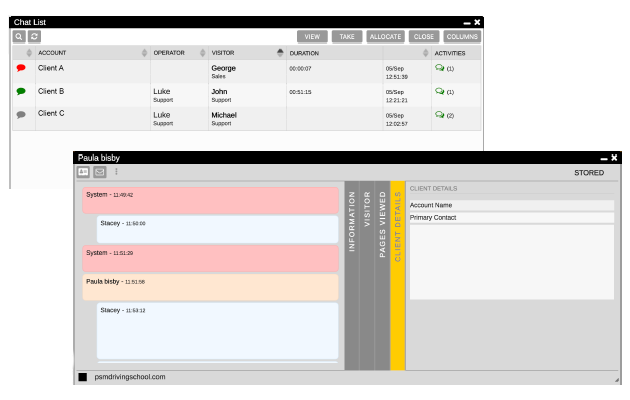 Both predefined replies and end categories can be assigned to websites ensuring the relevant folders are displayed automatically during a chat.
This level of organisation is also reflected in the end categories. These allow the agent to sort the chat into the reason for enquiring, the outcome of the chat, plus any others your clients require.
Categorised chats are reportable, allowing analyses of the data and for any areas of improvement to be identified, for example constant unresolved/escalated enquiries could highlight that an advisor needs additional training.
'Experiences' by Click4Assistance contains an impressive interactive reporting suite that enables organisations to review on-demand reports and schedule them for automatic delivery. For contact centres who want to see performance statistics in real-time, wallboards are available to be displayed during operations.
A Different Type of Communication
To provide an omni-channel solution, the software contains many other communication channels. This includes:
Chatbot integration
Video chat
Meeting Rooms
Click2Call
Promotions
smartContact
Social Media integration
Take a look at our video to see an overview of the services we offer:
Click4Assistance has been supplying communication channels for over 15 years, working with many clients in various industries. We are based just outside of London and are the UK's best live chat software provider. Each account is given a dedicated account manager, who is knowledgeable within that industry, helping to make each implementation a success with their expertise.
For more information, we offer free personalised online and face-to-face demonstrations where our contact centre account manager will guide you through a tailored walkthrough of how the solution can work within your contact centre's operations. To book your place, call 01262 524628 or email theteam@click4assistance.co.uk.