DATE
TAGS
AUTHOR
VIEWS
How to Add Live Chat to my Website? Use a Live Chat Plug-in
This article is part of a series that explains the various aspects when you are considering live chat for your website. Whether your website has been built by your own developers, an outsourced development company, or you're using a 3rd party solution such as WordPress at some point you will need to add a chat window plug-in.
If your looking to add live support chat to your website, visit this link add live support chat to your website
What is a Plug-in?
A plug-in is basically a small component that you add to one or more webpages. There are 100's of plug-ins available, each providing their own unique type of functionality. Here are some you may have come across before:
Google Analytics – allows you to see information about the visitors on your website

Facebook 'like' buttons – allows visitors to like one of your Facebook posts

YouTube videos – embed videos into your website
The chat plug-in works in the same manner, when added correctly a chat button will display. By clicking on the button, a visitor on your website can have a texted based chat with one of your staff members.
A plug-in usually loads the chat in a separate browser window (usually referred to as a pop-up window), or it can open the chat window within the actual webpage, this is usually referred to as an embedded chat window, there are pro's and con's to each method which is explained in a previous article.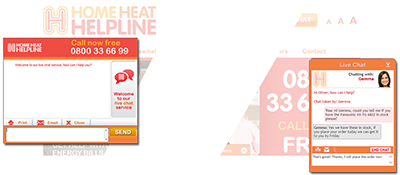 Apart from added a chat button to your webpages, you can usually add a plug-in that will monitor visitors on your website, similar to Google Analytics. However, a good chat solution will also allow you to proactively engage with visitors on your website by "pushing" a chat invitation onto their screen, based on a set of rules that you define.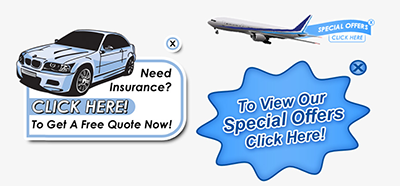 These plug-ins usually consume (or use) a system that resides on a secure server hosted and managed by the chat provider, giving you all the functionality of a business class chat system without the headache of technicalities. These providers offer their system as a Saas (Software-as-a-service).
A Chat Plugin for any Website
Most chat systems provide a small piece of JavaScript which is copied into the HTML of your website; this JavaScript is considered the 'plug-in'. JavaScript ensures the system will work on any type of platform, whether it has been developed in-house or by a development company.
The chat system can be used whether you sell products online (e-commerce), work in the service industry or provide information to visitors. A chat provider should ensure implementation is kept as simple and as basic as possible, usually you can be up and running in 10mins by just adding a small piece of script.
3rd Party Platforms
There are numerous platforms on the market that enable to you build your own website without any technical knowledge, these are usually referred to as CMS (Content Management Systems).
They provide both basic and advanced levels of customisation, allowing to you create pages using your own colour schemes, layout, images and content using pre-defined templates. Advanced configuration allows you to setup product lists, shopping baskets and even give you the ability to take payment information. Some of the CMS platforms you may have heard of are:
WordPress

Joomla

Drupal
A good 3rd party platform also enables developers to produce additional features and functionality, package-up the code into a "plugin" and allow it to be simply added into the platform. These "plugin's" are a very cost effective (sometime even free) way of adding great features to any website.
A Wordpress plugin example
If using Wordpress, you will probably have seen this screen allowing plugins to be installed directly from your administration area. This type of installation is normally available for all major CMS platforms.
Here is the Click4Assistance Wordpress widget https://wordpress.org/plugins/tags/click4assistance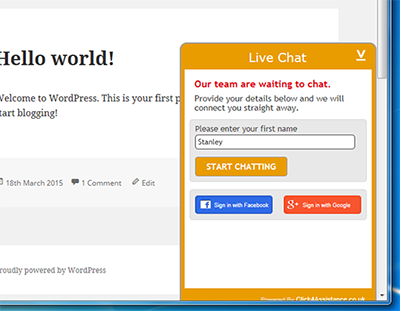 Once installed and configured using your account details, a chat button and window will now appear within your website. Various options allow the position of the chat button to be determined and whether you wish it to appear on all pages or just a select few.
At some point you may wish to change the colour and design of the chat button, this is often carried out through the chat provider's software. When selecting a chat provider ensure you have full flexibility on how the chat buttons and window are displayed. In addition to matching the colour and branding with your website you might want to collect visitor contact details (phone number, email address etc.). A good system will also allow files to be transferred during the conversation, a photograph of the staff member to be displayed, and even give you the ability to navigate the visitor to any page on the website.
Conclusion
This article has given you some options regarding how you can add live chat to your website. Whether you're a developer or manage the content on your business website, adding live chat isn't as difficult as you may have thought.
Most providers offer a full featured free trial allow you to evaluate the software, this should give you ample time to add the chat button to your website and start chatting with visitors. Once you're comfortable you can start to increase the uptake by inviting visitors to start a chat with you when they have questions or just before they are leaving your website.