DATE
TAGS
AUTHOR
VIEWS
Card One Banking's Success with Live Chat on Website
Card One Banking is an independent company that has provided current accounts and payment services since 2007.
The services that Card One Banking provide include;
Instantly open a current account
Pay bills by direct debit
Customers get their own prepaid debit master card
Help manage customers' money
Ensure bills are paid on time
Offer a no bounced payment fee
The Jam Jars - Jar for Bills and Jar for Spending
Card One Banking's Jam Jar is a current account method that comprises of the Card One Banking billing account that allows clients to pay money in and to pay bills. They help to ensure that all regular bills are taken care of, with the online bill payment service allows clients to pay instantly.
Card One Banking made the decision to implement a Live Chat on website tool for the purpose of assisting clients directly through their website. The business approached Click4Assistance in 2011, as we were on the market as the UK's leading Live Chat provider.
If a client wants to create a current account, having a Live Chat on website solution in place means they're able to start a chat with the company and request information instantly, giving them the opportunity to get help with the process.
Safe and Secure
As well as providing a safe and secure service when dealing with customers' bank details and other sensitive information, choosing to work with a UK live chat software provider means that all of Card One Banking's clients' information is kept safe when in chat. For example, if the visitor attempts to enter their bank details, the digits are replaced with hashtags. The encryption of Click4Assistance Live Chat on website software has the same security an online retailer would have at checkout process.
Customising the Solution
Card One Banking decided to implement the solution across all pages on their website, to assist clients with any questions they may have. With the button at every point of the visitor journey, Card One conveys subtle encouragement to make contact. They use an embedded chat button, with a pop up window that's presented in a separate browser. Their chat button was designed with simplicity yet still attractive to the eye.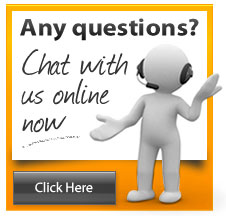 Considering the impact and psychology of colour and appearance during the product selection process, Card One Banking decided that including bright and more cheerful colours would appeal more to their audience. Each of the buttons were customised differently, to provide variety and to ensure the buttons are eye grabbing. Different demands attention!

When customers are searching around the website, if they have any difficulty finding the information, starting a chat enables a representative to navigate them to the correct page, using the auto navigation feature within the software. When the chat operators are asked for any application forms for example, they are able to send them whilst still in chat with a visitor, using the file transfer system.
With Card One Banking's 24/7 service available on mobile, clients are able to keep check of their bank account without the worry of overspending. Offering their mobile service means that visitors are still able to start chats on the go with the mobile compatible Live Chat on website service.
Ian Campbell said that "when I or an operator log in, the software is seen to be fruitful!" They also mentioned on a survey that increasing conversions is essential to them;
Gaining more leads
More sales
Reducing telephone enquiries
Click4Assistance was selectively chosen as they were impressed with our value for money, the customer service and the software itself was of high quality.
With a Live Chat for on website tool, Card One banking have been able to support clients when starting a current account. For more information about how an instant communication solution can benefit your organisation, contact us on 0845 123 5871 or email us at theteam@click4assistance.co.uk.
Author:
Rae Boyling
Rae is the Marketing Assistant for
UK live chat software provider
, Click4Assistance. Rae produces content for articles appearing on the Click4Assistance website and email campaigns.