DATE
TAGS
AUTHOR
VIEWS
How GDPR Affects Live Chat Software
2018 signifies the start of the New Year, with many companies attention turning towards GDPR that comes into effect from 25th May 2018 for all 28 Member States of the EU.
The purpose of the General Data Protection Regulations is to catch up with the digital era by modernising effective data protection rules. The EU is calling it "the most important change in data privacy regulation in 20 years." So in preparation, we have appointed a Data Protection Officer (DPO) who is up to date with the regulation as it currently stands and will continue investigating updates as they are published.
Previously we kept clients data for the life of their subscription unless an agreement was in place to purge the data. Now companies can only keep data as long as it is necessary. Detailed and summarised information will be kept for up to a year maximum as default, again if an agreement is in place we can extend or reduce this, based on customer requirements.
GDPR states that consent now cannot be assumed; consumers need to be aware of how their personal data is being used by organisations. It is vital that companies using communication tools such as live chat software and visitor tracking update their privacy policy with how they intend to use visitors' personal data. This should then be accessible from any pre-engagement form (chat, call, smartContact etc.), which should be customised with a mandatory tick box that is not already pre-filled. Visitors will need to tick this to record that they have read and understood the privacy policy, consenting to the use of their personal data as outlined; no communication will be initiated until they have agreed to share their details.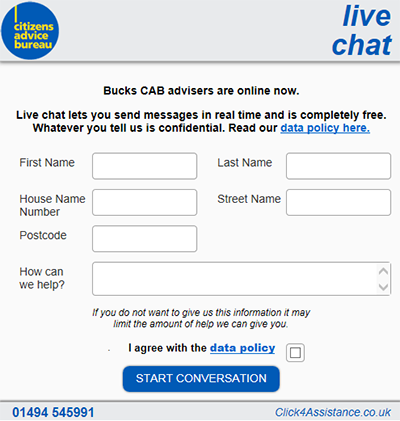 This consent can also be withdrawn; therefore, any data that the organisation holds on that consumer will need to be purged from their records, including information stored within the Click4Assistance solution. Filters are available with every communication tool within 'Experiences' that will allow your company to search for the visitor by name and prospect information, enabling you to find them quickly and remove their interaction details.
How Other Communications Channels Are Affected
Similarly, with email marketing, consumers should give consent for the organisation to use their data for the purpose they have outlined. Rather than signing individuals up for your email marketing and then having an opt-out option, under GDPR they can only be signed up if they have selected the opt-in option. The tick box cannot already be automatically filled in and the opt-out option needs to remain within mailouts.
But what about social media? As far as data use and gaining consent is concerned, these will be covered within each platforms terms and conditions and privacy notices. US organisations, including social media providers, can self-certify with existing legislation EU-US Privacy Shield, committing to this framework forms their agreement which reinforces their protection of EU citizen data entrusted to them.
Telemarketing will be directly impacted by the regulation. The law already requires that at the end of a call organisations need to give individuals the opportunity to opt out of receiving further communications. Usually representatives will simple ask "is it ok for us to keep in touch" and get a simple yes or no, they can continue to ask this however under GDPR, proof is needed that the individual consented. This can be done by recording the call, but the person will need to know it's being recorded and how their personal data, if mentioned on the call, will be used. If this isn't an option the representative needs to record the time and date of every conversation, the name of who they spoke to and that they consented for a call back.
GDPR will affect many sales and marketing communication channels to ensure that in this digital era, EU citizen's personal data is secure and not misused. To keep up to date with how the regulation will affect the Click4Assistance solution, keep an eye out for our blogs. For more information about 'Experiences' contact our team on 01268 524628 or email theteam@click4assistance.co.uk.
Author:
Gemma Baker
Gemma is the Marketing Executive for
UK live chat software provider
, Click4Assistance, with a range of digital knowledge within PPC advertising, SEO practices, email campaigns and social media.